News > Spokane
100 years ago in Spokane: Mayor warns veterans not to act as mob against radicals
Tue., May 21, 2019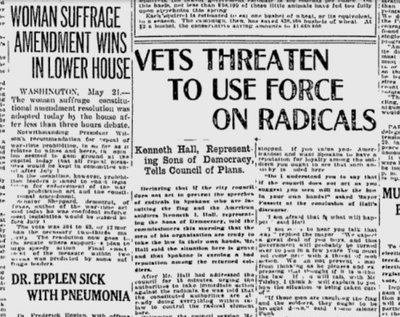 Returning World War I soldiers warned the Spokane City Council that they would use violence to stop "the speeches of radicals in Spokane who are insulting the flag and American soldiers."
Kenneth I. Hall, of the Sons of Democracy, addressed the council for 15 minutes.
"We men who have fought in France and have seen our comrades shot down can not stand to hear the flag insulted and our uniform sneered at by these radicals," Hall told the council.
He said that if the city didn't stop the speeches, the 700 men in his group might "take the matter in their own hands."
Spokane's mayor, however, told the men that the radicals had free speech rights.
"I am sorry to hear you talk that way," said Mayor C.M. Fassett. "We expect a great deal of you boys, and this government will probably be turned over to you in a few years. You must not come here with a threat of mob action. We can not prevent a man from thinking as he pleases and expressing that thought if it is within the law."
From the returning soldiers beat: More than six months from the end of the war, Spokane still was learning the fate of many of its soldiers.
Gerald Nowlin, the captain of Gonzaga University's football team in 1915 and 1916, arrived in Spokane on his way to Bremerton to be discharged. He had been wounded in battle as he and other Marines tried to capture a German trench. Another Marine tripped and "accidentally shoved his bayonet into my leg," Nowlin said.
Everett J. High sent his parents a telegram informing them that he had landed in New Jersey.
He spent five months in the hospital after the Battle of Chateau-Thierry. He had been gassed while carrying wounded soldiers. As a result he was fully blind for two months, but he had since recovered his vision.
The parents of Orin S. Seely of the Nine Mile Prairie received a letter from their son that was marked "deceased" by his commanding officer.
His father, T.W. Seely, said they heard from their son in March and he was in "perfect health." The Seelys were trying to get more answers.
Jim Kershner in on sabbatical.
Local journalism is essential.
Give directly to The Spokesman-Review's Northwest Passages community forums series -- which helps to offset the costs of several reporter and editor positions at the newspaper -- by using the easy options below. Gifts processed in this system are not tax deductible, but are predominately used to help meet the local financial requirements needed to receive national matching-grant funds.
Subscribe to the Coronavirus newsletter
Get the day's latest Coronavirus news delivered to your inbox by subscribing to our newsletter.
---