News > Spokane
Law firm counts 210 deaths in Washington jails; Spokane County has fourth-highest death toll
Thu., May 23, 2019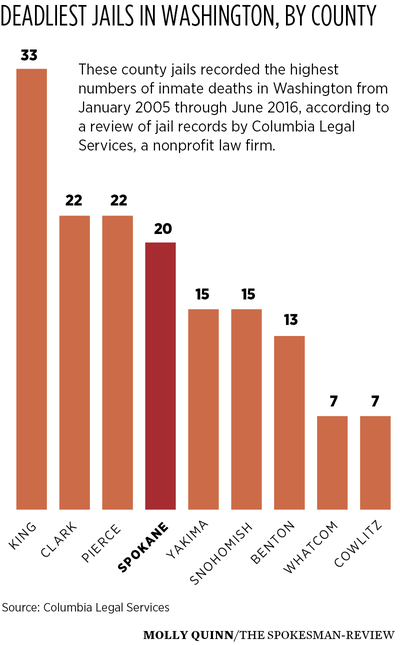 A nonprofit law firm has identified more than 200 people who died in Washington jails over the course of nearly 12 years, finding lapses in supervision, medical and mental health care, suicide prevention and protocols for treating drug withdrawal and overdoses.
Columbia Legal Services, which has offices across the state, obtained thousands of pages of records from 54 city, county and regional jails and detailed its findings in a 31-page report released this week.
The investigation found 210 people, ages 18 to 82, who died in jails in the state from January 2005 to June 2016.
"Many of these deaths are entirely avoidable, caused in part by society's failure to properly care for the many people with mental illness, traumatic brain injuries, cognitive disabilities and substance use disorders who end up behind bars," the report states.
"Faced with the chronic failure of federal, state and local governments to properly fund essential services, jails struggle to maintain order and treat all people humanely, respectfully and safely."
The report refers to 24-year-old Lindsay Kronberger, who spent nine days suffering from heroin withdrawal before dying of cardiac arrest in the Snohomish County Jail in 2014. It also refers to Christopher Parker, a 33-year-old diabetic man who died at the Spokane County Jail after taking methamphetamine and being placed in a restraint chair in 2013.
Columbia Legal Services found that some people died by suicide after corrections officers placed them in isolation cells, exacerbating their mental health crises. Neglect, use of force and failure to treat drug and alcohol problems also were factors in some deaths, the law firm found.
Twenty of the inmates counted in the report died in the Spokane County Jail, which has since recorded eight additional deaths. Only three other counties had higher death tolls.
King County – which holds more than twice as many inmates as Spokane County – recorded 33 deaths. Pierce and Clark counties each had 22.
The report follows a public radio investigation published in April that found 306 jail deaths in Washington and Oregon from 2008 to 2018.
"We have too many people locked up in jails for the wrong reasons," said Nick Straley, a Columbia Legal Services attorney who authored the report. "We've criminalized mental health disorders and substance use disorders, and placed people who suffer from those conditions behind bars rather than in much more appropriate community-based treatment facilities."
According to the report, Washington is one of 17 states where local and county jails have no oversight at the state level.
"In fact, no state agency has the authority to supervise local jails," Straley said. "So we think that there needs to be some level of supervision and transparency to allow the public and appropriate agencies to ensure that what's happening behind jail walls is as humane and appropriate as possible."
The report recommends systemic changes aimed at preventing jail deaths:
Increase the use of diversion programs.

End the use of cash bail to keep people incarcerated before trial.

Stop isolating inmates who threaten suicide.

Improve community-based treatment and housing options.

Train jail staff on crisis intervention and de-escalation techniques.

Establish statewide standards, monitoring and reporting requirements.

Establish protocols for treating withdrawal and overdoses, including the use of medication.

Improve health screenings at the time of booking.

Fund jail staff to ensure adequate supervision and care.
"Implementing these relatively few reforms will dramatically reduce the number of people injured, disabled or killed in our jails," the report states.
Local journalism is essential.
Give directly to The Spokesman-Review's Northwest Passages community forums series -- which helps to offset the costs of several reporter and editor positions at the newspaper -- by using the easy options below. Gifts processed in this system are not tax deductible, but are predominately used to help meet the local financial requirements needed to receive national matching-grant funds.
Subscribe now to get breaking news alerts in your email inbox
Get breaking news delivered to your inbox as it happens.
---