Sports > High school sports
State track and field: North Central's Allie Janke breaks 3A meet record with win in 1,600
UPDATED: Thu., May 23, 2019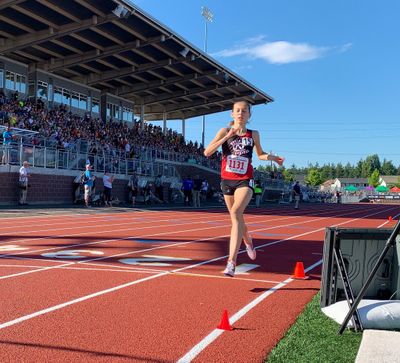 TACOMA – Nobody else was going to push North Central distance sensation Allie Janke, so one of the nation's best sophomores pushed herself.
Janke cruised to her second State 3A title in the 1,600-meter run Thursday at Mount Tahoma High School, setting the classification's meet record (4 minutes, 43.6 seconds) in the process.
Janke also broke the tradition-rich Indians' school record previously held by one of the Greater Spokane League's greats, Katie Knight (4:45.84).
"I was running scared the whole time," said Janke, who beat second-place Meri Dunford (Prairie) by 11 seconds. "You never know what other runners are going to pull out of their hat.
NC junior Erinn Hill took fourth (5:01.94).
Janke, who is also favored to win the 3,200 and runs a leg on the Indians' district-champion 1,600 relay team, carried a business-as-usual demeanor after the record-breaking run.
Was the record even on her mind?
"It was kind of side note," said Janke, who has also won a State 3A cross country title. "I knew if I ran my race, (the record) would be a present."
Her previous best (4:45.89) was ranked as high as third in the country earlier this season.
Ferris' Omlin wins
4A high jump title
Going into his final leap, Ferris sophomore Cole Omlin was sitting in fourth place in the high jump with a mark well below his personal best of 6 feet, 7 inches.
He took advantage of his last attempt, though, clearing 6-6 and securing his first State 4A title.
Omlin placed fifth at the State 2A meet last year as a member of the Cheney High track team before transferring to Ferris.
"It's been a dream of mine to win a state title," said Omlin, who's also expected to medal in the 4A long jump this weekend. "I've been around this for a long time."
Omlin's father, Bob Omlin, is the jumps coach at Ferris who previously coached jumpers at Eastern Washington and Whitworth.
LC's Rogers wins
4A long jump
When the skies turned gray, Sativa Rogers put on her hoodie and sweatpants, taking off the layers of clothes just before each jump.
Staying warm and loose apparently helped.
Rogers' jump of 19-3 1/2 was enough to claim a State 4A title in the girls long jump.
Rogers dethroned defending state champion and Oregon signee Alisha Watson (18-10 1/2) of Tahoma, who placed third.
Rogers is also expected to push for a state title in the 100 after winning the District 8 crown last week (12.05 seconds).
Pullman duo
wins state titles
The Pullman High boys team got off to a quick start after claiming a pair of 2A individual titles.
Junior distance talent Eliason Kabasenche won the 1,600 (4:18.39), and Dylan Hodge was victorious in the long jump (22-5 3/4).
• In 3A, Mt. Spokane senior Spencer Barrera placed third in boys triple jump (45-5 1/2) and teammate Ryan Miller finished fifth in the shot put (50-5 1/2). Shadle Park's Victoria Arnold placed fourth in the girls triple jump (37- 3/4) and NC's Alex Kness placed fourth in the boys 1,600 (4:16.67).
• In 2A, West Valley's Daniel Miller took fourth in boys shot put (51-1 1/4). Pullman's Peyton Teevens placed fourth in girls high jump (5-0), and Cheney's Abigail Scott took fifth in the javelin (125-5).
• Central Valley had two state champions in the 1,600 wheelchair division. Jackson Atwood (4:01.7) won the boys race, and Hannah Dederick (4:37.17) won the girls race.
Small schools
Oakesdale junior Lizzy Perry placed second in the 1B girls 1,600 in 5:34.05 at the State 1A/2B/1B meet at Roos Field at Eastern Washington University, where 12 state champions were crowned.
Perry finished 19 seconds behind winner Rosalie Fish of Muckleshoot Tribal. Anais Mills of Garfield-Palouse was fourth at 5:54.03 and Madison Dingman of Oakesdale was fifth at 5:54.96.
Junior Alaina Stone of Colville placed third in the 1A girls 1,600 in 5:07.28, and Deer Park's Libby Mitchell was eighth at 5:21.53. In the 2B girls 1,600, Jora Gleason of St. George's was eighth at 5:34.70.
Brayden Merrill of Lakeside (Nine Mile Falls) placed fourth in the 1A boys 1,600 in 4:29.14. In 2B, Gavin Merritt of Tekoa-Rosalia finished fifth in 4:31.71.
In the 1B girls long jump, Oakesdale stood out as sophomore LouEllen Reed placed sixth at 14-11 1/2, senior Logan Reed was seventh at 14-11 and eighth-grader Jessie Reed was eighth at 14-8 1/4. Mary Groom of Republic was ninth at 14-8.
Taylor Sande of St. George's placed eighth in the 2B girls triple jump at 34-4.
Sophomore Carly Lauritzen of Lakeside was sixth in the 1A girls pole vault at 10-0. In the 1A girls high jump, Lauritzen and Amelie Broussard of Freeman tied for 10th at 5-0.
In the 1,600 wheelchair races, Phillip Croft (4:32.69) and Elizabeth Floch (4:45.9) of Valley Christian took first place.
Local journalism is essential.
Give directly to The Spokesman-Review's Northwest Passages community forums series -- which helps to offset the costs of several reporter and editor positions at the newspaper -- by using the easy options below. Gifts processed in this system are not tax deductible, but are predominately used to help meet the local financial requirements needed to receive national matching-grant funds.
Subscribe to the sports newsletter
Get the day's top sports headlines and breaking news delivered to your inbox by subscribing here.
---