News > Spokane
Governor, mayor salute 140th anniversary of Spokane's oldest church
UPDATED: Tue., May 28, 2019 People came from far and wide Sunday to celebrate the 140th anniversary of the Westminster Congregational United Church of Christ, which can trace its beginnings to a log cabin on Sprague Avenue in 1879.
Since its humble origin as the only church in the area, the church has grown to become a congregation that welcomes everyone and is known for its ministry to the homeless and the LGBTQ community. That legacy can be traced to its roots, when the church was founded by both whites and members of the Spokane Tribe.
The current chairwoman of the Spokane Tribe, Carol Evans, was among the roughly 300 people who came to help the congregation celebrate. She told the story of her ancestors and how life changed for them after white settlers moved in.
"My ancestors lived in this area," she said. "This was their homeland."
Gov. Jay Inslee sent a message of support, writing that Westminster has served its community with faith, hope and love. "Located at the corner of Fourth Avenue and Washington Street since 1890, you seek to welcome all members of the community and strive to aid the sick and the lonely, the oppressed and the poor, and to work relentlessly for the improvements of the lives of all residents of your community," Inslee wrote.
Spokane Mayor David Condon sent an official salutation that noted Westminster's "history of passionate concern for the city of Spokane and dedication to serving its citizens."
The Rev. Andy CastroLang, who has led the congregation for more than 16 years, gave a sermon centered on the message that Spokane is one body, and like any body it needs and depends on each of its parts in order to function. "We are one body," she said. "We need each other."
She touched on the church's long history and its efforts to promote social justice. "We've been here all along, since the beginning," she said. "Westminster has been here since it was Spokan Falls without the e."
The church will continue to serve all the parts that make up Spokane, she said. "We are strong and we are beautiful in our variety," she said.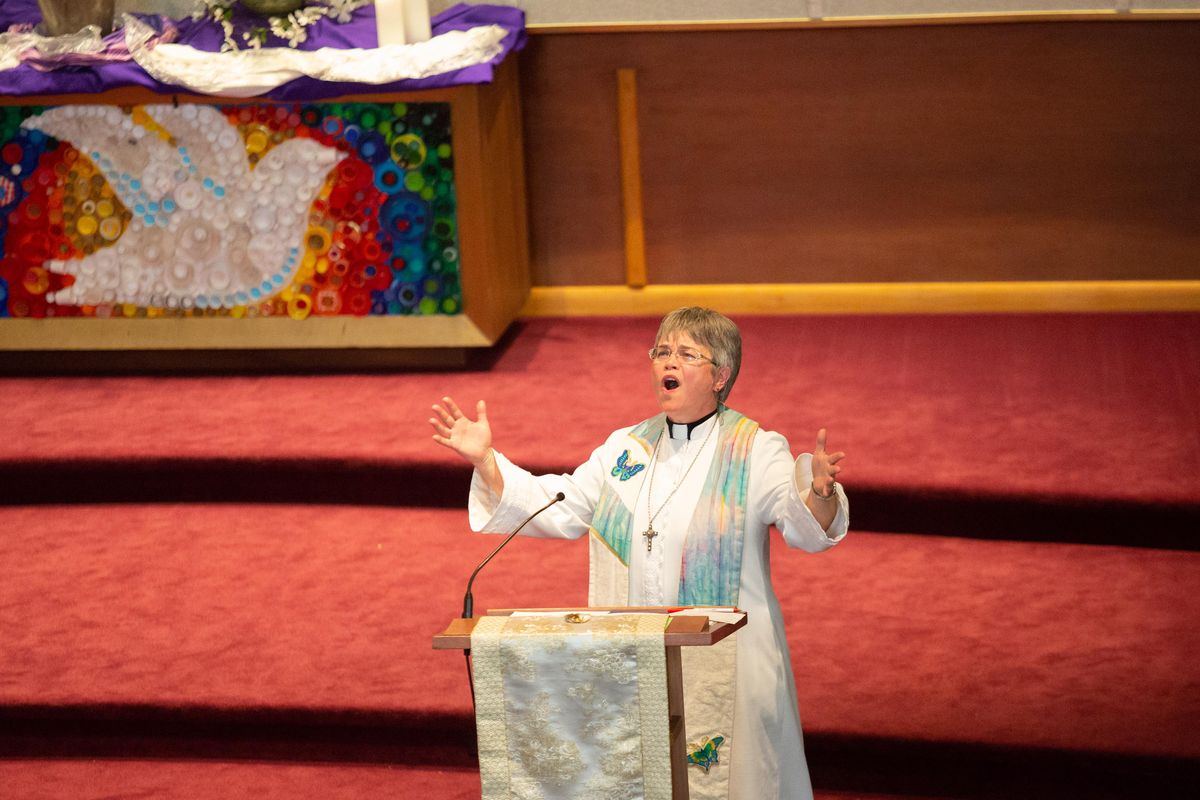 Rev. Andrea CastroLang delivers a reflection to the congregation of Westminster Congregational United Church of Christ on May 26, 2019 in Spokane, Wash. The Sunday celebration marked 140 years of Westminster's church in Spokane. (Libby Kamrowski / The Spokesman-Review)
Pacific Northwest Conference Minister Rev. Mike Denton also spoke, mentioning the many divisions in today's society. "It doesn't have to be this way," he said. "We're all in this together. One hundred and forty years ago some people came together and said 'We can make a difference.' What if we did that today?"
The highlight of Sunday's special celebratory worship service was a new hymn written for the occasion by organist Janet Hubbard. The three-part piece, called "Our Time Together," addresses the past, present and future.
Each of the three parts was performed by the choir, led by director Verne Windham. A flute and violin accompanied the first part and the flute, cello and bells added their song to the second part. The final part, which looks to the future, featured rhythmic drumming on a hand drum.
The celebration ended with a buffet and a champagne-and-sparkling-cider toast to Westminster's future. Yvonne Lopez-Morton was among those celebrating, though she's not a member of the church. She has friends who are and has attended services there.
"I love this church," Lopez-Morton said. "I love Andy CastroLang and her message of inclusion. That's what sings to me, really."
She said she likes how the church welcomes everyone. "How many places can marginalized people go?" she said. "It's a safe place for so many people."
Though she was using a cane and walking with difficulty, Lopez-Morton said she had to be there. "There's something about this church and the legacy it has," she said. "I feel comfortable here."
Andi Chatburn said she's on the leadership team of a church in Spokane Valley, but likes to attend services at Westminster when she can. "Whenever I need a soul-uplifting sermon, I come to Pastor Andy," she said. "This is a congregation that lives its mission in a way that's difficult to do, and that's inspiring."
Deb Elzinga walked in the door on Easter Sunday in 2017 and never left. She was in town for a job interview and picked Westminster at random that weekend, because she liked the United Church of Christ her in-laws attended in Arizona.
"I knew it was the church for me," she said.
Once she got the job and moved to Spokane, Elzinga began attending Westminster regularly, though she said why she likes the church is difficult to put into words. "It's what the church stands for," she said. "It's living God's commandment to love our neighbor. I see that in this church over and over again."
She described Westminster as a church that walks the walk. "When you see how they live their faith, it's inspiring," Elzinga said.
Local journalism is essential.
Give directly to The Spokesman-Review's Northwest Passages community forums series -- which helps to offset the costs of several reporter and editor positions at the newspaper -- by using the easy options below. Gifts processed in this system are not tax deductible, but are predominately used to help meet the local financial requirements needed to receive national matching-grant funds.
Subscribe now to get breaking news alerts in your email inbox
Get breaking news delivered to your inbox as it happens.
---