Global Neighborhood Thrift aims to provide more job training, employment to former refugees through store expansion When Khalid Samir fled turmoil in his home country of Iraq a few years ago, he sought refuge in Spokane.
He didn't speak English and lacked connections for landing a job. But he was able to find Global Neighborhood, a nonprofit organization that provides a job readiness program and employment for former refugees.
An electrical technician in Iraq, Samir now works as a cashier at the organization's thrift store while he awaits acceptance into Inland Empire Electrical Training Trust's apprenticeship program.
"I like working and benefiting from the opportunity to speak with people," he said.
Samir is one of many refugees Global Neighborhood has assisted in building a new life and career in America through the organization's thrift store, which recently relocated to 919 E. Trent Ave. from a site in north-central Spokane.
"I think everybody likes it. The staff likes it and the customers seem to like it," said Brent Hendricks, executive director of Global Neighborhood. "It works better for what we are doing for our job training program, and I love it here."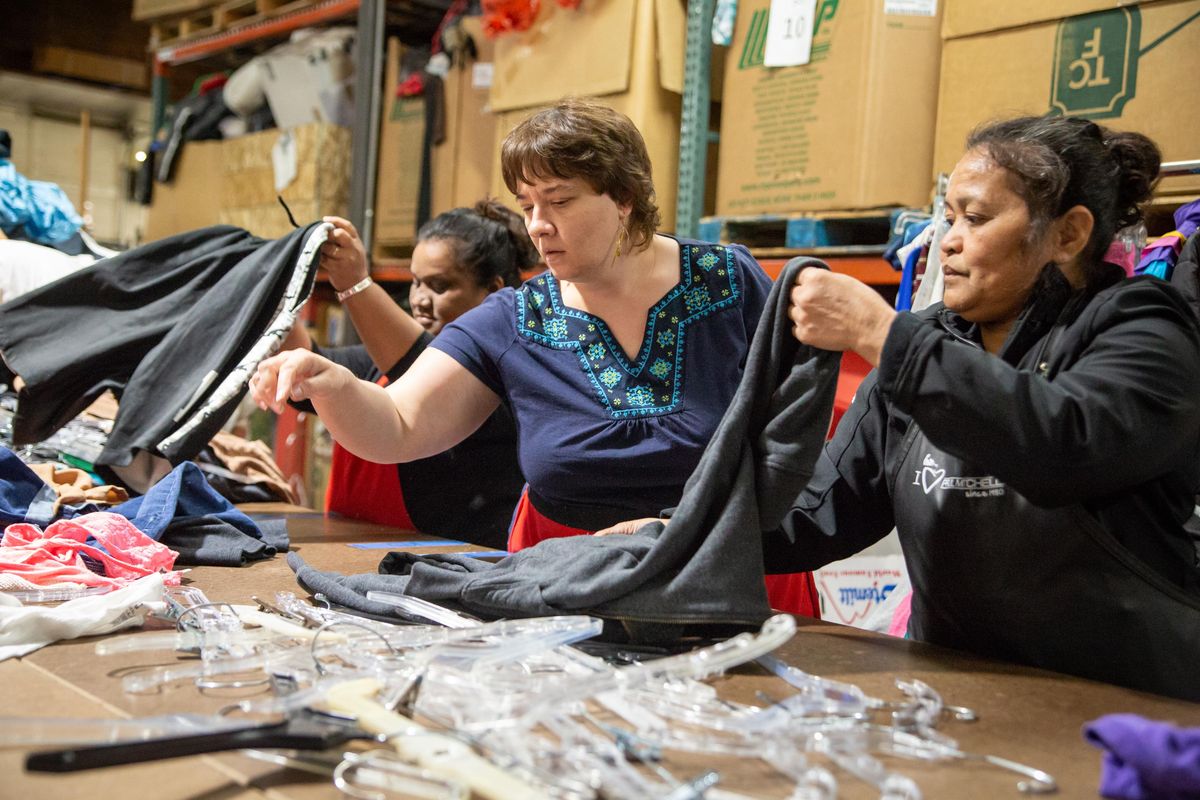 At its new location, Global Neighborhood plans to expand its job readiness program, which teaches cultural workplace norms, interview skills and résumé building, among other things.
"We want to be the place where people can practice the expectations of the United States workplace, and we're also going to be a work reference," said Jen Landis, director of Global Neighborhood's job readiness program. "We teach many of the tools that are going to help people get their next job."
The job readiness program, which currently has 13 participants, takes three to nine months. In addition to learning job skills, participants attend workplace-English lessons through Career Path Services during breaks as well as take English as a Second Language classes through Spokane Community College's Adult Education Center.
"It's a little bit like school, so every day, (participants) get a score in attendance, conduct and performance," Landis said. "If there are any issues, we talk about them, so that when someone goes to what is hopefully a long-term job, they can really succeed."
Participants earn a certificate once they complete the program, Landis said.
"So that's something they can take with them. It's a way for them to get their foot in the door," Landis said. "From there, people either go on to find other jobs in the community, or we will hire someone on if we have a position."
Global Neighborhood's thrift store jobs are part-time and involve cashiering, processing inventory and stocking shelves. The thrift store employs eight people in addition to job readiness program participants, Landis said.
More than 10,000 refugees have made Spokane their home since 2017, according to World Relief, a global organization that assists refugees with resettlement.
Global Neighborhood was founded by Hendricks and his wife, Amy, in 2007. Brent Hendricks, a former resettlement worker with World Relief, found refugees needed support and employment and that inspired him to launch the organization.
"They didn't have stability and had trouble establishing themselves," he said. "We thought, 'We have to do something to help people find jobs.' We decided to start a business to help them get training and go on to find other work."
The couple launched Global Neighborhood Thrift in 2011. Last year, the organization employed more than 49 former refugees.
Landis, who finds friendships often form between employees, said the community seems to be supportive of Global Neighborhood's mission.
"That's one thing that I've learned working here, is you don't have to share a language to find a connection," she said. "I think that the people who are exiting our program are fantastic employees, and if employers are open to working with people who might speak different levels of English, they will find great employees."
---