Throwing darts: Community Colleges of Spokane baseball trio became viral sensations with off-field antics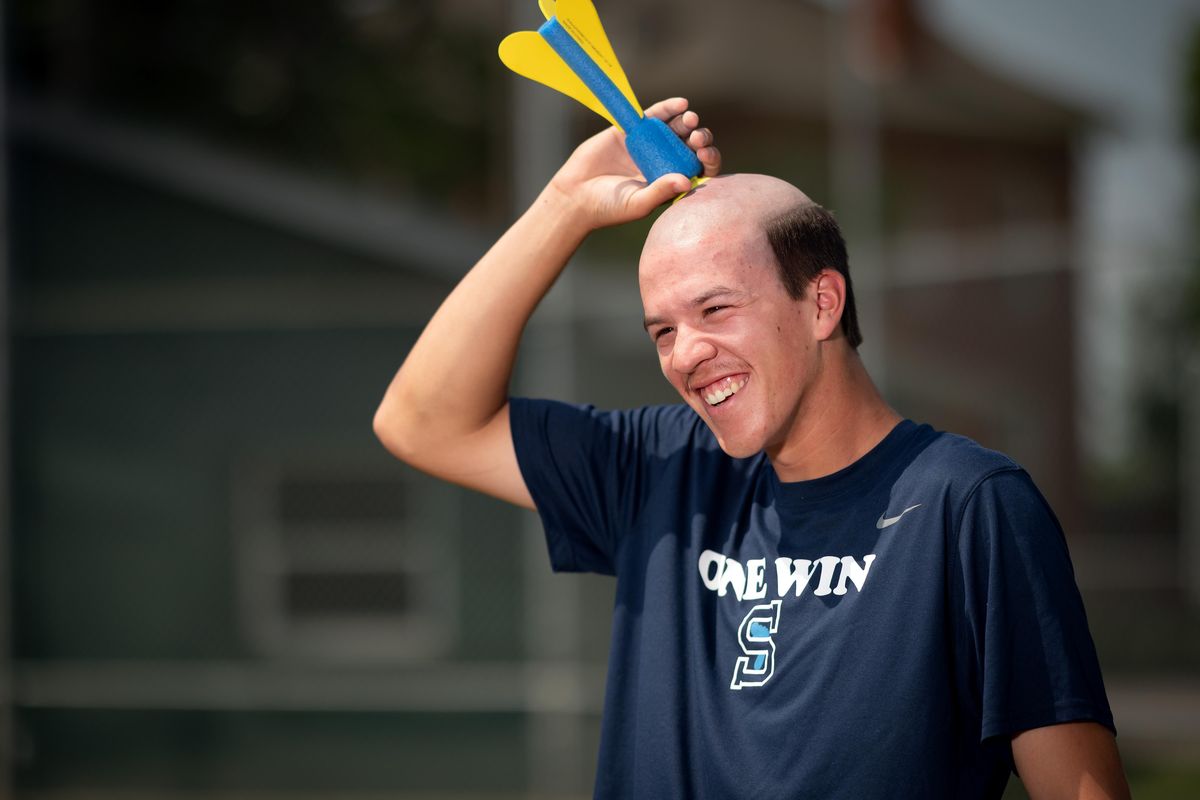 The most nerve-wracking pitch of Reed Harrington's brilliant junior college career involved a Styrofoam dart and a bald head.
Harrington, a Community Colleges of Spokane reliever who didn't yield an earned run all season, fired the toy's suction-cup tip into the shaved-to-the-nub dome of teammate Brenden Duncan during a live broadcast of the Northwest Athletic Conference Tournament on Sunday in Longview, Washington, praying it would stick on the first attempt.
Pop.
Elation burst from the Sasquatch's dugout upon connection, its most convivial players wearing plastic dinosaur hats and swim goggles.
A rain-soaked crowd enjoyed this sideshow act.
"Put that on YouTube and it (will go viral)," an announcer said to the Sasquatch players, who went on to place third at the tournament for the second straight season.
He wasn't wrong.
Players were soon huddling around a hotel television and watched as Duncan's head – shaved into the form of horseshoe pattern baldness as part of a bet – absorbed the dart on ESPN SportsCenter.
"That's when it became bigger than we thought it was," said Duncan, an infielder and North Central product.
The popular sports and pop culture website and satellite radio station Barstool Sports also picked up on the CCS dart-to-head pursuits, but posted a different video featuring about a dozen trick shots that were also filmed during the stay at the NWAC Tournament.
One clip features Duncan running a wide receiver pattern in the hotel parking lot before Harrington unloads a high-arching pass that torpedoes onto Duncan's head and sticks.
Another clip shows Duncan riding the hotel's baggage cart before getting drilled.
The video has generated over 1.2 million views on Barstool's Twitter account alone, and many other sports websites have since posted the content.
Jadan Vandervert, a CCS outfielder and Shadle Park graduate, said he initially posted the trick shots to his Snapchat account, before a friend took that video and put it on Twitter.
His phone has been inundated with notifications since.
"It's been crazy," Vandervert said. "And it all started because we were bored between games and went to Target."
The store sold the darts for about a dollar each, Vandervert said, and Harrington felt compelled to stick one to Duncan's new Danny DeVito-looking hairdo.
A short throw turned into a longer throw, and a longer throw turned into an array of attempts at the hotel and in the dugout during their game's rain delays.
When the NWAC broadcast crew first saw the attempts in the CCS dugout, they asked Harrington and Duncan to come out and do it live on camera.
"Probably the most pressure I felt all year," said Harrington, who recently signed with Boise State. "If I made a bad throw, who knows if we'd be viral right now."
CCS, which recently earned its first East Region title since 2005 and is a combined 68-33 the last two seasons, has elevated its profile under second-year coach Bryan Winston, a two-time East Region Coach of the Year.
Going viral was the perfect junior college capper for Vandervert, who signed to play next season at NCAA Division II Montana State-Billings.
"It's been really special to be a part of the program's reboot," he said. "And now, because (of going viral), more people want to play here.
"We established the baseball playing part and were good at that, and now people want to play here for the fun social part of the team."
---