Sports
A Grip on Sports: As Daylight Savings ends, college basketball season begins
Fri., Nov. 1, 2019 A GRIP ON SPORTS • It's Friday. You know what starts up this weekend? Yep, college basketball gets a move on as we turn our clocks back an hour.
•••••••
• The Gonzaga Bulldogs will take the McCarthey Athletic Center court tonight. The GU women will do the same tomorrow afternoon. Both play exhibitions, the men against a good NAIA team, Lewis-Clark State, the women against Warner Pacific, a school with a strong area tie.
There have been exhibition games throughout the area, with the Washington State women winning one last night and other schools getting into the mix.
It's just that time of year.
You know what doesn't stop? College football. Basketball may be getting underway – around here, with the success Gonzaga has experienced the past two decades, that's pretty important – but football is getting ready for the stretch run.
Even if the Cougars begin November by taking a week off.
As for the rest of the nation, it's a pretty dull Saturday. The calm before a hurricane, maybe, but still there are only two games that match ranked teams: the usual Georgia (8) vs. Florida (6) cocktail party in Jacksonville and upstarts SMU (15) and Memphis (24) playing in Tennessee. That's where GameDay is this week. Who would have thought? Sonny Dykes, a Mike Leach disciple who flamed out at California, succeeding at SMU, a school that hasn't done well since Eric Dickerson and Craig James comprised The Pony Express – and the boosters broke every rule in the NCAA's thick book.
Anyhow, the rest of the schedule isn't all that exciting, though the Pac-12 has two key matchups. One is in Washington, where the Huskies will try to destroy ninth-ranked Utah's slim playoff hopes. The other is in Los Angeles, where USC will try to do the same to No. 7 Oregon.
As I told my sister yesterday during a phone call (she's a UCLA fan), it would be just like the Trojans to ruin every other Pac-12 schools' chances for a bigger payday by upsetting Oregon on Saturday and then winning the South. That would keep Utah out of the championship game and ensure the conference a seat on the sidelines while four teams play in the tournament.
No matter. While all that is going on, college basketball will be roaring through its regular season.
And we all know the West Coast is a basketball-centric region. Right?
•••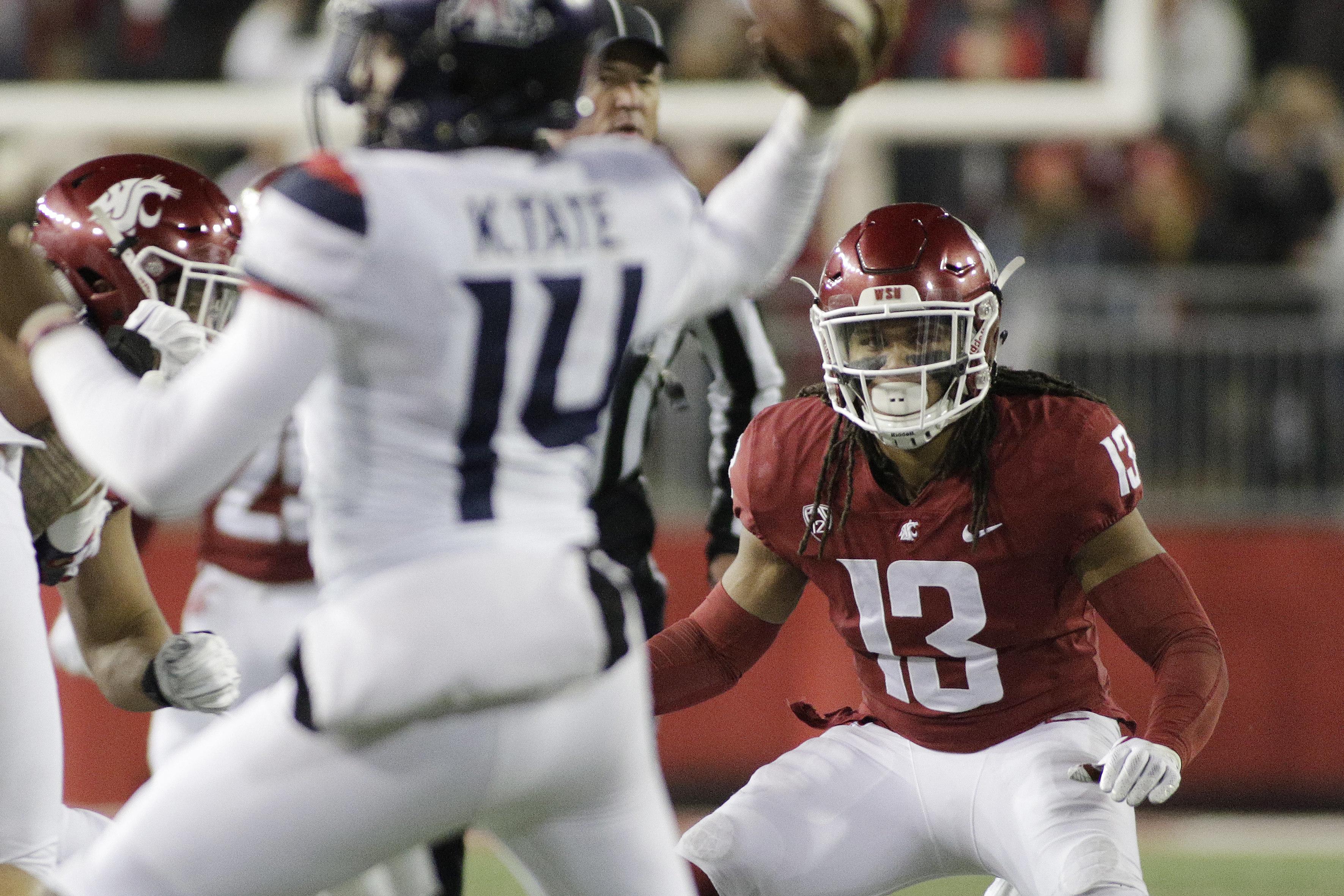 WSU: Dan Thompson helps out during the bye week by taking a look at the Cougars' defense. It's a pretty young squad and the numbers reflect that. … As we said above, the women's basketball team won a home exhibition game last night. … Elsewhere in the Pac-12, it's time to make picks. Will Washington be able to run consistently against the hard-hitting Utah defense? The answer to that will probably decide who wins. … Oregon faced an Air Raid team last week. Now it faces USC's version, which is a bit different. … Oregon State needs a fast start against the new-look Arizona defense. … Both UCLA and USC are looking for athletic directors. Their circumstances are different, however. … Colorado hopes its defense can do enough to stunt UCLA's season-long growth. … There are basketball stories from Washington, Washington again and Arizona.
Gonzaga: You want a preview of tonight's game with Lewis-Clark State? Jim Meehan has one. The Warriors are talented but Gonzaga is a different level, especially inside. … Jim also takes a look at the new, farther-from-the-hoop 3-point line for the men. A little-known fact. Some colleges will have at least three 3-point lines on their court if they want to host high school games. The lengths are different for high school as well as for the women and men in college. … The women face Warner Pacific on Saturday. The Knights' coach, Matt Gregg, was a fixture at Freeman High for a while and now has a son who may be a fixture at GU in the future. Jim Allen has more in this story. … Larry Weir visited with Matt Santangelo and talked about the upcoming SR-sponsored event for Quentin Hall. That conversation is part of the latest Press Box pod. … Around the WCC, BYU has an exhibition game tonight. … San Diego had just five players healthy for an exhibition game this week. The Toreros lost.
EWU: If Eastern wants to finish with a winning record this football season, it can't lose another game. Northern Arizona visits tomorrow. Ryan Collingwood looks at the Eagles' record and the schedule ahead.
Preps: Gonzaga Prep had to rally in the second half last night to get past Lewis and Clark. The 21-20 Bullpup win means they will be in the playoffs next week. The GSL 4A title will be decided tonight as Ferris and Mead play. … We can also pass along roundups from volleyball and soccer.
Seahawks: Rookie safety Marquise Blair has earned his playing time by hitting hard. … Joey Hunt has earned his by earning his teammates' confidence. … Tampa Bay's defense has some monsters up front. … Russell Wilson gets a lot out of his visits to Seattle Children's Hospital.
Mariners: Felix Hernandez is officially a free agent. More than likely, the best pitcher the Mariners have produced will not be back.
Sounders: All of CenturyLink will be open for next week's MLS Cup. That's more than 70,000 seats. … Brian Schmetzer is moving into the stratosphere of MLS coaches.
•••
• I'm not a big fan of waking up at 7 a.m. because the sun is still asleep. Nor am I a fan of the sun setting at 4 p.m. One of those things has to happen, though, when you live this far north. Until Saturday, the former is in play. After Sunday morning, the latter happens. Daylight Savings Time is coming to an end. You have been warned. Until later …
Subscribe to the sports newsletter
Get the day's top sports headlines and breaking news delivered to your inbox by subscribing here.
You have been successfully subscribed!
There was a problem subscribing you to the newsletter. Double check your email and try again, or email
webteam@spokesman.com
---