Inmates file lawsuit alleging poor treatment at Washington State Penitentiary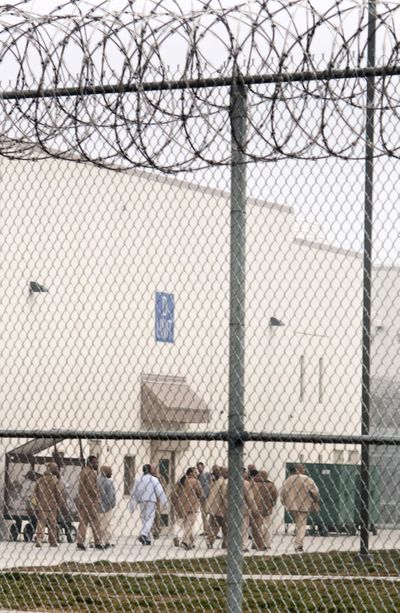 Five inmates filed a lawsuit Tuesday against the Department of Corrections, claiming they were treated poorly, including being placed in solitary confinement without reason, at Washington State Penitentiary in Walla Walla.
The lawsuit, filed in Thurston County Superior Court, listed DOC leaders as defendants, including Donald Holbrook, penitentiary superintendent, for his role in allegedly approving solitary confinement for the inmates who were transferred from Clallam Bay Correctional Center to the penitentiary.
It also listed defendants Stephen Sinclair, Department of Corrections secretary, Robert Herzog, DOC prisons division assistant secretary, and Jeri Boe, Clallam Bay Correctional Center superintendent.
Holbrook didn't respond to inquiries by press time, but WSP spokeswoman Allison Window wrote in an email, "Due to this is pending, I will not comment."
She said, however, that reasons inmates were placed in solitary confinement included "negative behavior, investigation, and for their protection."
Nick Straley of Seattle-based Columbia Legal Services said community members in Clallam Bay contacted him with their concerns about inmates' treatment, after which he met with solitary confinement prisoners in the Washington State Penitentiary.
He said the lawsuit only seeks to have the DOC remove the inmates in question out of solitary confinement or provide evidence that they were being violent, as DOC had claimed. He also said the suit asks for inmates' personal property to be returned and for the clerk to declare that the prisoners' rights had been violated.
The complaint claimed the five inmates were "subjected to unhealthy food, slave wages, shoddy-yet-expensive products and services, and group punishment," while being housed at Clallam Bay.
The alleged accommodations provoked many men at Clallam Bay to refuse breakfast and activities on Oct. 7, after which prison administrators locked down the prison through the next day, the lawsuit stated.
At about 3 a.m. on Oct. 9, prison officers allegedly woke up men, including the five plaintiffs, and put them on a bus to the Penitentiary. They allegedly had a bottle of water on the trip and didn't have a meal until dinner, the complaint stated.
The five prisoners were among those placed into solitary confinement upon arrival, the lawsuit stated, where they have stayed since. The lawsuit claimed no reason has been given for their placement in the Intensive Management Unit.
Straley said 36 inmates were taken from Clallam Bay to either Coyote Ridge Correctional Center in Connell or the WSP, and 15 were placed in the Penitentiary's Intensive Management Unit.
The five inmates suing the DOC include George Augustine, Kimonti Carter, Jason Roberts, Felix Sitthivong and Cory Zaharko.
Augustine pleaded guilty to residential burglary, third-degree assault, firearm theft, and unlawful firearm possession in a home-invasion robbery in 2010 in Seattle, according to a King5 news report. With the three-strike law, he faced a life sentence, but he made a plea deal, and a 25-year sentence was recommended.
Carter was sentenced to life without parole for a drive-by shooting that killed a university student in 1997 in Tacoma, according to the Christian Science Monitor.
Roberts was sentenced to 30 years in prison for fatally shooting a Federal Way police officer with the officer's gun in 2003, according to a Seattle Times report.
Sitthivong was convicted of fatally shooting one man and injuring another in 2010 in Belltown, a Seattle neighborhood, according to a Seattle Post-Intelligencer report.
Zaharko pleaded guilty in 2008 to second-degree aggravated murder, second-degree unlawful firearm possession and possession of marijuana and meth in Kelso, Washington, according to a the Daily News report. He was sentenced to life in prison without parole.
---