News > Spokane
Spokane police officer denies sexual assault
Nov. 1, 2019 Updated Fri., Nov. 1, 2019 at 9:39 p.m.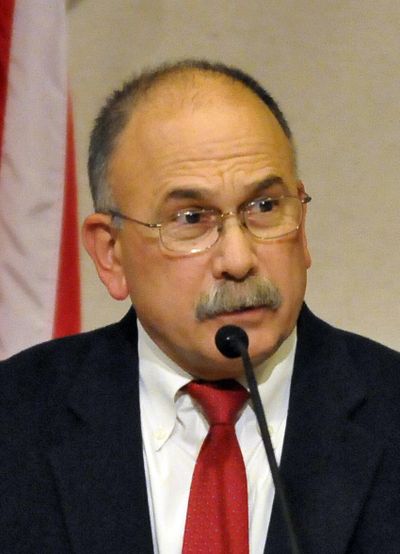 A Spokane police officer under investigation for a reported sexual assault by a domestic violence victim issued a statement Friday through his attorney, Rocky Treppiedi, denying the allegation.
According to a search warrant, Spokane County Sheriff's detectives began investigating Spokane Police Officer Nathan Nash after he went to see the crime victim on Oct. 23. He was following up on an initial report from Oct. 15, after the woman said new bruises had formed from the previous assault that she wanted to have an officer document.
After the woman's father reported the contact to Spokane police, officials placed Nash on administrative leave while county investigators looked into the allegations.
"Ofc. Nash categorically denies the allegation of sexual assault or any criminal activity," Treppiedi said in the Friday news release. "The allegation is false. We are not likely to have any further comment until the investigation is complete."
By defending Nash, Treppiedi steps back into the role of defending police officers, a role he performed for decades as an assistant city attorney.
Former City Attorney Nancy Isserlis fired him in 2012 following complaints about the controversial tactics used to defend officers involved in the Otto Zehm case.
Zehm, 36, died two days after a March 18, 2006, encounter with police in a north Spokane convenience store. After two young women mistakenly believed that he had stolen their money from a nearby ATM, officers beat Zehm with a baton, shocked him with a Taser and hog-tied him before he stopped breathing.
The first officer on the scene, Karl F. Thompson Jr., was later convicted in November 2011 in federal court of using excessive force and lying to investigators.
In a separate civil case, city officials settled a lawsuit filed by Zehm's family for $1.67 million.
That civil case, which was filed prior to criminal charges against Thompson, was halted in 2009 by a U.S. District Court Jude Lonny Suko after federal prosecutors alleged that Treppiedi was improperly using information gleaned from the civil suit to help defend Thompson against criminal charges.
As a result of that controversy, two-term Spokane mayor David Condon promised during his campaign that he would fire Treppiedi.
Local journalism is essential.
Give directly to The Spokesman-Review's Northwest Passages community forums series -- which helps to offset the costs of several reporter and editor positions at the newspaper -- by using the easy options below. Gifts processed in this system are not tax deductible, but are predominately used to help meet the local financial requirements needed to receive national matching-grant funds.
Subscribe now to get breaking news alerts in your email inbox
Get breaking news delivered to your inbox as it happens.
---