Marketing > EVERCANNABIS
What is it about Whatcom County cannabis?
Fri., Nov. 1, 2019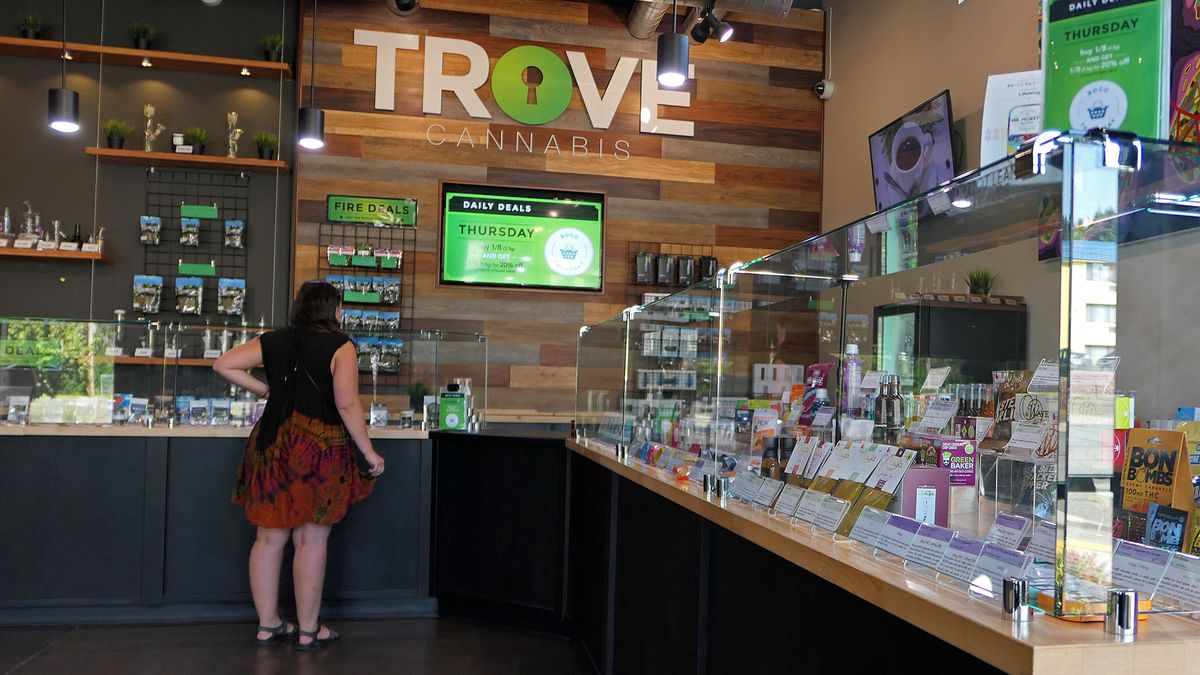 A shopper visits Trove Cannabis in Bellingham. (John Nelson / Special to EVERCANNABIS)
It's safe to say Whatcom County loves its weed. It feels like cannabis stores are everywhere. Of course, King County leads the state in gross sales of cannabis products, thanks to its marketplace of 2 million people. But Whatcom County has the most retailers and producers per capita in the state. "The density of cannabis stores in Bellingham is pretty crazy," said Josilyn Peterson, store manager of
Trove Cannabis and Coffee
. "There's a lot of fierce competition here," agreed Quinn Sharpe, owner of
Satori
in downtown Bellingham. Satori, which started in Spokane, now has Western Washington shops in Seattle's Fremont neighborhood and Bellingham. "The demographic here supports it," said Sean Wu, store manager of
Green Leaf
, which has two locations in Whatcom County. Western Washington University has a lot of cannabis-friendly students, he said, and on the other end of the spectrum, you have many pro-weed retirees moving to the area. Retail is just part of the equation. Whatcom County also has 76 growers and processors.
Subdued Excitement
, renowned as one of the best producers of high-end flower in the state, has its grow in Ferndale. And Bellingham's
Verdelux Chocolates
is one of the state's top makers of edible cannabis products. Its non-descript warehouse sits near downtown, where it produces Bon Bombs chocolates, Illuminations hard candies and Lush chewables. In July, this weed-friendly city was home to the first
Bellingham Budfest
, a celebration of cannabis that also featured educational panels, music, local art and food. The event was so successful that organizers already have secured a date for next year's Budfest: July 26, 2020. "We had twice as many people as we were expecting," said Amanda Mac, the event's founder. Budfest succeeded in producing zero waste, being family friendly and going a long way toward normalizing cannabis use. "We had so many people there who had never consumed cannabis," she said. "They just wanted to learn." Mac says the community is progressive about artisan endeavors, whether its craft beer or the burgeoning cannabis industry. "Bellingham is just a very special place," she said. "It's a creative, open and collaborative place that appreciates high quality." Mac pointed to the famous weed-growing region of Northern California for comparison. "Are we the Humboldt of the north? I'd have to agree," she said. Another piece of Bellingham's cannabis success story is due to local government cooperation. The city and county "are open-minded and aware of the potential for entrepreneurs and tourism," she said. Sharpe of Satori agrees with that assessment. "I wouldn't say Bellingham city government is exactly pro-weed – they are pro-business," he said. "They see the potential." Businesses like Satori have a uniquely Bellingham feel, fitting in seamlessly with the city's vast craft beer scene. Walking in feels like you're going into a friendly neighborhood boutique. That feeling of normalization is even more evident at Trove, with its popular coffee shop next door. "I like to think of Trove as more of an experience," said store manager Peterson. People come for coffee and a snack, then shop next door at the cannabis store. "We're trying to normalize it, to be welcoming and friendly," she said. "People shop here because they feel more comfortable. We're building a community." Among Whatcom County's grow operations are popular producers
Eagle Trees
,
Khush Kush
and
Mount Baker Gardens
. If you're a cannabis connoisseur, Ferndale's Subdued Excitement – or SubX – produces some of the best-quality flower strains in the state. Much of that is due to head grower Nate Jorgensen. "I've been doing this for 24 years," he said as he walked around SubX's warehouse. "I started growing pot in my closet when I was in high school." Over the years, Jorgensen learned more and more about techniques and jumped at the chance to expand when recreational weed became legal. Even though rural Whatcom County has conservative pockets, people in the community are supportive, he said. "Nobody has ever given me any flak when they find out what I do," Jorgensen said. "If anything, they've told me they were proud of us. We're employing a lot of people who never had legal jobs before." The key to SubX's success is "in keeping it consistent," Jorgensen said. "We want to put out a good product that we can be proud of."
John Nelson is a longtime journalist, having worked at major news operations in Spokane, Memphis and Seattle. He now works as a freelance journalist, writing about outdoors recreation, marijuana and recreational vehicles.
Local journalism is essential.
Give directly to The Spokesman-Review's Northwest Passages community forums series -- which helps to offset the costs of several reporter and editor positions at the newspaper -- by using the easy options below. Gifts processed in this system are not tax deductible, but are predominately used to help meet the local financial requirements needed to receive national matching-grant funds.
Subscribe now to get breaking news alerts in your email inbox
Get breaking news delivered to your inbox as it happens.
---