A&E
A miracle for Mariah: Advances in cystic fibrosis treatment offer hope for former resident of Spokane Valley
Sat., Nov. 2, 2019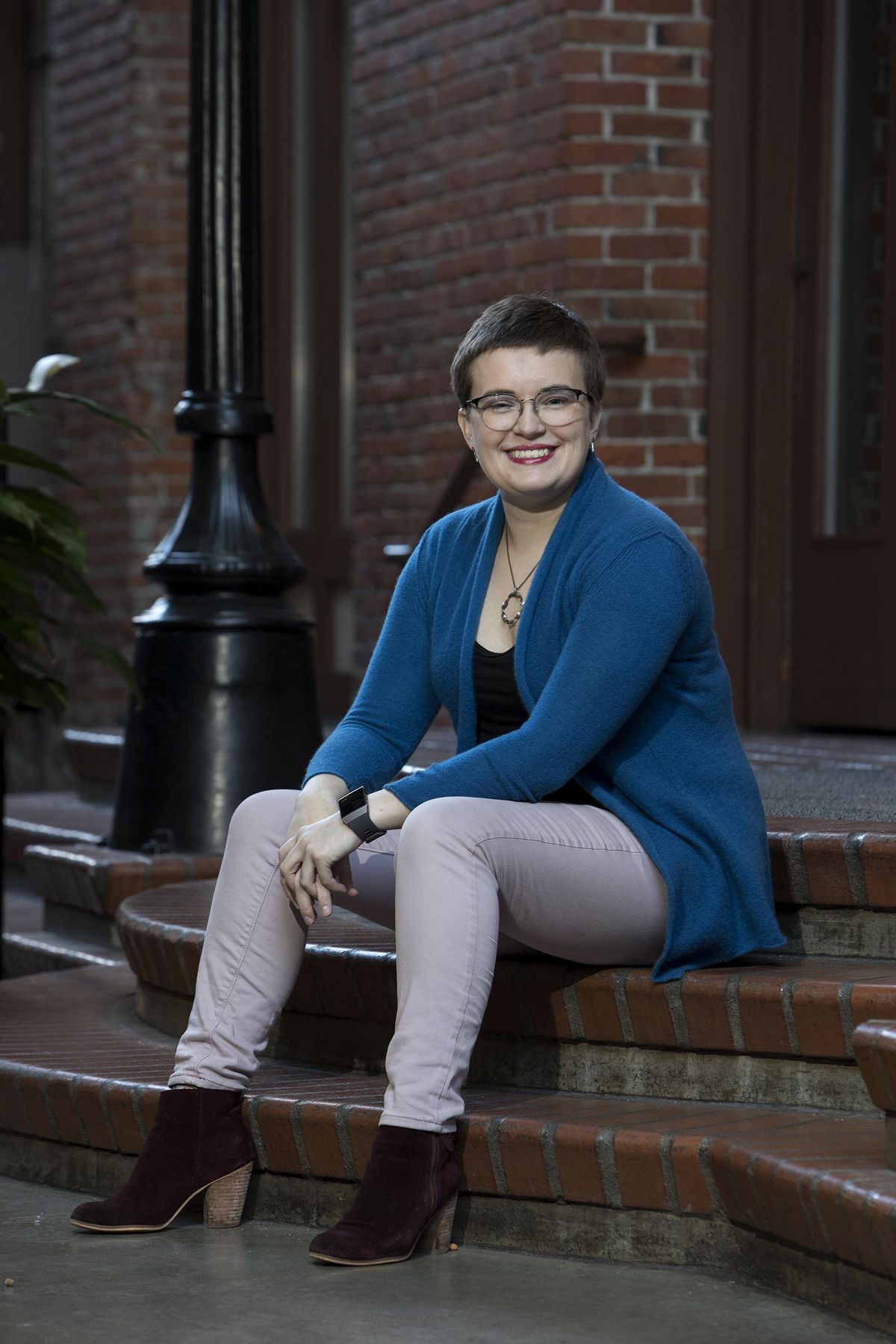 Mariah Hanley sits in downtown Seattle on Wednesday. (Patrick Hagerty)
As a child growing up in Spokane Valley, Mariah Hanley learned early that her chances to lead a long life were slim. Before she turned 3, she had been diagnosed with cystic fibrosis, a chronic, progressive and frequently fatal genetic disease of the body's mucus glands.
The average lifespan for a CF patient was 30 years. But just a few months ago, a doctor told Hanley, now 26, that she should start planning for retirement. A new drug is changing the dialogue for CF patients and spurred the physician's bold instructions.
Hanley had participated in a nationwide drug trial that led to the Oct. 21 approval of Trikafta by the Food and Drug Administration. It's the first triple-combination therapy available and estimated to be effective for about 90% of cystic fibrosis patients.
"My doctor said, 'You need to plan for retirement. That's something I've never told my CF patients to do before,' " said Hanley, who now lives in Seattle. She's the daughter of Tim and Addy Hatch Hanley, a former managing editor at The Spokesman-Review.
"Underneath that was it's never been a possibility for people with CF before. I sure wasn't planning on a retirement. That wasn't going to happen, and now it's something that actually could, will, probably has the possibility of occurring."
She traveled solo this past summer to Europe, which she said wouldn't have happened previously because of illnesses and antibiotic treatments.
A year and a half ago, Hanley and her family knew about a phase three study to test a new CF therapy, so she asked to be part of it at Seattle Children's Hospital. On April 26, 2018, she took her first dose for a "triple-combo medication" trial, not knowing whether she was on a placebo or the real thing.
Before that in late winter 2018, Hanley had struggled with her health after battling recurring infections and persistent coughing in recent years. She had little energy, and her lung function tested at the lowest ever.
Within a week of starting the trial, she noticed a significant change. "I was having an easier time breathing, I wasn't coughing nearly as much, and I immediately noticed I had so much more energy," said Hanley, an attorney for the Northwest Justice Project.
"I wasn't coughing up gross stuff from my lungs every single day. Before this, people could recognize me by my cough because I had such a distinct, hard cough. It sounded like the worst smoker's cough, and it was constant."
Within a month, Hanley was certain her lung function had drastically improved, although she wasn't allowed to see results during the study. "It's important to note that they were testing two triple combos at the same time, and the one I was on was the one that wasn't moved forward, but it was very similar to what was eventually approved as Trikafta," she said.
"It isn't a cure, though, and I think that's really important to remember. It helps approximately 90% of people with CF, so there is still 10% who don't benefit because their genetic mutations aren't helped by this med. There's still work to be done, but this is a huge step."
Trikafta, developed by Vertex Pharmaceuticals, emerged after three previous drugs were developed in recent years by the same company, said Dr. Michael McCarthy, a Spokane pediatric pulmonologist and medical director of the Providence Sacred Heart Medical Center cystic fibrosis clinic.
He said the clinic treats about 200 cystic fibrosis patients from the Spokane area and outlying regions including Montana, North Idaho and Central Washington. McCarthy expects Trikafta will be available for prescriptions this month for patients 12 and older. He thinks it will affect roughly 100 people he treats.
"We were participating in the trials (in Spokane) and had a small number of patients involved because it was a multicenter trial," McCarthy said. "I think breakthrough is a very appropriate way of describing Trikafta," he said.
"Cystic fibrosis is a genetic disease, so the ultimate cure is going to be true gene therapy, by which they will somehow be able to change the gene and fix the problem from the very origin."
Gene therapy experiments began shortly after discovery of the cystic fibrosis gene in 1989, and, despite "great strides," he said the work hit early roadblocks. That pushed work on other solutions until gene therapy can become effective.
"A deduction was made that the next best thing if you can't change the gene, then somehow change the problem that the gene creates inside the cell," he said. "That's what led to the discovery and development of this class of drugs called gene modulators."
The first such drug was released six years ago and proved effective for only a small percentage of patients. The next two drugs increased the number of cystic fibrosis patients affected, but those medications didn't bring as dramatic of an effect on patients' symptoms, McCarthy said.
Instead of reaching about 60% of patients who have an effective gene modulator drug, Trikafta takes that to around 90% of patients who also are likely to see more dramatic benefits, he said.
"If it's effective, and it's looking like it is. It improves their overall respiratory symptoms," McCarthy said.
"Most of our patients have a persistent cough, and they cough up sputum on a regular basis. Because their airways are obstructed with these excessive secretions that are part of cystic fibrosis, they have various degrees of shortness of breath."
The new therapy is expected to tackle another significant issue. Because of difficulties inside the airway, cystic fibrosis patients get recurrent infections, bronchitis and sometimes pneumonia that over time can cause lung damage, he said.
"What these drugs are really intended to do, and looking successful in doing, is slowing or decreasing future lung damage," he said. "Life expectancy almost certainly will continue to improve."
Patients are likelier to be more active and continue to work, he added. McCarthy anticipates faster insurance approvals for Trikafta, with timing varying by providers, but likely smoother as a process based on experience with the prior gene modulator drugs. That's important because Trikafta is expected to cost about $311,000 a year, likely covered by insurance.
Hanley and her family closely looked after her health growing up, and she didn't have many serious issues during childhood, she said. That changed drastically when she left for Seattle University in 2011. She'd had pneumonia as a high school senior and "got sicker and sicker."
"Throughout college, maybe about every six to nine months, I ended up being hospitalized or on IVs again just because of infections that I wasn't able to shake," she said. "That continued throughout law school and throughout my first year and half of work."
It's been a long wait, watching as news came out. "Me and my family have been waiting for this drug since I was diagnosed."
Hanley recently looked back at a 2001 article her mom saved about how the CF gene had been discovered some 16 years prior, asking, where's the cure? "Even before that, we were told, 'Hold on, keep her healthy, it's coming.' "
Before these new therapies, people with cystic fibrosis eventually faced a lung transplant, or they got too sick to have a lung transplant and died, she said.
"I wasn't anywhere near that point, but it was very much a thing that I knew sometime in the future, I would have to deal with. So getting on these meds was a huge adjustment because I really doubt now that will ever be something I'll have to deal with."
Hanley is still on the trial medication but expects to make the switch soon officially to Trikafta.
She said the cystic fibrosis community has been abuzz since the Oct. 21 announcement. Teens and young adult patients are making future plans. Hanley said she and others are grateful for donations to the Cystic Fibrosis Foundation, which supported research leading to Trikafta.
"When I finally did actually get on the drug, it was very, very overwhelming. It changed the trajectory of my life," Hanley said. "It has changed the trajectory of so many lives for people with CF."
Local journalism is essential.
Give directly to The Spokesman-Review's Northwest Passages community forums series -- which helps to offset the costs of several reporter and editor positions at the newspaper -- by using the easy options below. Gifts processed in this system are not tax deductible, but are predominately used to help meet the local financial requirements needed to receive national matching-grant funds.
Subscribe to the Spokane7 email newsletter
Get the day's top entertainment headlines delivered to your inbox every morning.
---