News > Education
A tale of two schools: Test scores diverge on Spokane campuses, despite investments
Sat., Nov. 2, 2019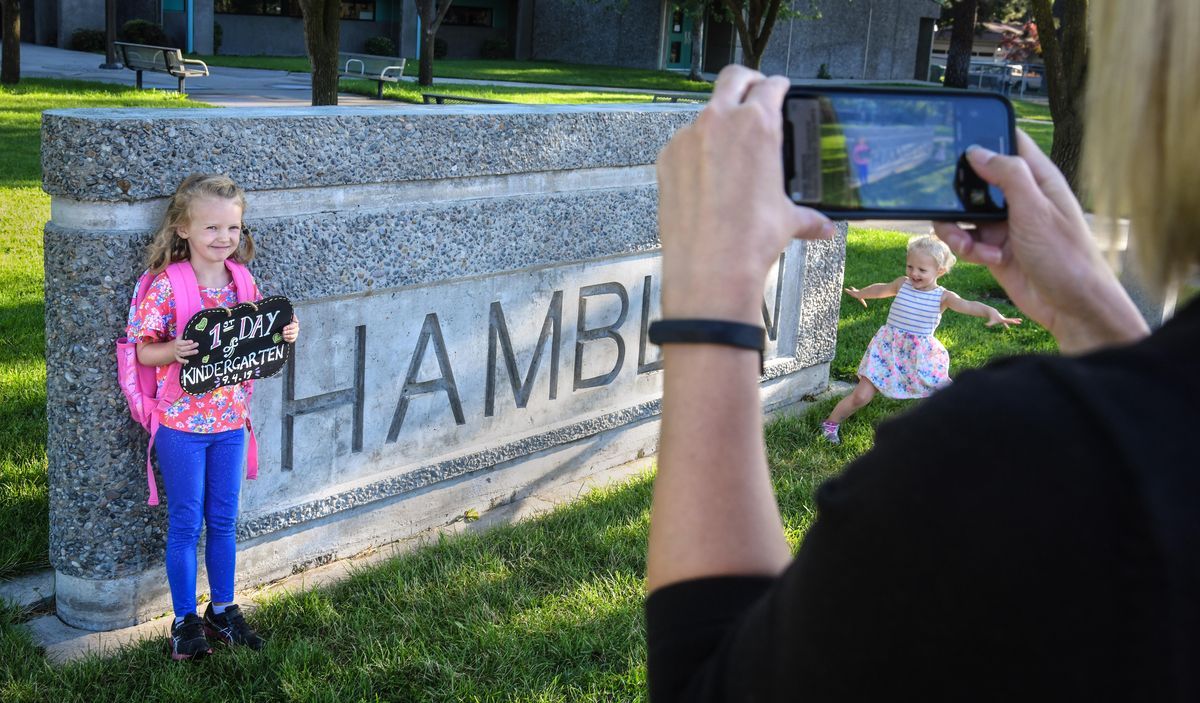 Audrey Adams, 5, has picture taken by her mother, Tana, on the first day of kindergarten at Hamblen Elementary School, Sept. 4, 2019. During the 2014-15 school year, 61.5% of Hamblen students met the standard for language arts. Last year the percentage soared to 74%. The improvement in math is even more striking: from 51.3% to 68.1%. (Dan Pelle / The Spokesman-Review)
On the first day of kindergarten this year at Hamblen Elementary school, parents could send their children through the front door with optimism.
And why not? Their children will be educated by teachers with an average of 14 years experience. More than 70% of them have master's degrees.
The streets are quiet and tree-lined, and most children walk to school from the single-family homes surrounding the building and its namesake, Hamblen Park.
The school doesn't sit in the wealthiest neighborhood, but the area is solidly South Hill middle class.
And for four years in a row, the percentage of students who meet or exceed state educational requirements has improved.
During the 2014-15 school year, 61.5% of Hamblen students met the standard for language arts. Last year, the percentage soared to 74%. The improvement in math is even more striking: from 51.3% to 68.1%.
And with smaller class sizes at grades K-3, the expectation is that student performance will continue to get even better.
"Parents are really supportive of that," Principal Stefanie Heinen said at the beginning of the school year. "The amount of teaching our children can get at early ages is really important. It's a really powerful tool to get them off to a great start."
The numbers tell a different story 8 miles to the northwest at Audubon Elementary.
Many students are struggling from the onset of school.
Located in a lower-income neighborhood north of West Central, the school offers free and reduced-price meals to 85% of its students. That's more than double the rate at Hamblen but less than several other district schools.
Attendance at Audubon is spotty – 20% of students miss at least two days a month, compared to 8% at Hamblen – and teachers generally have less experience.
The bottom line: Fewer Audubon students are meeting statewide standards. In the 2014-15 school year, 33.8% of students met state standards in language arts. Last year, that had declined slightly to 33.1%
However, the rate dropped sharply in math from 33.6% to 25.6%.
The divergence of test scores is even greater at the highest- and lowest-performing middle schools, Sacajawea and Shaw, respectively.
At Sacajawea in 2014-15, almost 69% of students met state standards in language arts. By last year, that climbed to 77.2%.
Students at the South Hill school also showed solid improvement in math during that period, from 61.7% to 66.4%.
Meanwhile, scores have plummeted at Shaw. Four years ago, 35.8% at the northeast Spokane school met state standards in language arts; now it's 27.6%.
In math the rate dropped from 26.6% in 2014-15 to 19.1% last year.
The problem persists even as the school district spends more money at schools in low-income neighborhoods.
For example, the district spent $12,082 per pupil last year at Sacajawea on the South Hill. At Shaw in northeast Spokane, the allocation was $17,262.
More money is needed at schools in lower-income neighborhoods to pay for typically higher numbers of counselors, therapists and other specialists, said school district officials.
"The primary driver is working to create focus in serving the whole child," said associate superintendent Adam Swinyard, the chief academic officer for Spokane Public Schools.
Local journalism is essential.
Give directly to The Spokesman-Review's Northwest Passages community forums series -- which helps to offset the costs of several reporter and editor positions at the newspaper -- by using the easy options below. Gifts processed in this system are not tax deductible, but are predominately used to help meet the local financial requirements needed to receive national matching-grant funds.
Subscribe now to get breaking news alerts in your email inbox
Get breaking news delivered to your inbox as it happens.
---