News > Spokane
Lighted Madonna will be affixed to Cathedral Plaza this Christmas season
Tue., Nov. 5, 2019 Madonna returns.
The lighted Christmas display that adorned the corner of the old Bon Marché building for decades will shine on downtown Spokane this holiday season after a three-year absence.
The 47-foot tall religious icon, Madonna and the Christ Child, will adorn the east face of the Cathedral Plaza, a 15-story residential tower at Sprague Avenue and Jefferson Street just west of downtown. Work will begin on the installation today, and the official unveiling is anticipated for Nov. 22, the Friday before Thanksgiving, according to the Downtown Spokane Partnership.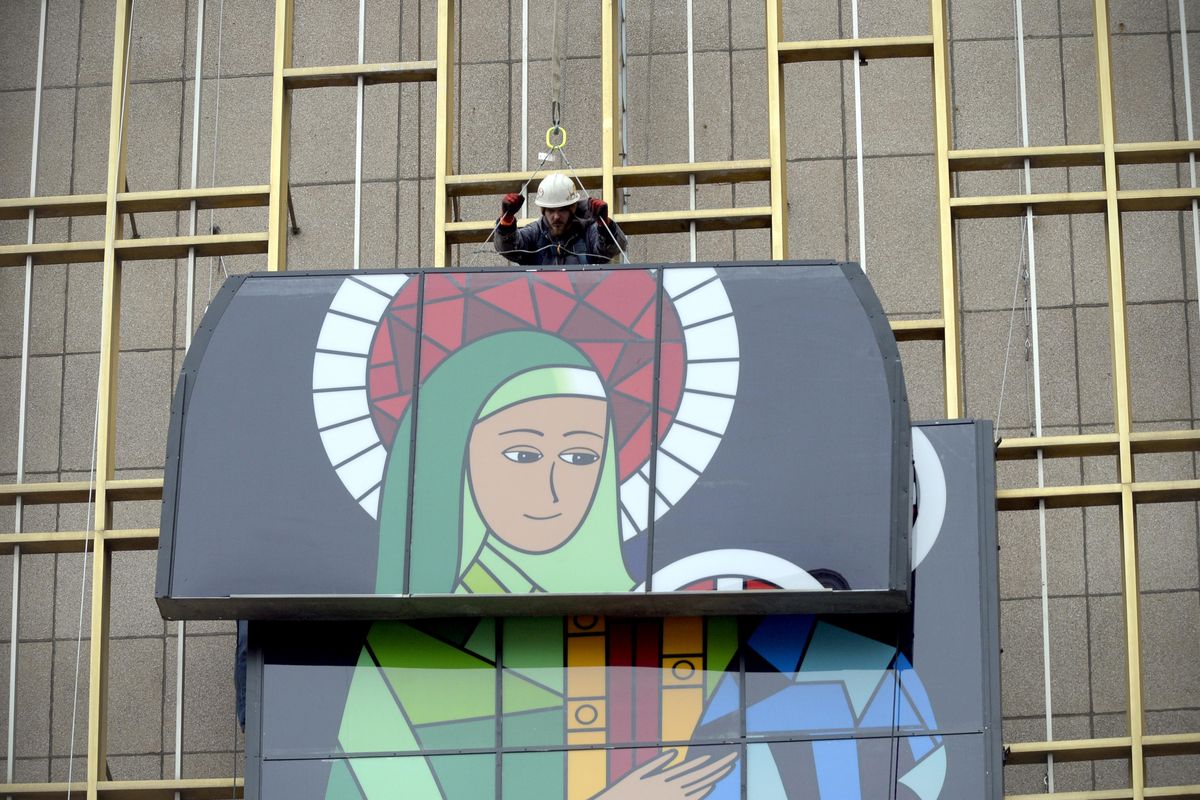 Tad Delong of Baldwin Sign guides one of the last pieces into place as he helps to install the lighted Madonna and Christ Child Christmas display in 2014. The lighted display will be installed on the east face of the Cathedral Plaza apartments, 1120 W. Sprague Ave., this holiday season. (Jesse Tinsley / The Spokesman-Review)
The backlit, painted plastic display is a modern, Cubist-influenced image based on a hand sketch by an in-house fashion designer at Spokane's Bon Marché. It hung on the corner of the building, which became Macy's in 2005, nearly every Christmas season beginning in 1957. It was given to the downtown business group in 2016 after the building was sold and converted to residential units.
The building, now called The M, is owned and was redeveloped by Centennial Properties, a subsidiary of Cowles Co., which also owns The Spokesman-Review. The corner face the display had been installed on now features apartment windows.
Since its last showing in 2015, the display has been stored with the Baldwin Sign Co., which built the display and installed it over the following years. The lighted display is made of eight parts, each of which weighs 400 pounds, and costs about $13,000 to install. In 2013, Baldwin updated the display with new panels and LED lights, replacing 500 incandescent bulbs with 1,000 LED lights, cutting the operating cost by 90 percent.
Catholic Charities owns Cathedral Plaza, 1120 W. Sprague Ave. The housing provider said last year it would install framework necessary to hang the display during the $4.54 million in renovations it did this year on on the structure, which provides affordable senior housing.
Local journalism is essential.
Give directly to The Spokesman-Review's Northwest Passages community forums series -- which helps to offset the costs of several reporter and editor positions at the newspaper -- by using the easy options below. Gifts processed in this system are not tax deductible, but are predominately used to help meet the local financial requirements needed to receive national matching-grant funds.
Subscribe now to get breaking news alerts in your email inbox
Get breaking news delivered to your inbox as it happens.
---