News > Spokane
Spokane region improves preterm birth rates but challenges persist
Nov. 5, 2019 Updated Tue., Nov. 5, 2019 at 2:08 p.m.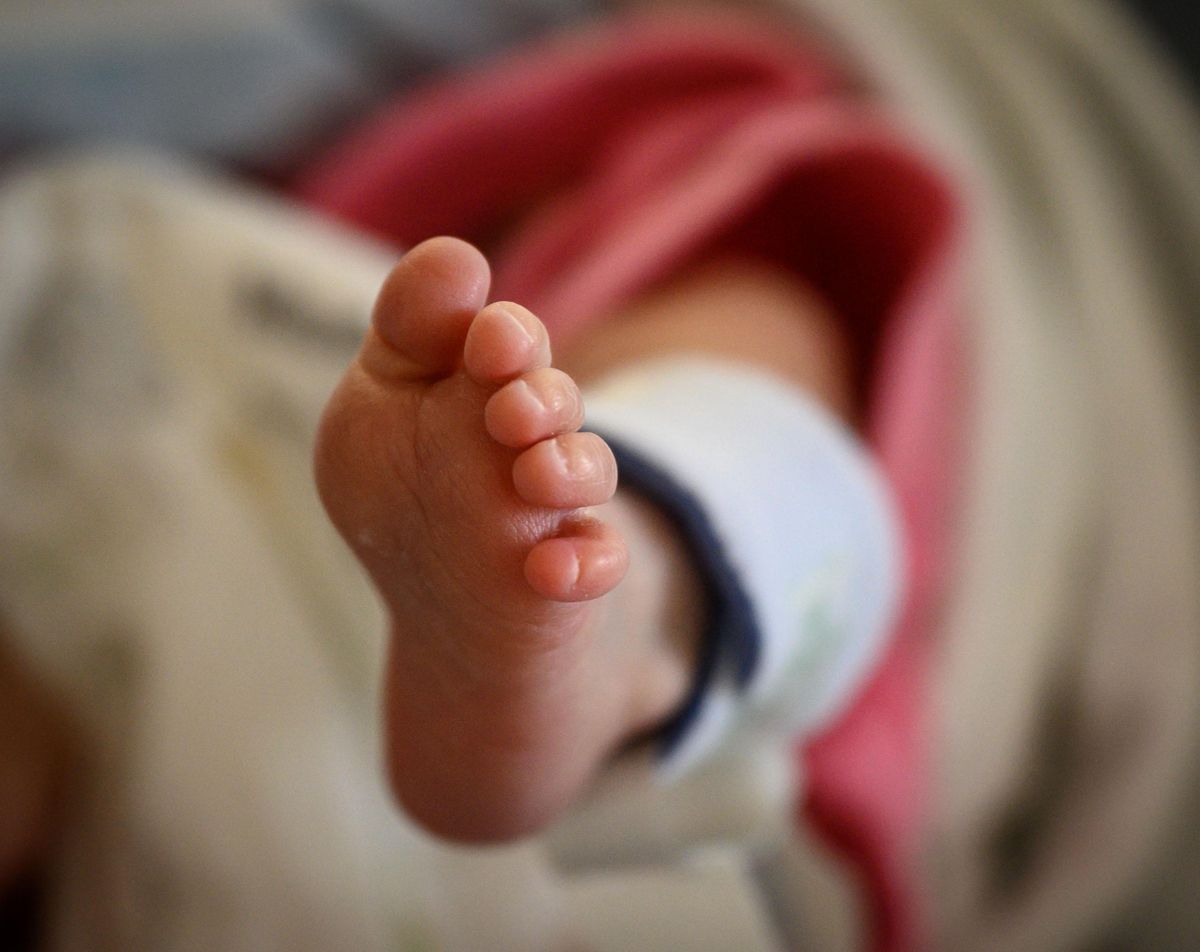 A premature baby is tended to by nurses in the Neonatal Intensive Care Unit at MultiCare Deaconess Hospital in Spokane on Monday. (Colin Mulvany / The Spokesman-Review)
Fewer pregnancies are ending with premature births in Spokane, a new March of Dimes report shows, but the region still lags behind the state rate.
Washington state has one of the lowest preterm birthrates in the country at 8.3%, but like the country, inequities persist among women who give birth preterm, or at earlier than 37 weeks of pregnancy.
Preterm births can lead to poor outcomes for a baby's future development as well as potentially involve long stays in the neonatal intensive care unit, or NICU.
If the mother has high blood pressure, diabetes or infections, or uses alcohol and drugs, she might be considered at-risk for preterm birth. Women who have had a baby preterm previously are also at higher risk to do so again.
Long-term trauma and racism also can lead to higher preterm birthrates, said Kasey Rivas, maternal and child health and government affairs director for March of Dimes in Washington.
"Racism and trauma and high stress all affect your body whether you know it or feel it," she said.
Black women have a significantly higher preterm birthrate than all other women in the United States. In Washington state, women of color have higher preterm birthrates as well. American Indian women have a 53% higher preterm birthrate than all other women in Washington, the March of Dimes report shows.
While Washington is better than the country overall, predictors for preterm birth are more challenging in rural areas of the state.
"We have that access-to-care issue when a woman is living in a rural area with no (obstetrician) or only a family medicine doctor, so she has to drive really far to get that specialty care," Rivas said.
The Spokane region has a higher preterm birthrate than the state as a whole but improved this year. The city's preterm birthrate is 9.2%, and the county has an 8.7% rate.
Dr. Lisa McGill-Vargas, a local neonatologist, can't pinpoint why the region's rate has gone down slightly, but she said that care for preterm babies and NICU practice in general has vastly improved, even since she graduated from medical school just a decade ago.
"One of the things that's concerning is our ability to survive premature babies and our ability in overall neonatal care has improved significantly, but our rates of premature birth haven't really changed," she said.
McGill-Vargas acknowledged several social determinants of health that women she works with face in accessing prenatal care or throughout pregnancy. From transportation to physician shortages, myriad factors can impact a pregnant woman's life up until the baby's birth. McGill-Vargas gives the example of a mother who was told she should not leave the hospital after giving birth, but she had to because she couldn't leave her 3-year-old alone.
"That doesn't make her a bad mother, she's doing the best she can," McGill-Vargas said. "Not everyone has a community."
Access to prenatal care is important for discovering potential predictors of preterm birth, but serious health conditions are ideally being monitored already.
"If we're not diagnosing before this woman is three or four weeks pregnant, we're already behind," she said.
At MultiCare Deaconess Hospital NICU, McGill-Vargas looked closely at the numbers and found many babies were staying more than 20 days because of neonatal abstinence syndrome, or NAS, which occurs when a baby is exposed to drugs, usually opiates, in the womb. The Inland Northwest was hit particularly hard by the opioid crisis and it left many addicted to opioids. In 2017, 78 infants were born with NAS in Spokane County, a Spokane Regional Health District analysis found. NICU staff at MultiCare Deaconess estimate that about 25% of the approximately 350 babies there annually are diagnosed with NAS.
A baby with NAS will go through withdrawal, much like adults do, when it is born. They are typically treated with morphine and then weaned off, but McGill-Vargas and the MultiCare Deaconess team decided to implement a new evidence-based treatment for babies with NAS this year.
The program, called Eat, Sleep, Console, promotes a nonpharmacological treatment, allowing the mother and the baby to have skin-to-skin contact and time together in a private room, instead of on the busy NICU floor. NICU staff and therapists help the mom learn how to provide support for her new baby in the program, helping her console her newborn.
Babies with NAS are more irritable, usually have higher-pitched cries, and could have symptoms including vomiting, diarrhea or sometimes seizures, as the baby goes through withdrawal. Mothers get to stay at the hospital for about four days on average as their baby withdraws, instead of being separated from their baby in the NICU while the mother is discharged.
"It's still a really important chance for positive change, and even moms that have made a mistake a little while ago doesn't mean that they are going to be a bad mother, they are still better medicine than morphine," McGill-Vargas said.
Sarah Hurley, nurse manager at the Deaconess NICU, said transitioning to the Eat, Sleep, Console program was a huge change for the entire staff, but ultimately has been successful.
"We're giving them the opportunity to parent, and everyone that we've had has embraced that," Hurley said.
Since starting the program in May, NICU staff have seen 21 babies with NAS, and only one of those needed morphine. Eat, Sleep, Console has also significantly cut down the number of days that babies with NAS stay in the NICU. With morphine-based treatment, babies would stay on average 21 days. Now they stay about four days on average, a significant cost savings for the hospital and insurance companies, alike.
March of Dimes will pilot four hybrid prenatal care and substance use treatment programs statewide in the coming year to help combat high state NAS rates and help both mothers and babies get treatment.
"I'm hoping we'll see women staying in therapy and staying with their babies as opposed to being disconnected from their babies," Rivas said. "We want to keep the mom and baby together, and then we want to see a mom who continues their treatment."
This story has been updated with the number of NAS-diagnosed infants at the NICU at MultiCare Deaconess.
Local journalism is essential.
Give directly to The Spokesman-Review's Northwest Passages community forums series -- which helps to offset the costs of several reporter and editor positions at the newspaper -- by using the easy options below. Gifts processed in this system are not tax deductible, but are predominately used to help meet the local financial requirements needed to receive national matching-grant funds.
Subscribe now to get breaking news alerts in your email inbox
Get breaking news delivered to your inbox as it happens.
---