News > Spokane
Spokane City Council members would consider asking voters to keep car registration fees after passage of I-976
Nov. 6, 2019 Updated Thu., Nov. 7, 2019 at 9:24 a.m.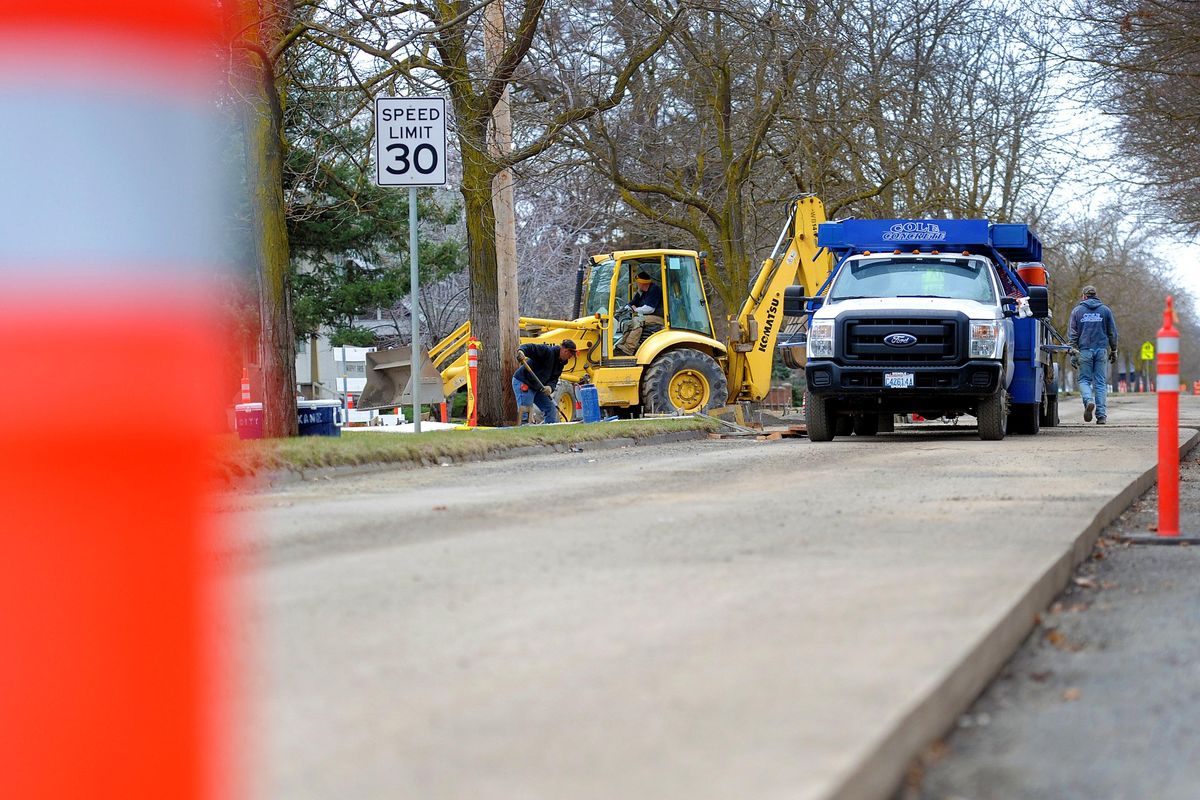 Road crews work on Mission Avenue near Gonzaga University in Spokane in 2018. After state residents voted to limit vehicle registration fees, a majority of Spokane City Council members said they are open to asking local voters to reinstate an annual $20 car registration fee, or find other tax sources, to fund local road maintenance projects. (Kathy Plonka / The Spokesman-Review)
A majority of Spokane City Council members said they are open to asking voters to reinstate an annual $20 car registration fee, or find other tax sources, to fund local road maintenance projects, after state voters repealed the local car tab and other similar fees under Initiative 976.
The willingness to consider reinstating the tax illustrates the city's reliance on the local registration fee, even in the face of solid approval of the ballot measure, which was ostensibly about strictly limiting vehicle registration fees to $30.
Just over 55% of Washington voters approved the latest ballot measure put forward by Tim Eyman, the anti-tax crusader who spearheaded I-976. This year's measure mimicked previous Eyman initiatives and won support of voters for the third time since 1999.
In Spokane County, 54,610 voters approved of 976, and 43,948 voted against it. Within city limits, the majority of voters were against Eyman's initiative in the initial counting; the measure was trailing by 539 votes after the second batch of ballots was released.
The close vote may reflect the benefits the local $20 car tab has brought to Spokane. Each year since 2012, the local fee has allowed the city of Spokane to collect and spend upwards of $3 million for repair of the city's residential roads. Every neighborhood has benefited from this nearly $18 million in roadwork, and 78 miles of roads have had maintenance, ranging from minor chipseal maintenance to the more substantial grind and overlay work.
Part of Eyman's measure hobbled this type of funding. Like Spokane's transportation benefit district, many of the 61 districts in the state had their fees instituted by a government body, not by a vote of the people. I-976 requires voters to approve transportation benefit district taxes.
Though the makeup of the Spokane City Council is still in flux, a majority of members are known, and they all said they were open to reinstating, or replacing, the local tab fee.
Councilwoman Lori Kinnear, who had a convincing reelection victory this week and sits on the Spokane Transit Authority board of directors, said I-976 was "very ill-advised" and "devastating." She said she would ask city voters to approve a local car tab.
"I think they need that choice. Just like they needed that choice to consider the $30 car tab, and they need to be educated on the ramifications if they vote it down," Kinnear said. "I know everybody is worried about the cost but our roads, and our infrastructure, is old and it is crumbling."
Councilman Breean Beggs, who is trailing in the council president race but will retain his seat if he loses, said he was is willing to go back to the voters "with a detailed proposal," but is wary of a car tab.
"I'm not afraid of going to the voters with a really good program and letting them decide," he said.
Beggs said the city's work on major arterial roads was sound and funded through a voter-approved property levy from 2015. Residential roads, however, represent the "vast majority of streets" in the city that need work and now no longer have a dedicated funding mechanism.
Beggs said the car tab tax wasn't popular with voters because it is a "pretty regressive tax" that is more burdensome on people with less money. Instead, Beggs suggested asking voters to again tap property taxes to pay for roads.
"A lot of vehicles in Spokane are not nice brand new Teslas. It's a burden," he said. "I haven't seen the numbers, but I'm pretty sure city voters rejected the car tab. That doesn't mean they don't want us to fix their streets."
Councilwoman Candace Mumm, who was not on this year's ballot and is chair of the STA board, said she too was open to asking voters to reinstate the fee, but warned that the initiative may be challenged before it comes to that.
"I would certainly be open to having a conversation with the voters. If there's enough interest in it, I'm open to it," Mumm said. "One of the problems I had with the initiative is it had multiple layers to it. I've heard it could be challenged on that. Possibly. But we're going to be talking about the outcome as it unfolds."
About an hour after Mumm predicted a challenge, King County Executive Dow Constantine asked that county's prosecuting attorney's office to prepare a lawsuit challenging the constitutionality of I-976, saying "we must clean up another mess that Tim Eyman has created for our state, our region, and our economy."
Councilwoman Kate Burke, who also was not on the ballot and is a member of the STA board, said she was willing to go to the voters to reinstate the fee, but suggested she wanted to have a larger conversation.
"I definitely think it's extremely important to look into this. It's also a really critical time for STA to be creative with their budget," she said, adding that the city needs to take a critical look at how transportation dollars are spent. "Will it go further in a road reconstruction project? Or will it go further with STA?"
Burke, an outspoken advocate of cycling and transit, said the city's transportation priorities needed to be reexamined.
"Transportation is such a critical part of our community that most of us don't think about – especially those of us who have cars," she said, noting that most motorists don't recognize how complex and expensive the road network is to build and maintain.
Nadine Woodward, who appears to have won the mayor's race, said she "would need to take a hard look" at whether or not the city should ask taxpayers to support tab fees above $30.
"We're going to lose a lot of funds that were dedicated for projects in Spokane. I'm going to have to take a look at how we're going to replace those funds," Woodward said.
Specifically, Woodward lamented how the initiative's passage could impact funding for the North Spokane Corridor, otherwise called the north-south freeway.
"Finally, we are halfway through that project. It's very disappointing to lose the funds to finally finish that highway in the next 10 years," Woodward said.
Adam Shanks contributed reporting.
Local journalism is essential.
Give directly to The Spokesman-Review's Northwest Passages community forums series -- which helps to offset the costs of several reporter and editor positions at the newspaper -- by using the easy options below. Gifts processed in this system are not tax deductible, but are predominately used to help meet the local financial requirements needed to receive national matching-grant funds.
Subscribe now to get breaking news alerts in your email inbox
Get breaking news delivered to your inbox as it happens.
---