A&E
Spokane artist Miguel Gonzales resides on biculturalism line between two worlds
Thu., Nov. 7, 2019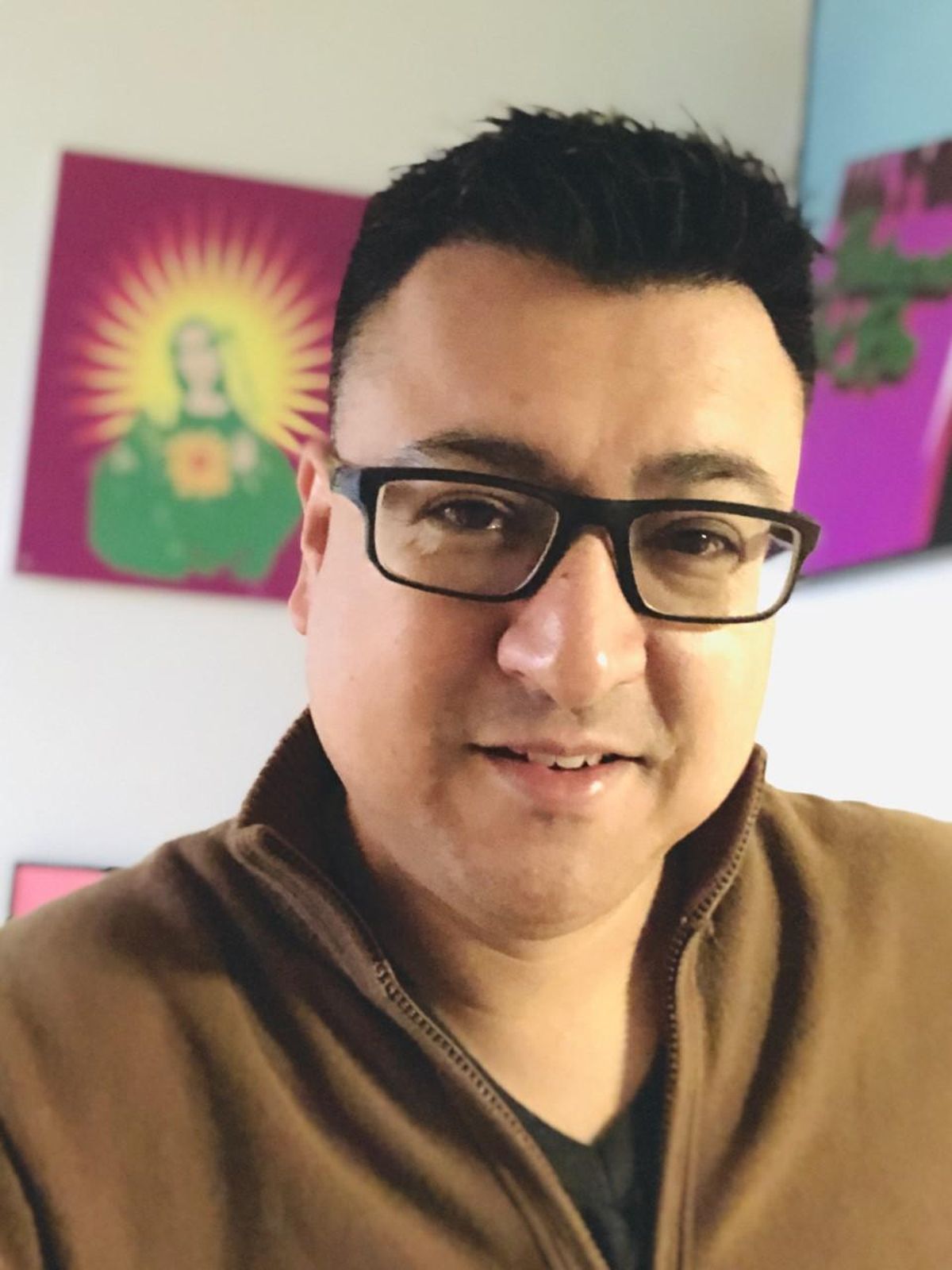 Spokane artist Miguel Gonzales. (Courtesy)
Spokane artist Miguel Gonzales resides in two environments: One is American, the other is Mexican. Sometimes he doesn't feel at home in either. "When I'm here in the United States, to many people, I'm not American enough," Gonzales said. "When I go visit family in Mexico, I'm told I'm not Mexican enough."
Gonzales, 46, lives on the line between the two worlds performing the balancing act he calls biculturalism. "That is what my artwork is based on, living that balance of being in two different cultures, two different worlds, two different mindsets, two different languages," he said.
Gonzales' own artwork reflects that duality. He combines photography and illustration to create original, arresting pieces mixing optimistic, digitally drawn images with realistic photos. He takes photographs, either film or digital, and then uses the software program Illustrator to draw and manipulate the images to his liking.
Sometimes Gonzales places an image of a "bicultural" person into a typically American "monocultural" landscape or setting. Bright bubbles of light bob in the air. The effect can be jarring for some viewers, perhaps exposing their own particular biases.
His piece "Un Tejano en Spokane" shows a realistic background photograph of a sunny day in Manito's rose garden. Placed into the landscape is an illustrated portrait of a Mexican-style musician walking on the grass playing an accordion and wearing a cowboy hat.
"The picture is of a typical place. It's a place that we all share. It's a place that we all know. And (the figure) really shouldn't stand out," Gonzales explained. "But what you are noticing is that when you are a bicultural individual, you have to be two different people."
When Gonzales moved to Spokane from San Antonio, Texas, two years ago, he stood out in ways he never had to experience before. Shortly after starting his new job, a co-worker informed him that he would have to speak more English now that he was living in the United States.
"I thought he was kidding, so I laughed at first. I was the new kid on the block," Gonzales recalled. "Then he said, 'With you being Mexican and all, and you living here, you are taking someone else's job.' "
Gonzales reminded his co-worker that he was born and raised in Texas. "It was outrageous," Gonzales said. "I had never experienced such outright racism among co-workers before."
Gonzales complained to a supervisor, who informed him that the comments must have been a joke. Gonzales eventually switched jobs and now works as a health and safety coordinator for a local company. He also refocused his energies on his art.
"I just went right back into my art," he said. "But I knew I couldn't sell in Spokane, so I made work and sent it back to galleries I used to sell to in San Antonio."
Gonzales is the youngest of five siblings, by 13 years. He grew up steeped in art; his father was a photographer, and his mother was a painter. After graduating with a fine arts degree from the University of Texas at San Antonio, Gonzales opened his own photography studio, the Community Darkroom. His works were collected at universities across the state and shown at Gallista art gallery.
Gonzales eventually got married and had three children. He slowed down the art and photography work to start his own design business mostly creating flags and banners for local companies. He joined the Air National Guard at Lackland Air Force Base in Bexar County, Texas, at 40. That eventually led to his current career in occupational safety and health.
Since moving to predominantly white Spokane for what turned out to be a disappointing job, Gonzales has taken his initial feelings of alienation and turned them into something positive. He is working to build the first Latinx online arts and culture gallery for multidisciplinary artists from Spokane and the greater Pacific Northwest.
The online gallery "LTNX Artes" is in progress and can be followed on Instagram @ltnxartes and Facebook . The name is a mix of the term "Latinx," a gender-neutral or nonbinary alternative for "Latino" or "Latina," and "artes," the Spanish word for art.
"For LTNX Artes, I'm interested in the documentation, preservation and development of Latinx arts and culture within the Pacific Northwest," Gonzales said. "And that includes all that's happening here in terms of music, food, dance, visual arts, performing arts, literature and just a wide variety of creative and cultural discussions."
Gonzales hopes his website will make being a creative in Spokane easier for Latinx artists looking to show and sell their works – and to connect with their community. "It was difficult when I first came to Spokane to meet other Latinx people because I didn't know where we were," Gonzales chuckled. "I had to look for them."
In addition to helping build a creative Latinx community, Gonzales is producing and showing his own works. This fall, he teamed up with Jeni Hegsted at Coeur d'Alene's Emerge Gallery to create "Nuestro Esperanza, Nuestro Futura," a show that explored the hopes and dreams of Latinx artists in the Pacific Northwest.
Gonzales also recently collaborated with local Spokane director and filmmaker Juan Mas on the set design for Stage Left Theater's season opener "References to Salvador Dali Make Me Hot." Mas contacted Gonzales after finding his LTNX Artes online gallery on social media.
"(Mas) liked what I'm trying to do through LTNX Artes and asked about my background," Gonzales said. The artist's involvement in the Chicano arts scene in San Antonio dates back to the early 1990s. Gonzales' arts education meant he was well-versed in Dali's history and style. Mas chose Gonzales to create a surreal-looking set based on Dali's work.
"References to Salvador Dali," by Puerto Rican playwright Jose Rivera, made its Washington premiere last September at Spokane's Stage Left. The poetic and brazen production featured a remarkably diverse cast for Spokane.
It also marked Gonzales' first set design work. "I love what Stage Left is doing bringing together the diversity of Spokane and quite literally putting them on a stage for people to see and enjoy," Gonzales said.
Gonzales' local creative spurt continued when he hosted an exhibition in mid-September of his work along with that of artist Ginny Brennan. The show was ¡Celebramos!, a celebration of Latinx arts and culture at Spokane Gallery in Spokane Valley for Hispanic Heritage Month.
Two of Gonzales' mixed-media pieces were featured in October's Terrain. His first local solo show was last month in William Grant Gallery & Framing in Kendall Yards. On Saturday from 5-8 p.m., Gonzales will open "Film Leaders," collaboration he curated, and that will be presented by artist LauraLee White's La Resistance Art Gallery on East Sprague. The exhibition, which runs through Nov. 30, is a collection of works by Gonzales and four other local artists exploring the craft of film-based photography.
Also this weekend, Gonzales will travel to Washington, D.C., to speak at the annual convening of the Arts Administrators of Color. He will discuss the importance of intercultural collaboration and cultural identity.
Gonzales' message to other artists is simply to be themselves. Don't try to fit into any one culture that society demands. He tells the story of an artist who is part Irish and part Mexican who worried that he couldn't be on the LTNX Artes website because his artwork wasn't "Mexican looking."
"I told him all that matters is the art comes from your heart, your corazon, man," Gonzales said. "That feeling of not being one thing or another is what you have been battling with your whole life – being Irish, being Mexican, you are the two, you know. Embrace it."
Local journalism is essential.
Give directly to The Spokesman-Review's Northwest Passages community forums series -- which helps to offset the costs of several reporter and editor positions at the newspaper -- by using the easy options below. Gifts processed in this system are not tax deductible, but are predominately used to help meet the local financial requirements needed to receive national matching-grant funds.
Subscribe to the Spokane7 email newsletter
Get the day's top entertainment headlines delivered to your inbox every morning.
---