News > Spokane
Growing healthy eaters: local dieticians point to variety, autonomy and structure for children
Fri., Nov. 8, 2019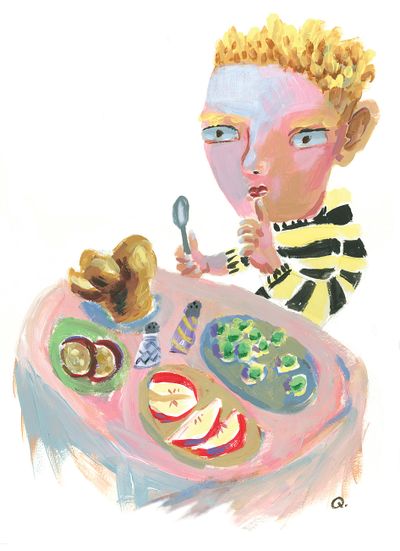 Kate Burns doesn't cook Brussels sprouts, asparagus or eggplant for dinner. Most nights, she cooks all three or some other combination that appeals to her family of five. She'll put them all on the same pan, roast them and offer a plethora of options.
"When the kids were young, I made all of the food for them," Burns said. "It was handmade, and so they all kind of started with that same palate because we eat pretty much the same, but then my middle child ended up being a kid who won't eat the meals that the other ones will."
Offering options works for Burns' family. Local dieticians – following a popular feeding philosophy – suggest offering variety alongside staple favorites is the best way for children to develop a healthy relationship with food while expanding their palates. Another key component is allowing the child to decide what on their plate they will eat and how much.
"We come to the table with the trust that they're learning the hunger and fullness cues in their body," Angela Pham, therapist and dietician, said. "Depending on age, that might not be very strong in the beginning, but it will get stronger over time."
The guidepost for this structure is the Satter Feeding Dynamics Model and Satter Eating Competence Model, and its foundation is a division of responsibility between parent and child that emphasizes the child's control over their body.
"How do we help children become confident eaters?" said Korrin Fotheringham, Northwoods Nutrition owner and clinician. "That idea of being a confident eater I think is a new one for a lot of families, too."
Parents have their role: deciding what to serve and at what time. The child's role has everything to do with the body, Pham said.
"If the parents get a little confused, I always use that as a reference, that kids are responsbile for what has to do with their body, which is feeding and eating," Pham said.
While the American Academy of Pediatrics does not endorse any method specifically, its recommendations align well with the Satter method.
"Keep offering a variety of nutritious food options at each meal, and allow children to help decide whether they eat each item and how much," Dr. Elizabeth Mead, Washington chapter AAP president, said in an email. "Keep meals happy and engaging rather than letting the dinner table become a battlefield – this can only increase refusal to try new things."
Pham emphasized predictable meal and snack times so that the child will learn to self-regulate by knowing how much time they have until they will eat again. Pham suggested to tell the child that the meal will be finished in five minutes, and, after the meal is over, the snack time won't be for another hour.
Pham, who provides the therapy component counseling the parents, shares most of her clients with Fotheringham. Fotheringham said that with picky eaters, it's important that at least one thing being served will appeal to them.
"The idea behind the division of responsibility is to take the pressure off the child to eat all of these foods that they find unacceptable," Fotheringham said. "So that's one thing that's really been strongly supported in the research is the more pressure that we put on children to eat certain foods, it totally backfires. It's a very paradoxical relationship, and it's rather frustrating for a lot of families."
The child does not have to eat any of the foods on their plate, but Pham said it is important that the parent puts everything on the plate.
"What I say to parents is there is a lot of exposure without pressure," Pham said. "We're exposing them to lots of foods familar and unfamilar, but there's no pressure to eat, and it's important for parents to not have an agenda at the table."
Burns said she tries to provide a variety of foods to her kids but does not attempt to force them to eat.
"I just put foods in front of them," Burns said. "When we go out to dinner, they'll try escargot, they'll try lamb's tongue, they'll try different things that are on the plate, but do I force them to eat the whole plate of it? No."
Pham said it is important to not label children as "picky eaters" because labels can follow children and be self-fulfilling prophecies. In fact, Fotheringham and Pham mostly see parents and counsel them about how to handle food and mealtimes. Pham said most of the time, the children don't even know their parents saw them. Fotheringham said that the sessions with the parents can bring up strong emotions.
"I have a box of tissues in my office that I am replenishing at all times," Fotheringham said. "There's a lot that comes up, and a lot of is really fear-based, that fear that their child isn't eating the right foods or eating enough of the right foods – that they're not meeting their nutritional requirements."
Fotheringham said she works alongside the child's pediatrician to make sure that the child is in fact meeting their growth goals. But she said another important piece in developing a healthy relationship with food is the understanding that bodies come in different shapes and sizes. Some children plot low on the growth chart due to genetics, others higher, but with the Satter method, this is neither negative nor positive.
"That's why we have growth charts to track children based on their own individual growth patterns and their own genetics," Fotheringham said. "We're not trying to manipulate their body in any way."
Along the same lines, Pham said parents should not talk about good foods versus bad foods.
"I do spend a lot of time with parents on looking at how they're labeling food and trying to actually just minimize the food talk at the table when you're working with that body autonomy," Pham said.
"It can perpetuate some disordered eating and some picky eating, too, because if there's a child that really is filling up on a certain food that the parents deem as bad, sometimes we'll see that child seek that food even if they don't want it."
Appropriately, Pham's Instagram account, where she frequently shares feeding advice for children, is called "cakeandcarrotmama." The description reads, "Yes, I serve cake and carrots at the same time!"
Though Levi Jordan, Northwest Spokane Pediatrics administrator, did not reference this method specifically, he said gone are the days when parents should instruct their child to eat what's on their plate or else.
"It was we can train you out of it and say, 'No, just eat your food, if you eat your food, you'll end up liking it someday,' " Jordan said. "That's not a good way."
Jordan said children don't always dislike food because of taste. Texture or even temperature can play a factor.
"Kids, especially with sensory issues that you don't know about when they're that young, often are picky because they don't like the way it feels in their mouth," Jordan said, noting that serving food pureed or at room temperature might produce different results.
Local journalism is essential.
Give directly to The Spokesman-Review's Northwest Passages community forums series -- which helps to offset the costs of several reporter and editor positions at the newspaper -- by using the easy options below. Gifts processed in this system are not tax deductible, but are predominately used to help meet the local financial requirements needed to receive national matching-grant funds.
Subscribe to the Coronavirus newsletter
Get the day's latest Coronavirus news delivered to your inbox by subscribing to our newsletter.
---