Sports > Gonzaga basketball
John Blanchette: Grad transfers Admon Gilder, Ryan Woolridge more than final ingredients in Gonzaga's recipe for success
Sat., Nov. 9, 2019 This grad transfer business – it's a little like Christmas shopping, right?
Sometimes you're looking for that home run gift, and sometimes you just need a stocking stuffer.
Bad parallel. Scratch that.
Maybe it's more like putting together an army. They can't all be generals; you need GIs, too.
Yikes. Even worse.
OK, let's skip the analogies.
The point that's being strained to smithereens here is that the graduate transfer, the no-longer-new toy in college athletics recruiting, is not a one-size-fits-all proposition. Although any time your school happens to land such a player – whoever the player – it's almost automatically presumed to be the magic pill for whatever ails.
And, of course, this basketball season at Gonzaga, the unspoken – or muttered – finish to that thought is, "It better be."
Batting practice for the Bulldogs continued Saturday night at McCarthey Athletic Center against Arkansas-Pine Box, er, Pine Bluff – the latest victims from the Southwestern Athletic Conference who suffered a 110-60 throttling. In less than a week, the Zags test themselves against major league pitching at Texas A&M, so this group full of newbies needs all the cuts it can get.
That holds true even for the oldies among the noobs – Admon Gilder and Ryan Woolridge, the two guards who arrived over the summer after fulfilling their degree requirements elsewhere and availing themselves of the graduate transfer option that allows them immediate eligibility at their new school.
The rule remains perhaps the most truly athlete-first initiative the NCAA has made since the scholarship itself – which surely is why the membership has tied itself in knots trying to undo it, without yet succeeding.
"Free agency," cry the educrats, free being the foulest of four-letter words.
But not at Gonzaga. Grad transfers have done well by the Zags, and vice versa. And this year, they probably need to do even better.
So just two games into the season, it was a happy development for the Zags to see Woolridge's deft passing touch account for nine assists and to see Gilder find the 3-point stroke that he couldn't harness in the opening romp over Alabama State.
Because there's more at stake this time.
"The (grad transfers) we had prior to this, it was all about matching their expectations with our needs," coach Mark Few said. "And we hit it out of the park in pretty much every instance.
"This year, it's more how much can we load them up and count on them to do."
In other words, the Zags didn't go to the market just for the final ingredient.
Gonzaga has made four previous forays into the grad transfer arena since the NCAA dreamed up the concept in 2006 – each time, in essence, for a complementary player. Two filled spots in the starting lineup – Byron Wesley and Jordan Mathews – and Drew Barham and Geno Crandall both became key reserves. All had big moments, but none had to be an alpha given the experience, talent and leadership around them.
"But this time," assistant coach Tommy Lloyd admitted, "the cupboard was a little bare."
For multiple reasons. Josh Perkins graduated. Zach Norvell Jr. headed for the NBA after his sophomore year. Greg Foster Jr. and Jesse Wade each lasted just a year without making an impact. Gonzaga's returning guards corps as of last spring was sophomore Joel Ayayi and his 128 career minutes and …
That's it.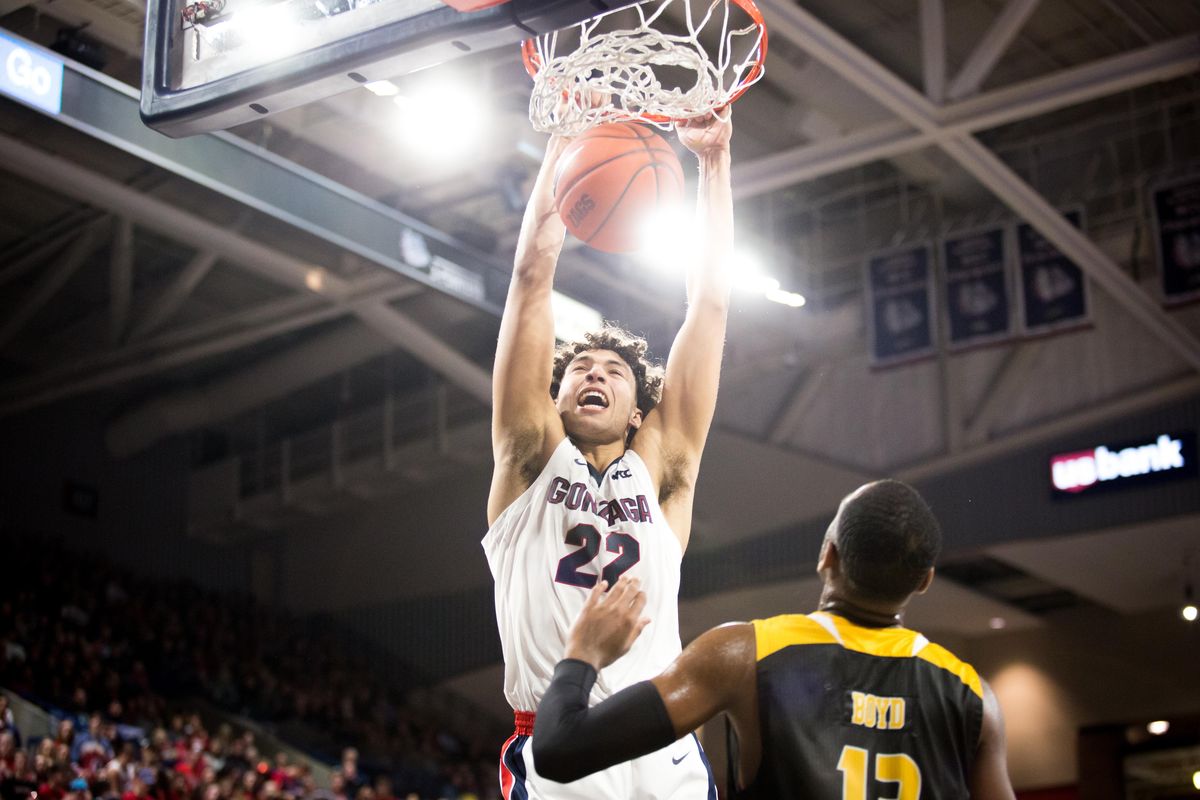 Forward Anton Watson (22) of Gonzaga University gets second dunk of the night in a game against Arkansas Pine-Bluff on Nov. 9, 2019 at the McCarthey Athletic Center in Spokane, Wash. The Zags won 110-60. (Libby Kamrowski / The Spokesman-Review)
So Gilder, a two-year starter at A&M, and Woolridge, a 1,000-point scorer at North Texas, arrived needing to be more than just add-ons. That they both came in on the rebound from health issues – a blood clot that kept Gilder out all last season, and patella surgery for Woolridge – suggested some risk taking, but some of that's true in every recruiting transaction.
And neither seem to be flinching in the face of outsized expectations.
"I'll guard your best player, I'll give you points, assists, rebounds – I try to do it all," Woolridge said. "I don't feel any pressure, honestly. I think we both know what we're capable of."
"My motto is to leave things better than I found them," Gilder said. "I think I did that at A&M and I'd like to do that here, though with Gonzaga's history, that's a challenge."
Well, it's all a challenge. For the first time since the freshman combo of Kevin Pangos and Gary Bell Jr., the Zags' starting backcourt consists of players in their first months in the program.
"We just told them they're on the fast track," Lloyd said. "With a younger player, someone you weren't counting on as much, maybe you let their development happen a little more organically. With these guys, we're being pretty direct."
Because this time, they may have to be the magic pill after all.
Local journalism is essential.
Give directly to The Spokesman-Review's Northwest Passages community forums series -- which helps to offset the costs of several reporter and editor positions at the newspaper -- by using the easy options below. Gifts processed in this system are not tax deductible, but are predominately used to help meet the local financial requirements needed to receive national matching-grant funds.
Follow along with the Zags
Subscribe to our Gonzaga Basketball newsletter to stay up with the latest news.
---