Recap and highlights: Devon Modster leads Cal to win over Washington State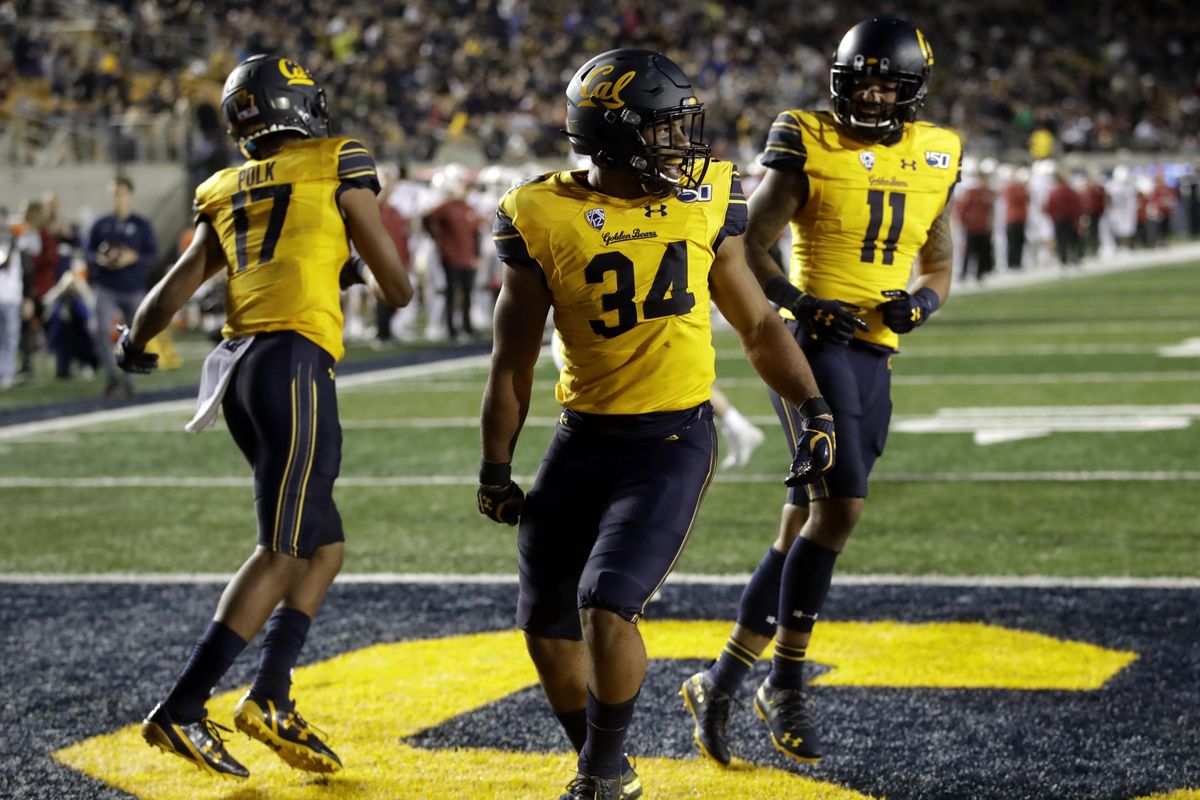 BERKELEY, Calif. – The Cougars trailed the entirety of the game and couldn't pull off a late comeback against California, losing their fourth consecutive road game, 33-20, to the Golden Bears Saturday night at Memorial Coliseum.
Cal's explosive plays did the Cougars in all game and the Golden Bears, whose 33 points were a season-high in Pac-12 play, scored 14 points off two Washington State turnovers.
The Golden Bears' Devon Modster finished 16-of-24 passing for 230 yards and three touchdowns, connecting with Makai Polk for a 52-yard catch-and-run midway through the fourth quarter, then running in from 14 yards out to put the nail in the coffin and end Cal's four-game losing streak.
Cal's offense, statistically the worst in the Pac-12 at just 12.2 points per game, outgunned Washington State's offense, which has been statistically the best in the conference, at more than 37 ppg. The Golden Bears finished with 426 yards of total offense, to the Cougars' 423.
The Cougars (4-5, 1-5) return home for two games, starting with Stanford (4-5, 3-4) next Saturday at either 1 p.m. or 4:30 p.m. The Golden Bears (5-4, 2-4) play host to USC (6-4, 5-2) in an 8 p.m. game at Memorial Stadium.
The Cougars had the Bears at 20-14 in the fourth quarter, but quarterback Anthony Gordon was stopped short of the first-down marker on fourth-and-3, giving the ball back to Cal with 10:31 to play.
Modster led Cal on a eight-play, 93-yard drive that consumed more than four minutes, connecting with Polk to put the Golden Bears up 26-14. WSU's offense stalled on the following drive and Modster punched in one more touchdown on a 13-yard option keeper to open up the biggest Cal lead of the game, at 33-14.
The game opened with a bizarre sequence of events. Gordon was intercepted on just the second play and Cal's Christopher Brown Jr. went untouched for a 27-yard touchdown on the Golden Bears' first offensive snap. But WSU's Misiona Aiolupotea-Pei got a hand on the PAT, deflecting the ball to George Hicks III, who ran it back to the opposite end zone for two points.
WSU's offense didn't show much life until the end of the second quarter, when Gordon led a methodical four-minute drive, completing 9-of-10 passes and hitting Arconado for a 17-yard touchdown. The Cougars' two-point conversion failed and the Bears went into the halftime break holding a 13-11 lead.
Gordon finished 45-of-58 passing for 407 yards, two touchdowns and one interception. He found Brandon Arconado a career-high 12 times for 130 yards and a touchdown. It was the fifth 100-yard receiving game of the season for the senior "Y" receiver. Easop Winston Jr. added another nine catches for 113 yards.
Brown Jr. had 108 all-purpose yards for one rushing touchdown and one receiving touchdown for the Golden Bears.
– Theo Lawson, The Spokesman-Review
First quarter
14:15 – Cal 6, WSU 2: Christopher Brown Jr. opens the scoring with a 27-yard touchdown run on Cal's first play from scrimmage and the Golden Bears have the lead early in Berkeley.
On the ensuing point-after attempt, Greg Thomas' kick was blocked by Misiona Aiolupotea-Pei and returned by George Hicks III for two points for the Cougars.
Washington State opened the game with the ball, but turned it over after two plays when Anthony Gordon fired his pass high of Brandon Arconado and into the hands of Cal's Jaylinn Hawkins.
Max Borghi picked up 13 yards on a run on the Cougs first play.
3:34 – Cal 6, WSU 5: The Cougars cut into Cal's lead as Blake Mazza makes a 30-yard field goal.
Washington State took possession deep in Golden Bears' territory after Skyler Thomas recovered a fumble and returned it to the Cal 19.
Second quarter
14:53 – Cal 13, WSU 5: The Golden Bears find the end zone as quarterback Devon Modster connects with Gavin Reinwald on a 9-yard touchdown pass.
Cal went 75 yards in seven plays to extend its lead to 8. The big play came on 2nd-and-8 at the Cal 40 when Modster found Jordan Duncan deep down the left sideline for a 48-yard gain.
Modster is now up to 115 yards passing. Reinwald has two receptions for 26 yards.
12:29 – Cal 13, WSU 5: After the Cougars second three-and-out of the game, coach Mike Leach huddled his team up on the sideline for a meeting.
The Cougs had a sack and false start in the three plays and had to punt the ball away from their own 10.
0:45 – Cal 13, WSU 11: Anthony Gordon hits Brandon Arconado with a 17-yard touchdown pass and the Washington State offense finds the end zone for the first time today.
The Cougars made their final drive of the first half count as Gordon marched WSU 85 yards in 10 plays. The QB threw the ball on all 10 plays, completing nine passes. He is know up to 172 yards in the game on 19-of-27 passing.
Arconado has seven receptions for 68 yards.
Third quarter
10:14 – Cal 20, WSU 11: The Golden Bears make WSU's turnover hurt with Christopher Brown Jr. taking a swing pass from Devon Modster for a 13-yard, catch-and-run touchdown.
Cal took over at the WSU 39 after Cougars receiver Easop Winston Jr. fumbled.
Trevon Clark put the Golden Bears in to the red zone with a 23-yard run before Modster and Brown connected.
Brown now has 79 total yards and two touchdowns. Modster is up to 151 yards passing.
3:27 – Cal 20, WSU 14: Blake Mazza makes his second field goal of the game, this one from 35-yards out, and Washington State is back within a touchdown at Cal.
The Cougs responded to Cal's touchdown with a long scoring drive behind quarterback Anthony Gordon.
Gordon was 11-of-11 passing on the drive, throwing for all 74 yards of the 6:38 drive. The redshirt senior now has 262 yards for the game on 31-of-38 passing.
Fourth quarter
10:31 – Cal 20, WSU 14: Facing fourth-and-3 at the Cal 14, WSU coach Mike Leach elects to keep his offense on the field and the Cougs come up empty.
WSU ran a draw play for quarterback Anthony Gordon, but he was stopped 2 yards short.
6:15 – Cal 26, WSU 14: The Golden Bears double their lead with a 52-yard touchdown pass from Devon Modster to Makai Polk.
Polk caught a tunnel screen 2 yards behind the line of scrimmage then powered up-field, going practically untouched into the end zone.
Modster is now at 230 yards passing with three touchdowns and no interceptions.
The 26 points are a season-high for the Golden Bears in Pac-12 play.
2:26 – Cal 33, WSU 14: Devon Modster runs for a 13-yard touchdown and the Golden Bears have about wrapped this one up in Berkeley.
Modster has accounted for four of Cal's five touchdowns, throwing three. The QB is up to 43 yards rushing and 230 yards passing.
0:05 – Cal 33, WSU 20: Washington State scores its second touchdown on the game on a 1-yard pass from Anthony Gordon to Renard Bell.
The ensuing extra point failed after the snap was dropped. The Cougs onside kick went out of bounds.
Pregame
---