News > WA Government
Agencies, lawmakers scramble to fill $4 billion pothole from I-976
Sun., Nov. 10, 2019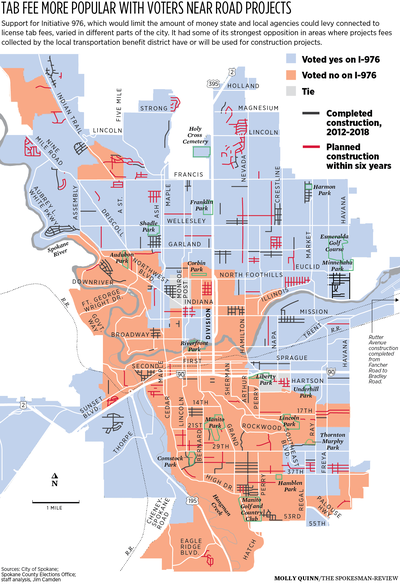 For weeks before last Tuesday's election, local government, unions and business groups issued dire warnings to voters that passing Initiative 976 would lead to significant cuts in road construction and other transit programs.
They bought television and radio ads. They filled voters' mailboxes with literature.
Their $4.8 million campaign failed.
Some 53 percent of the state's voters approved the ballot measure, which limits fees for car tabs to $30 while making other changes to the way state and local agencies get money for transportation programs.
Now those agencies are scrambling to determine how to adjust budgets in the face of anticipated cuts, which could be more than $4 billion over the next six years. Estimates provided to members of the House Transportation Committee put the cuts at $1.9 billion for the state and $2.3 billion for local projects during that period.
Gov. Jay Inslee has ordered the state Transportation Department to postpone any project not yet underway, describing it as a "response to the will of the people." The State Patrol and Department of Licensing have been ordered to delay non-essential spending during the review.
But Inslee's office couldn't say late last week whether his order will cover projects under construction or extend to the planning and design for projects in the near future. The state's transportation budget is a six-year plan, with hundreds of projects in various stages.
"We don't have specifics," a spokeswoman said. They may have better details by the time legislative committees gather later in November for committee meetings in advance of the 2020 session.
Senate Majority Leader Andy Billig, D-Spokane, predicted the Legislature will have to revise completely the transportation budget, which it passed last April with bipartisan support.
"There's no easy way to cut $4 billion from the state transportation budget," Billig said. "It's going to affect everything."
Tim Eyman, sponsor of the initiative, contended during the campaign that the state could cover the losses with money in its surplus accounts. Billig said that was "never a valid argument."
The reserve funds are designed for one-time expenses to cover shortfalls in the General Fund operating budget, he said. The transportation budget, with dedicated money from different taxes and fees, is separate.
Senate Republicans might push for a change some of their members introduced in the 2019 session. The bill, by Sen. Phil Fortunato, R-Auburn, called for using all the sales taxes collected from the sale of new or used motor vehicles for highway projects rather than sending it to the General Fund with other sales tax revenue. It received a hearing in the Senate Transportation Committee but not a vote that would have sent it to the full Senate.
The fiscal analysis prepared for the bill said it would boost one of the state's key transportation funds by more than $1 billion per year. But an equal amount would be subtracted from the General Fund, which provides the bulk of money spent on state programs, policies and salaries.
"The General Fund has grown, and continues to grow," said Sen. Mike Padden, R-Spokane Valley, a co-sponsor of the bill. "The concept is something I think Republicans would be pretty comfortable with."
Whether Democrats – who have substantial majorities in both chambers – would be comfortable with trimming $1 billion a year out of the budget they passed this year is another question. Inslee, a Democrat seeking his third term, would also have to approve; while the review continues, his office hasn't settled on any possible solutions, including the proposal by Fortunato, who is one of several Republicans who have announced a campaign for governor.
"There's all kinds of things that will be on the table," said Rep. Marcus Riccelli, D-Spokane, a member of the House Transportation Committee. He wasn't familiar with the Fortunato bill, but said the discussions of different possibilities will continue in the coming days before legislators meet for interim committee meetings in late November. Responding to the initiative will probably occupy significant time in the 2020 session, as well.
"There's no simple or quick replacement for this revenue," Riccelli said. Asked whether it can be accomplished in the upcoming 60-day short session, he replied, "Anything's possible."
The city of Seattle announced plans on Thursday to file a lawsuit to block the initiative, but legislators said they can't wait for a decision on that case, which likely would have to be settled by the state Supreme Court. Nor are they spending much time analyzing why a campaign with plenty of money failed to sway the state's voters, other than to acknowledge that residents of the state's three most populous counties – King, Pierce and Snohomish – counties still feel the sticker shock of tax increases for Sound Transit.
The election is over and voters will have to wait to see what their government officials can come up with to carry out their decision.
"Elections have consequences," Riccelli said.
Local journalism is essential.
Give directly to The Spokesman-Review's Northwest Passages community forums series -- which helps to offset the costs of several reporter and editor positions at the newspaper -- by using the easy options below. Gifts processed in this system are not tax deductible, but are predominately used to help meet the local financial requirements needed to receive national matching-grant funds.
Subscribe now to get breaking news alerts in your email inbox
Get breaking news delivered to your inbox as it happens.
---