News > Spokane
Spokane looks to shore up hydrant safety rules after E. coli contamination last summer
Tue., Nov. 12, 2019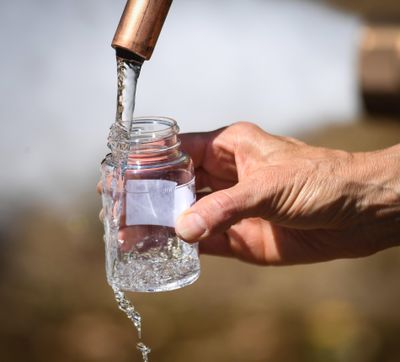 Spokane lawmakers are poised to request tighter security on the city's fire hydrants following a bacterial contamination that left some residents in Hillyard without water for five days this summer.
The City Council is considering asking Water Department officials to investigate the costs and benefits of several options intended to make the hook-up process safer and prevent backflows, like the one that is believed to have introduced E. coli to the water supply in late July.
Spokane spent about $160,000 in staff time and resources responding to the contamination, which prompted a five-day stop drinking order for between 100 and 120 properties in an area roughly bounded by Wellesley and Rowan avenues and Freya and Havana streets, said Dan Kegley, director of the municipal water system.
Users should expect the process of using city water from hydrants to be different for next year's construction season, Kegley said.
"There will be some changes, and we're communicating that out to current permit holders," he said.
The city requires anyone wishing to access a public fire hydrant to obtain a permit.
According to records provided by the city of Spokane's Water Department, 175 businesses or individuals had an active permit to draw water from the city's system at the time of the contamination. Eight of those entities listed their intended purpose for drawing the water as hydro- or lawn-seeding, a process of mixing water to create a slurry of seed and mulch that can be used to quickly add grasses to an area.
A slight majority of the applicants – 88 out of 175 – were drawing the water for dust control, according to the records. Other uses included filling pools, construction work and cleaning parking lots and other surface areas.
Spokane officials have said they believe the contamination was caused by a hydroseeding company that didn't properly hook up their equipment to a hydrant. Kegley said last week that Spokane police are continuing to investigate the case and that it hadn't "been formally closed."
The resolution the City Council will consider asks for a report on installing safety measures to secure the city's more than 7,500 public fire hydrants. Those potential safety measures include locking the hydrants and building two to three filling stations in town where workers could fill their tanks instead.
The resolution is sponsored by City Councilman Breean Beggs, who chairs the city's committee overseeing public infrastructure projects. Beggs said the council was suggesting the measures they'd like to see through the resolution, including making firms pay for the actual amount of water they use.
"We have to do it, we can't risk it," said Beggs. "We are also much more sensitive, as a city, to water loss."
No date has been scheduled for a vote, but the resolution calls for Water Department officials to provide a report on costs and benefits of safety measures by mid-December. Beggs said that timeline would ensure securing the hydrants remains a priority as a new mayor takes office.
Kegley said the department is also considering ways to "tighten up" the permitting process that would also require every applicant to receive a meter so the city knows exactly how much water the business is using.
"There is quite a bit of water usage through our hydrants. We want to quantify that," said Kegley. The city is also considering a hydrant consumption fee, on top of fees of up to $450 annually for a permit, Kegley said.
Between January and July, the city collected $67,554 in fees from businesses and individuals seeking hydrant hook-ups, according to public records.
The records provided by the city show that most applicants don't indicate exactly when they'll be pulling water from the system, or where they'll be using it. Of the 175 permits issued, 120 list their intended use location in the city as "various," and many others simply list a neighborhood or rough boundary, as opposed to an exact street address. Permits are also good for up to a year, with no listed dates of use.
Kegley said he hoped a new hydrant safety system would be in place next year.
Local journalism is essential.
Give directly to The Spokesman-Review's Northwest Passages community forums series -- which helps to offset the costs of several reporter and editor positions at the newspaper -- by using the easy options below. Gifts processed in this system are not tax deductible, but are predominately used to help meet the local financial requirements needed to receive national matching-grant funds.
Subscribe to the Coronavirus newsletter
Get the day's latest Coronavirus news delivered to your inbox by subscribing to our newsletter.
---