News > Spokane
As public impeachment hearings begin, limited local viewership tunes in
Thu., Nov. 14, 2019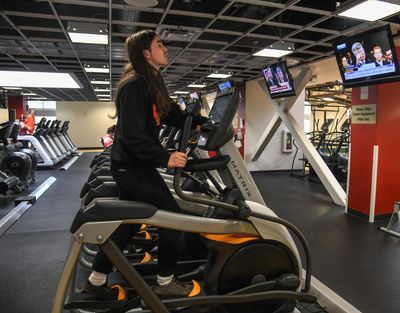 The public hearings for the House impeachment inquiry played in the Bulldog, a pub within Gonzaga University's John J. Hemmingson Center, but was switched back to sports Wednesday afternoon.
The television in the Starbucks cafe area of the student center was playing "Wheel of Fortune." Rockwood Retirement did not play the hearings, and Ed Wood, Spokane County Democrats chair, said he wasn't paying attention either.
"We're down to the wire between (Breean) Beggs and (Cindy) Wendle and that's what we're concentrating on, not impeachment," Wood said, referring to the undecided race for Spokane City Council president.
Dan Daines, a member of the Spokane GOP, said he was watching on and off throughout the day.
"The only thing that surprised me was that the impeachment argument was as weak as it was," Daines said. "I thought they would have more compelling testimony at least to even try to make the argument that there was misconduct by the president, because nothing that was testified to could possibly be considered misconduct by the president."
Though it hadn't been on the agenda for the party's monthly board meeting on Tuesday, Daines said it had certainly been a topic of conversation.
"I can tell you that everybody on the board is paying attention probably because, you know, there's a vested interest in continuing this administration," Daines said. "If everything goes well."
Daines said the only thing that surprised him was "(Rep.) Adam Schiff's hyperbole still being hyperbole. There was just not one moment in testimony that disturbed me as an American citizen at all."
The inquiry is examining Trump's July 25 phone call with Ukraine's newly elected president asking for "a favor" – an investigation into former Vice President Joe Biden, a potential 2020 rival – and, more broadly, whether the president misused the power of his office.
Schiff, the Democratic chairman of the Intelligence Committee, said the hearing would reveal the president's abuse of office for political gain, the Associated Press reported.
"The matter is as simple and as terrible as that," said Schiff. "Our answer to these questions will affect not only the future of this presidency but the future of the presidency itself."
Local journalism is essential.
Give directly to The Spokesman-Review's Northwest Passages community forums series -- which helps to offset the costs of several reporter and editor positions at the newspaper -- by using the easy options below. Gifts processed in this system are not tax deductible, but are predominately used to help meet the local financial requirements needed to receive national matching-grant funds.
Subscribe to the Coronavirus newsletter
Get the day's latest Coronavirus news delivered to your inbox by subscribing to our newsletter.
---