News > Spokane
CB club – Community Radio Watch – are eyes, ears at events
Nov. 14, 2019 Updated Thu., Nov. 14, 2019 at 8:18 a.m.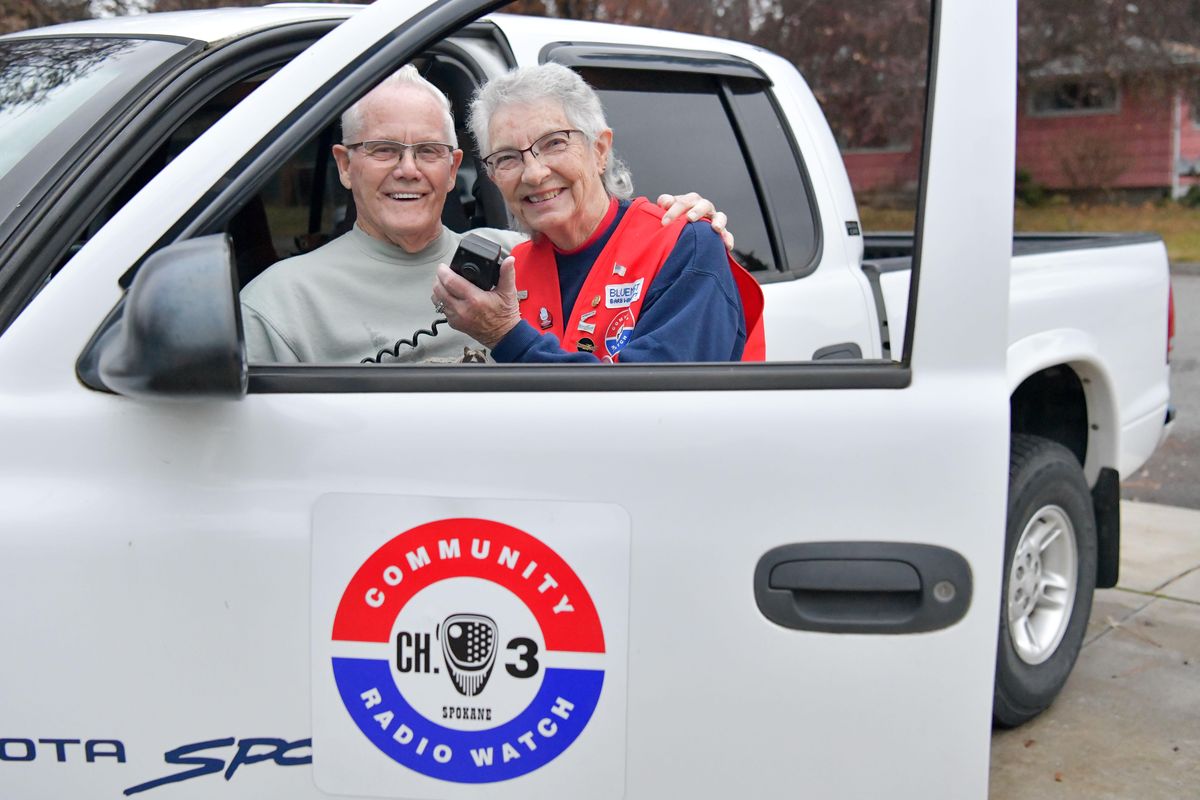 Delbert Winnett, left, and his wife Deb pose for a photo with one of their CB equipped vehicles on Wednesday, November 13, 2019, at their home in Spokane Valley, Wash. The couple – whose call-signs are LTD and Blue Mist, respectively – have been involved in Community Radio Watch since the late '70s. (Tyler Tjomsland / The Spokesman-Review)
Many people in Spokane have participated in Bloomsday, bike races and triathlons, but they likely didn't know that a die-hard group of volunteers was spread along the route to provide communication via CB radio.
The Community Radio Watch group of Spokane has been active in Spokane since 1970.
"We really just use CB radios, and we do volunteer work in the community," said longtime member Delbert Winnett.
The group has been helping out at Bloomsday since the iconic run began. There's usually someone at the start line, a volunteer at the finish line and volunteers spaced every mile along the route, Winnett said. They also help with crowd control.
On long runs or bike rides the Community Radio Watch volunteers provide key communication along the route, particularly if there is an emergency.
"We're out there in case they do need somebody," he said. "We're usually the only ones out there."
Winnett has been in the group since 1977, so he wasn't around at the beginning. But the story is that a group of CB enthusiasts would meet occasionally and decided to create a club.
"At that time you had to have a license to talk on radios and certain words you could use and limits on time," he said.
The licensing requirement was dropped in the 1980s when CB radios became more popular. But that interest has waned in recent years since cellphones became ubiquitous, Winnett said.
"There's not that many citizen's band radios anymore," he said.
But the group keeps on. They've volunteered on the two-day Tour des Lacs bike tour from Spokane to Coeur d'Alene and an MS bike ride from Thompson Falls, Montana, to Spokane. There's usually a volunteer who follows the last cyclist on the route in addition to volunteers stationed along the route, Winnett said.
The group, which is down to 43 members from a high of 85, is preparing to celebrate it's 50th anniversary next year. The only requirement to join is an interest in CB radios, Winnett said.
Winnett said he joined the club because his father-in-law liked CB radios and recruited him. "They wanted me to be with them," he said. "It took me a while. I was in the military before that. Once I left the military I could do it."
He served in the Air Force for 23 years as a personal equipment specialist, caring for the equipment used by flight crews. He retired as a senior master sergeant. He was stationed at Geiger Field in Spokane before it closed in 1963, which is how he met his wife, Barbara.
Now his wife shares his interest in CB radios, using the handle Blue Mist over the air. Winnett's handle, inspired by a model of Ford car, is LTD.
Most of the Community Radio Watch group are senior citizens. Winnett said not many younger people have been interested in joining the club in recent years. "We're the only club around here that I know of that still use them," he said of CB radios.
The group meets at 7:30 p.m. on the first Wednesday of every month at Greenacres Middle School. They also occasionally meet for potlucks and every Tuesday at 8 p.m. they gather around their radios and talk to each other in a "call in."
Winnett said people are welcome to come to a meeting or sign on during the weekly call in.
"We can always use members," he said.
Local journalism is essential.
Give directly to The Spokesman-Review's Northwest Passages community forums series -- which helps to offset the costs of several reporter and editor positions at the newspaper -- by using the easy options below. Gifts processed in this system are not tax deductible, but are predominately used to help meet the local financial requirements needed to receive national matching-grant funds.
Subscribe now to get breaking news alerts in your email inbox
Get breaking news delivered to your inbox as it happens.
---