News > Spokane
Developers hope to raise $30 million to build towers near Riverfront Park
Thu., Nov. 14, 2019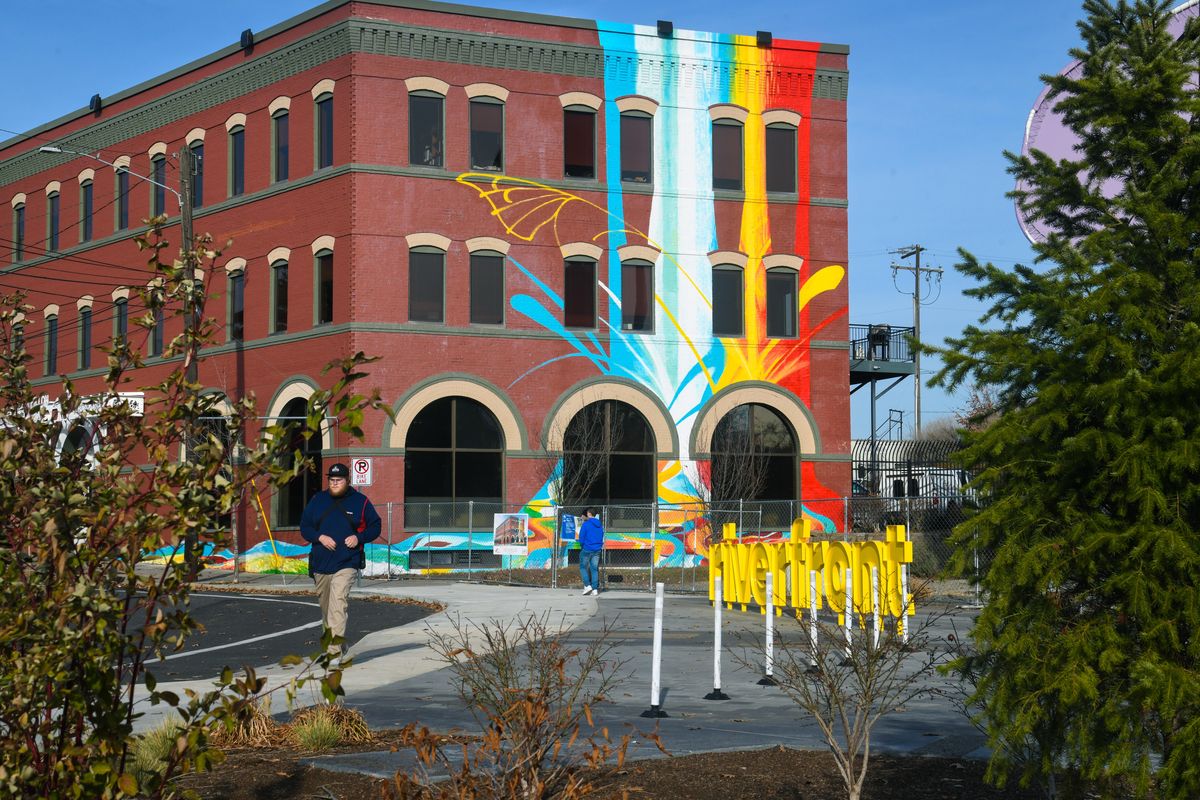 A proposed development on the northbank of the Spokane River near the Spokane Arena may bring another high rise. Right now, the historical building there has a mural. It's called the Papillon building because it's near the butterfly. Papillon is "butterfly" in French. (Dan Pelle / The Spokesman-Review)
Step one: Butterflies and rainbows. Step two: Tax breaks to spur development.
Step three: Building the Papillon Towers Development, a high-rise complex announced last month that its ownership group promises will bring new life to the north bank of the Spokane River.
Papillon Towers would offer stunning views of Riverfront Park, proximity to downtown and the future Sportsplex, and plenty of indoor parking. The $80 million project by Selkirk Development will rehabilitate and expand the historical Park Center Building into a restaurant, retail and office space, and build adjacent six- and 12-story towers that will include five levels of indoor parking.
To draw attention to the project, Selkirk commissioned local artist Ben Joyce to adorn the existing Park Center Building with a bright, splashing rainbow not far from the rehabilitated sculpture of a butterfly – which translates to "papillon" in French.
Derek Raivio, president of Selkirk Development, said he envisioned the final product as a vibrant urban space with plenty of things to do within walking distance – bars, restaurants, cafes, shopping, the park. It's something he said was lacking in Spokane, but it's something he said the city is primed for.
"This is really lifting the bar in Spokane," said Raivio, who played basketball at Gonzaga University from 2003 to 2007 before playing professionally in Europe for a decade. "We really want to lift up the market here."
First, though, Raivio and Selkirk have to raise $30 million from investors seeking to reinvest profits earned from capital gains.
The Papillon project lies within one of Spokane's 11 Opportunity Zones, which were created as part of the federal Tax Cuts and Jobs Act of 2017 to spur economic development in areas that investors have traditionally ignored by letting them avoid taxes on capital gains. Capital gains are profits made from a sale of stock, bond, real estate, the dissolution of a partnership or other assets.
The opportunity zone program lets investors roll over capital gains from other investments into an opportunity zone fund, allowing those investors to avoid capital gains taxes for a decade. The nation's households and corporations have more than $6 trillion in "unrealized" capital gains eligible for this type of reinvestment, according to the Economic Innovation Group.
"People who have capital gains that they don't want to pay tax on, they invest on a project that's within a zone," said Teri Stripes, a planner with the city of Spokane who works on incentive programs. She said Selkirk has "an opportunity zone fund and they're looking for investors."
Investing in an opportunity zone fund can "boost your after-tax real estate returns by more than 75%," according to Origin Investments, a Chicago-based private equity real estate firm that specializes in office and multifamily properties, and manages an opportunity zone fund. The company calls opportunity zone investments "the greatest tax break of our time" that could "allow trillions of dollars of capital gains to be discounted, deferred or exempted from taxes."
It's these tax savings that Selkirk hopes to capitalize on, but the clock is running. Raivio has until August 2020 to secure the $30 million.
"We've raised 10% of that $30 million," he said, noting that the minimum investment is $500,000. "We're working towards that goal right now."
Raivio said that by "incentivizing capital," his company hopes to "stimulate development." Beyond that, he said the location of the Papillon can't be beat. Selkirk purchased the building – constructed in 1906 and which notably housed the Ram Restaurant and Brewery until June 2003 – and property for $1.2 million in June 2019.
Directly to its south is the Howard Street promenade, the wide path through Riverfront Park the city completed this year. To its east is the site of the future Spokane Regional Sportsplex, the indoor sports facility designed to host national and local athletic events that will open by summer 2021 and include a 200-meter, six-lane indoor hydraulic banked track and more than a dozen volleyball courts. To its west is the Spokane Veterans Memorial Arena and the Flour Mill shopping mall.
"It's a perfect storm," Raivio said. "We were going to build this regardless of the opportunity zone designation. This just allows us to speed up the process. It's one of the best spots in town. We're just trying to play off that."
Stripes said the city plays no part in the Papillon project. The city did apply to the state to designate 11 census tracts as opportunity zones, a request the state took to the federal government for approval.
"There's no role for the city for the federal opportunity zones after we created them," she said.
Stripes noted there are other opportunity zone funds in Spokane, but the company's managing them have not yet gone public with its projects.
Raivio said work is anticipated to begin next year, and be complete in 2024.
Local journalism is essential.
Give directly to The Spokesman-Review's Northwest Passages community forums series -- which helps to offset the costs of several reporter and editor positions at the newspaper -- by using the easy options below. Gifts processed in this system are not tax deductible, but are predominately used to help meet the local financial requirements needed to receive national matching-grant funds.
Subscribe now to get breaking news alerts in your email inbox
Get breaking news delivered to your inbox as it happens.
---