News > Spokane
Former tech executive, 'Marketplace' host help celebrate Inland Northwest Women of the Year
Nov. 14, 2019 Updated Thu., Nov. 14, 2019 at 10:54 p.m. Kim Kelly wiped tears from her eyes as she took the stage at the Bing Crosby Theater on Thursday night and accepted a $50,000 check from Bank of America.
Kelly received the money as part of the first Bank of America Neighborhood Champion Grant to be given in Spokane, for her work as executive director of the nonprofit Christ Kitchen, which helps low-income women achieve financial and emotional stability by providing jobs and a community.
Joining Kelly on stage were 15 women recognized as Inland Northwest Women of the Year.
"You guys are what our women hope to be someday, and because you share your stories so openly, it gives them hope to know that they can do this too – that they can make an impact on our community," Kelly said.
All this came after Karen Wickre, a former executive at Google and Twitter, and Tess Vigeland, a former host of NPR's "Marketplace" and winner of an Edward R. Murrow Award, encouraged the audience to follow their gut and live their best lives.
Wickre and Vigeland were at the Bing Crosby Theater on Thursday night to have a conversation with Eastern Washington University President Mary Cullinan on "Making Life Work on Your Terms."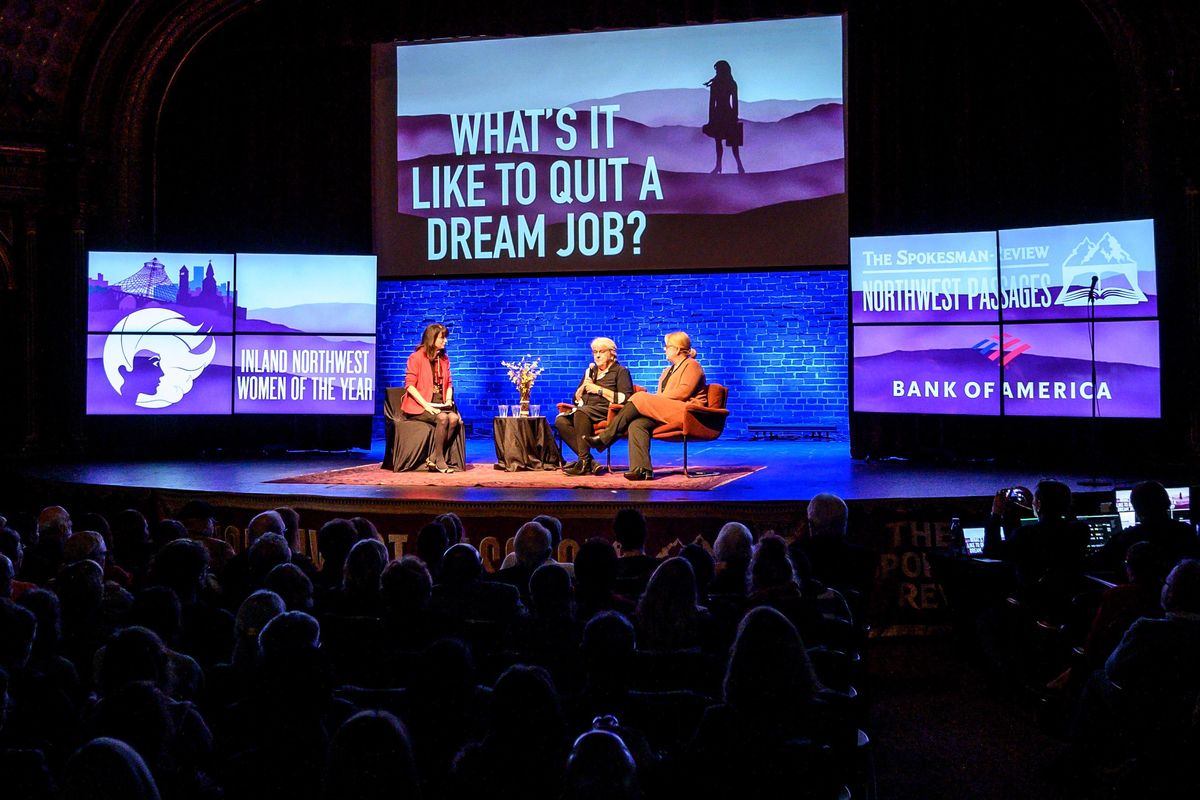 Mary Cullinan, president of Eastern Washington University on far left, talks with Karen Wickre, center, author of "Making Life Work on Your Terms." and Tess Vigeland, a former reporter and host for the public radio business magazine "Marketplace," during the Northwest Passages Inland Northwest Women of the Year event held, Thurs., Nov. 14, 2019, at the Bing Crosby Theater. (Colin Mulvany / The Spokesman-Review)
"I'm thrilled that it's a conversation as opposed to a talk," Wickre said. "We're a layer of the layer cake tonight. And so the idea that the whole evening is about celebrating these women – we want to have a conversation that amplifies for them what accomplishments they've had and hope that we can continue to do work that – I don't know if 'inspires' would be the right word, but – kind of reinforces that."
Vigeland and Wickre took unique paths to get to the top of their industries and then took the unprecedented step of moving on from those "dream jobs."
"Both Karen and I – and I think a lot of the women tonight – have decided that, no, maybe there's another option," Vigeland said. "You don't always have to follow the path that has been set out for you. That if you want to go your own way – what the hell? – try it."
Vigeland left "Marketplace" in 2015.
"I just had no idea what I wanted to do," Vigeland said.
She started freelancing while trying to decide what to do next.
"It's the emotional and psychological toll that you do not expect when you find yourself in a place where you don't know who you are anymore," Vigeland said.
Vigeland fell in love with journalism at a young age and was "hooked" after her first time on the radio as an 18-year-old intern at a local radio station in her hometown of Portland.
However, choosing a career isn't easy, Vigeland acknowledged.
"I think that those kinds of decisions, some of it is luck, some of it is pursuit," Vigeland said.
Achieving big career goals, like the "Marketplace" show at age 31, created a question for Vigeland.
"I will say when you achieve something that early, that's when you start wondering, what's next?" Vigeland said. "And I still haven't figured that out yet."
Historically, a man would choose a career and work at the same job his whole life, Cullinan said, and things just aren't like that anymore.
Wickre was able to speak to that idea with a story about her father, who was a radio engineer.
"He always felt he'd missed out on further education," Wickre said. "He hated his job. He called it pencil-pushing.
"I remember as a child seeing him cry in the kitchen at night because he had to go back the next day," Wickre said.
She promised herself that she would never let herself be in that situation. In fact, Wickre has been so successful that she often gets asked for advice about success in the tech world.
"I just want to make you less afraid and less anxious and say that what you're doing is OK," Wickre said about giving advice. "It doesn't have to go by a playbook. It doesn't have to go by the rules."
That advice led to her writing her book, "Taking the Work Out of Networking: Your Guide to Making and Keeping Great Connections." It's full of practical advice mixed with her own personal story.
Like Wickre, Vigeland shared a part of herself in her own book, "Leap: Leaving a Job with No Plan B to Find the Career and Life You Really Want."
"I felt like it was important to share that even with a successful career at the top of your industry, it doesn't always work out. But it can lead, if you allow yourself to think beyond the expectation, to think beyond the should," Vigeland said.
Even with all of their success, both women admit they often struggle with the recognition they not only get but deserve.
"I still have impostor syndrome, so an event like this, I honestly don't think of this as anything about me at all," Vigeland said. "This really is about recognizing the success of women at large and specifically the women that are being honored tonight."
Jesse Tinsley
While it might not always be easy, the 15 women of the year recognized in The Spokesman-Review this September continue to make a difference.
2019 Inland Northwest Women of the Year
Toni Lodge, CEO of the NATIVE Project, has worked for decades to make the organization a centralized place for both Native and non-Native people to receive holistic care for their mind and body.
Sandy Williams is the editor of the Black Lens newspaper and the founder of the Carl Maxey Center in Spokane's East Central Neighborhood. Through her work, Williams has created both a physical and intellectual space to push for racial and social justice in Spokane.
Capt. Tracie Meidl is the highest-ranking female officer in the Spokane Police Department. As an officer, Meidl focuses on community engagement and takes time to learn not only from her colleagues but also from the women police officers who came before her.
Spokane Valley City Council member Linda Thompson turned the loss of her son Trevor Pierce to a drunken driver into a decadeslong push for changes in sentencing, for prevention and for destigmatizing recovery through the Greater Spokane Substance Abuse Council.
As a college student at Eastern Washington University, Jordan Stevenson has made her voice heard through advocacy and activism focused on reproductive rights and women's access to health care.
Pam Senske, retired CEO and president of Pearson Packaging Systems, helped guide her family's business through difficult times and into a new phase of growth and success.
Wendy Williams-Gilbert spent much of her nursing career working in rural communities and critical-access hospitals before becoming academic director at the Washington State University College of Nursing and studying decreasing access to medical services in rural communities.
Elaine Damschen went from being a middle school teacher to becoming co-founder of Mainstream Electric. She works in marketing, branding and recruitment for the company and does outreach at local schools to talk about careers in the trade industries, especially for women in the male-dominated field.
Maura Ruiz uses her experiences as an immigrant who experienced poverty and homelessness to help guide students to achieve their goals at Lewis and Clark High School, where she worksas a College Success Foundation counselor.
Theresa Hart took the pain of the loss of her son, Nick Newby, to a roadside bomb in Baghdad and turned it into inspiration to help others. Hart founded Newby-Ginnings, a nonprofit that helps provide basic needs to active duty military members and veterans.
Legacy Women Of The Year
Susan Kennedy was a member of the Spokane Symphony Associates' board for decades, always serving others and doing whatever needed to be done.
When Dr. Carol Guthrie began her career as a surgeon, she was one of the only female surgeons in Spokane. She quickly became the go-to surgeon for breast cancer procedures and helped launch the local affiliate of the Susan G. Komen Foundation.
From running a successful catering business to becoming a neighborhood leader, Sheila Collins has done it all. Collins became active on a variety of community boards and eventually worked on both Gov. Christine Gregoire's staff in Spokane and Spokane Mayor Mary Verner's community development staff.
Susan Virnig came to Spokane for Expo '74 and never left. She founded multiple community development nonprofits and now works on climate change issues.
Paula Bulkley is a full-time volunteer. She volunteers at the Shriners Hospitals for Children in Spokane and works with Fantasy Flight to take children to the North Pole, where they get to meet Santa and receive presents.
Local journalism is essential.
Give directly to The Spokesman-Review's Northwest Passages community forums series -- which helps to offset the costs of several reporter and editor positions at the newspaper -- by using the easy options below. Gifts processed in this system are not tax deductible, but are predominately used to help meet the local financial requirements needed to receive national matching-grant funds.
Subscribe now to get breaking news alerts in your email inbox
Get breaking news delivered to your inbox as it happens.
---