Sports
A Grip on Sports: No matter what food you like to pair with your Thursday, it's comforting to know the football weekend isn't that far away
Thu., Nov. 14, 2019 A GRIP ON SPORTS • If you ever wondered which day is the hardest to come up with a main subject in the online column world, it's Thursday. Always Thursday. Though Tuesday isn't easy either. But Tuesday has tacos, so there's that.
•••••••
• What is Thursday's food of alliteration? Tacos might have worked if it hadn't been paired with Tuesdays oh so many years ago. So where, or what, does that leave Thursdays? Taquitos? Toast? Tapioca? The choices aren't good. Nor all that tasty. But Thursdays do have this going for it: The weekend isn't that far away. It's not Friday, sure, but it's not Monday either. It's always a good day to catch up with what's been going on and what's ahead.
• Just when you thought you were out, they pull you back in. No, we're not talking about the mob. We are talking about Pac-12 officials.
Jon Wilner spent hours, seemingly, trying to solve the mystery of the missing 57 yards for Washington State's game with California, and he may have solved it. Then again, his detective work forced more questions, though those were answered a bit later.
• Wednesday was the first day of the NCAA's early signing period for all sports except football (that sport's early signing period is next month). Once again a whole bunch of high school seniors realized a dream they've had for years. Good for them.
Yesterday had a personal connection two ways. One was a kid I coached a few years back signed an LOI – though in his best sport, not the one he played for me. And the daughter of a former neighborhood kid signed to play hoops at Gonzaga.
• Theo Lawson examined a subject dear to our ears today, the numerous false starts called on Washington State left tackle Liam Ryan. He's the Cougars' offensive version on Michael Bennett, when Bennett was the king of offsides for the Seahawks.
Ryan's false start penalties are on him. But some of the other ones, we have to agree with Mike Leach. In one game Ryan was called for back-to-back holds. Running them back on the DVR, it sure seemed as if the defender he was blocking was just having trouble with his footing and fell down. Sure, Ryan helped, but they weren't holds. And yet, yellow flags.
• Last college football season, this time of year was really fun. Eastern Washington was on its way to the FCS title game and Washington State was in the midst of one of its best seasons ever. This year, it hasn't been as enjoyable for those programs.
The Cougars play Stanford on Saturday – hey, a day game! – with both teams needing a win to keep their bowl hopes if not alive, at least more realistic.
The Eagles travel to San Luis Obispo, where the game might not have a huge bearing on any race but the weather should be nice. Funny thing about Eastern. If the Eagles win out, they have a decent chance of finishing tied for second in the Big Sky. Especially if Idaho can upset visiting Sacramento State on Saturday.
By the way, the best game this weekend in the Big Sky? Third-ranked Weber State at Montana. If the Griz and Sacramento State win, the conference will have another of those three-way ties for first, similar to late last season.
•••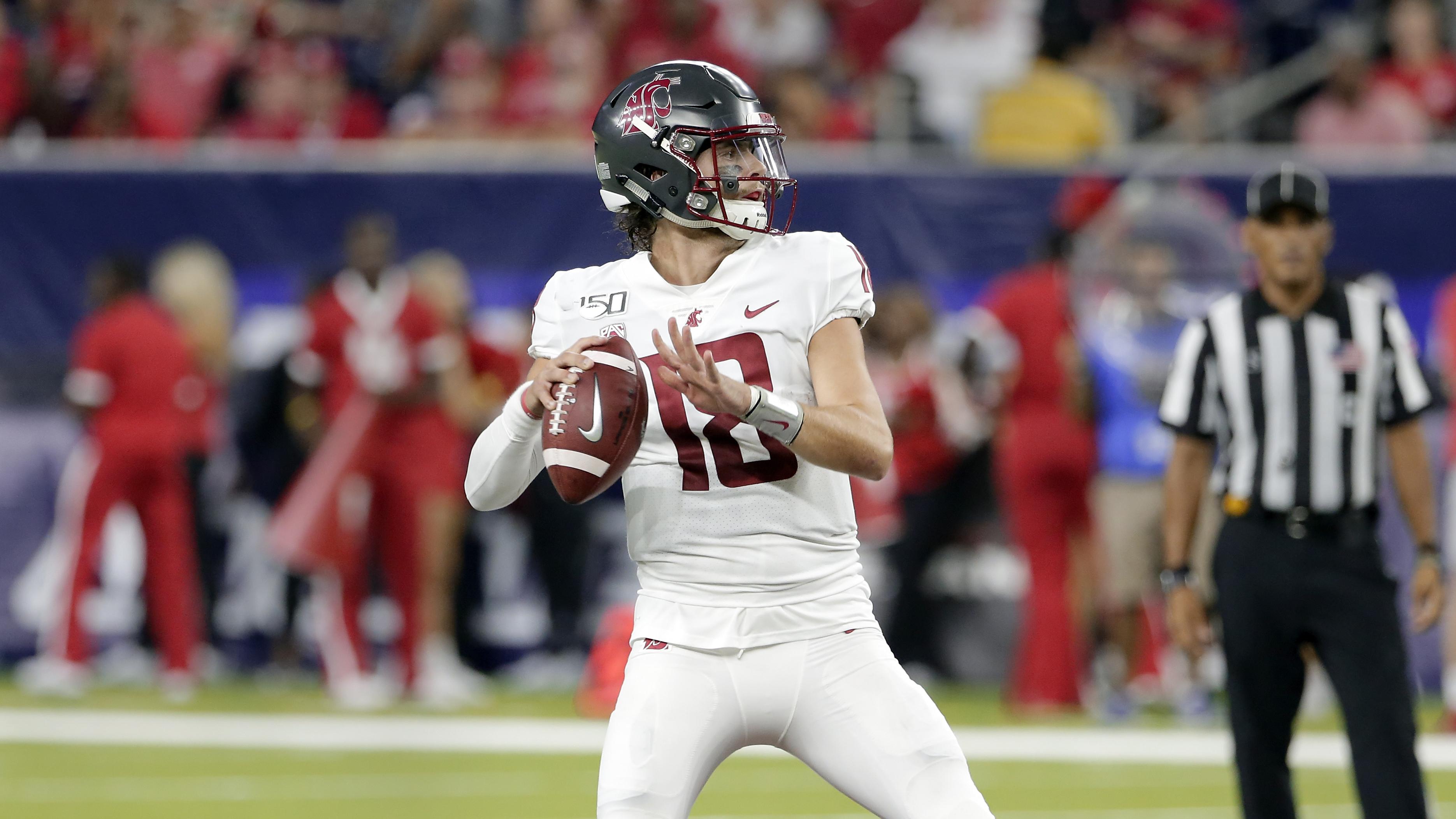 WSU: Theo called for mailbag questions yesterday, and I answered. Tongue-in-cheek of course – for both of us. It's all part of his weekly mailbag. … Theo also has his story on Ryan and his penalties (linked above as well) and the news Anthony Gordon is a semifinalist for the Davey O'Brien Award. … Elsewhere in the Pac-12, the media rights packages do not occur in a vacuum. A lot of contracts will impact the next one the conference signs. … Arizona can't figure out who to play at quarterback. That makes Oregon prepare for two different players. … The guy who stands next to Oregon State's Jonathan Smith has a history with the coach. … The Colorado defense has played well. … Utah has played well, period. … UCLA has been holding on to the ball. … The USC defense isn't playing to its potential, despite some solid individual efforts. … The Arizona State defense is making a change. … In basketball news, Oregon got a scare in its women's game with Utah State and it had nothing to do with the score. … Staying calm is a good thing for Colorado. … There are a lot of recruiting stories, including from Utah, UCLA, USC and Arizona. The Bruins and Trojans signed a couple of the nation's best players.
Gonzaga: It seems like a decade ago when Julian Strawther and Dominick Harris committed to GU, but it's only been a couple years, at least for Harris. The two highly sought-after recruits signed their letters of intent yesterday. Jim Meehan has more in this story. … Jim takes a look at what may happen on the court for opposing defenses in the next few weeks in this rewind of Tuesday's game. … The women play tonight, hosting Tennessee Martin. It's a late one. I'll need a nap today. Jim has a preview. … The women also signed two players, including highly recruited McKayla Williams, who has the Spokane connections. Jim has that story as well. … Back to the men, the Slipper Still Fits' Steven Karr joined Larry Weir yesterday for the latest Press Box pod. … The Washington Post has a Q&A with Rui Hachimura. … Around the WCC, BYU barely got past Southern Utah at home.
EWU: St. Louis handed the Eagles' basketball team their first loss of the season.
Idaho: The Vandal women won their home opener last night.
Whitworth: Better late than never is a cliché. And also a description of Emiko Kahler and Whitworth volleyball. Jim Meehan has more in this college volleyball notebook.
Preps: The State football playoffs get down to the quarterfinals this weekend, with Mt. Spokane hosting Peninsula High on Friday night – Steve Christilaw has a preview – and Gonzaga Prep headed across the state – Justin Reed has a look at the Bullpups matchup with Graham-Kapowsin – to highlight the large-school games. … We also have a roundup of yesterday's soccer action and look toward this weekend's volleyball matchups. … As we said, quite a few local athletes signed letters of intent. Ryan has a roundup.
Golf: We all know there are great courses in our area, and most charge reasonable prices. Two local ones who do both were cited among the nation's best 50 casino courses by Golfweek magazine. Amy Edelen has more in this story.
Seahawks: The Hawks still have questions to answer during their week off. … Tyler Lockett is back in Seattle.
•••
• If I had my way, every Thursday would be accompanied by doughnuts. For those of you who immediately asked yourself "why," I answer "why not?" Doughnuts should have their day every week and Thursday would be perfect. It's a lot better than Thuringer Thursday, right? Think we can make Doughnut Thursday a thing? … By the way, my old college signed a basketball player from my old high school. If he ends up moving to Spokane, that will be a trifecta. Until later …
Subscribe to the sports newsletter
Get the day's top sports headlines and breaking news delivered to your inbox by subscribing here.
---