Sports
A Grip on Sports: If you are looking for the Gonzaga game tonight, we have help for your search
Fri., Nov. 15, 2019 A GRIP ON SPORTS • Want to know what will the most asked question in Spokane today? It's simple. "What number is the SEC Network?" As with just about every question in life, the answer depends on a lot of things.
•••••••
• Do you pay Comcast for your cable service? Then the SEC Network, an affiliate, in a sense, of ESPN, is on 638. If you are a Cougar fan and have turned to Dish for your satellite feed, the SEC Network resides on 404. DirecTV customers, the folks who are on the Pac-12's blacklist, can find the game on channel 611 (to remember it, just think Bill Walton's height).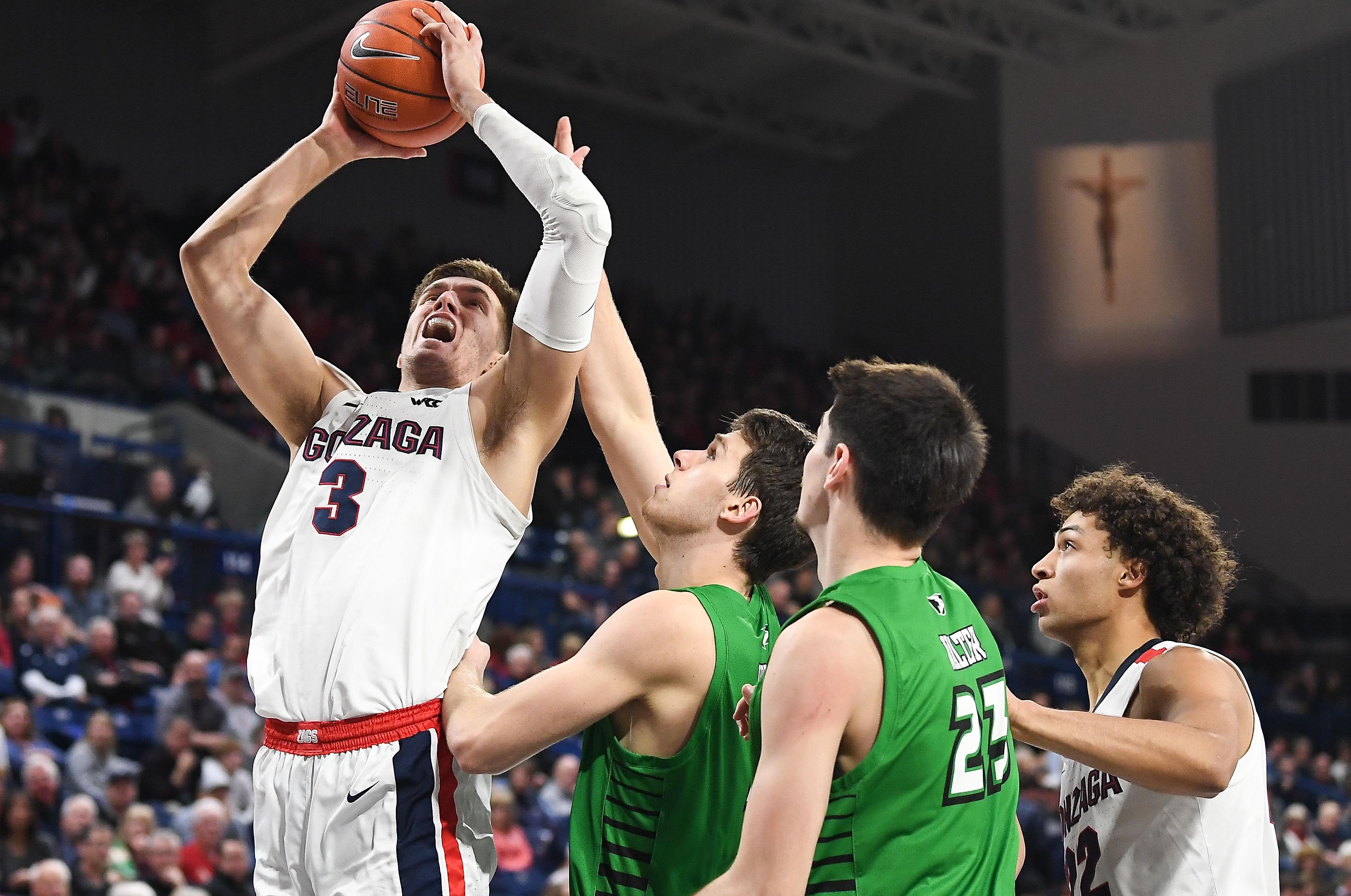 That's contingent, of course, of you having the SEC Network in your cable package. Just about everyone in the Inland Northwest has KHQ, so the local games are not a problem. And ESPN is as common in a TV room as a maple tree is outside. But the SEC Network is a bit more rare, at least above the Mason-Dixon. Though most of us sports nuts have it, we just don't make time to watch Mississippi State and Vanderbilt face off in anything all that often.
Believe it or not, the SEC Network has 70 million subscribers (or "subs" as the industry refers to paying customers). Compare that to the Pac-12 Network, which has all of 12. Twelve million, actually, but it might as well be 12.
Thanks Larry Scott.
Is it no wonder SEC football is considered the be-all and end-all? Everyone can see it. When Washington State plays Stanford tomorrow on the Pac-12 Network, there is little chance anyone east of the Mississippi will be able to watch, even if they wanted to.
But if you want to cheer on Gonzaga as it plays at Texas A&M tonight, you should have the opportunity. Even if you haven't punched in 404 or 611 or 638 on the remote before.
• What else is on this weekend? Well, we mentioned the Cougars already, but there are other football games worth watching Saturday, and they will be more readily available.
If you are a Big Ten fan, two ranked teams meet on ABC at 9 a.m. Saturday. One of them is ninth-ranked Penn State. Can you name the other? Time's up. It's Indiana, which checked in at 24th this week in the AP poll. Who knew?
If you are a big fan of 1945, Navy at Notre Dame is in your wheelhouse. The two programs, powerhouses back then, are both ranked this year and meet on KHQ at 11:30 a.m.
The Cougars and Cardinal start at 1:30 from Pullman, though there are two top-25 matchups with more of an impact on the national scene kicking off about an hour earlier: Georgia at Auburn (CBS) and Minnesota at Iowa (Fox 28). Both are candidates for playoff-changing upsets.
The same could be said for a 4:30 game on ABC, Oklahoma at Baylor. The Bears may be undefeated but the Sooners, who lost at Kansas State, are favored by double digits.
Finally, if you can't get enough of #Pac12AfterDark, there are two servings, with Oregon hosting Arizona and USC traveling to California. That latter game is on FS1, the former on ESPN.
• With the Seahawks not playing Sunday, you could watch the any of the three games in the market, none of which are all that compelling. Or you could go a different route entirely and watch, say, Washington State host Idaho State in basketball. The interesting part of that 1 p.m. matchup is the Bengals' first-year coach. That would be Ryan Looney, a Central Valley High grad who has been moving up the college coaching ladder the past decade.
Or you could do what I will probably do: sit your rear end in a chair and enjoy the RedZone. Every time Scott Hanson says "triple box," you take a swig of coffee. Within an hour you will have gotten your daily exercise, either refilling your cup or using the facilities.
•••
WSU: There is some good news and some bad news from Pullman to pass along today. Which do you want first? OK, the good. Jahad Woods in a heck of a player with a heck of a back story, both of which Theo Lawson covers in this feature. … There is more good news. Theo has a story on a $2 million donation toward a new indoor practice facility. … Oh, and there is an NCAA soccer match today in Pullman, with the Cougars hosting Memphis. Ryan Collingwood has a preview. … So what's the bad news? That would be this story from Theo on two more defensive backs, including a starter, being asked to leave the program. That makes 11 players from the defense's back line that have left for varying reasons in the past year. … The group will be challenged by Stanford's backup quarterback. … Elsewhere in the Pac-12, who are the best assistants this season? And who will win this week? … It will be a challenge for the conference to be in the playoffs again. And I agree wholeheartedly with this assessment of the entire process. … Washington is going to look at a few young players down the stretch. Will they be teaming with Jacob Eason next season? … Oregon has been penalized a lot. … Oregon State's matchup with Arizona State could be fun. … This is a disastrous story (sorry for the pun) about UCLA and Utah. … There was some happy news around USC recently. And some sad news as well. … Because of the week off, the Colorado coaches will hit the road. … In basketball news, Arizona State and Arizona won home games last night. … A beat-up UCLA team hosts UNLV tonight while Utah has Minnesota. … A Colorado player just wants a chance.
Gonzaga: It's sort of funny, but tonight's game in College Station, Texas, is a homecoming of varying degrees for three Zags. For one, Admon Gilder, it really is as he played for Texas A&M for four years. For Drew Timme and Ryan Woolridge, it's a chance to return to their home state. That's the main thrust of Jim Meehan's preview as well as his key matchup. … The women hosted Tennessee Martin last night and for a rare time, the Kennel was not full. But the scoreboard filled up in the second half, at least on the GU side. Jim Allen has more in this game story while Tyler Tjomsland has the photo report. The women will next play at third-ranked Stanford, which rolled Northern Colorado last night. … Around the WCC, Saint Mary's routed Long Beach State in Moraga. … BYU is bracing for a big test on the road.
Idaho: The Vandals' season is winding down, though Nate DeGraw probably doesn't want to see it end. The sophomore defensive end has played well, as Peter Harriman describes in this story. … The men's basketball team lost in Arkansas-based tournament.
Whitworth: The Pirates raised their record to 3-0 with a rout of Cal Lutheran at the Fieldhouse. Dan Thompson was there and has this story.
Preps: There were a few volleyball and soccer matches yesterday.
Shock: The newest member of the Spokane sports landscape is putting together a roster these days, and it is heavy with indoor football veterans. Ryan has an update on how it is coming together.
Seahawks: If Jeff Bezos ends up buying the franchise, can we expect concessions delivered by drones? How about free delivery of the football? Speaking of that, the Hawks' fumbles have Pete Carroll positive about one thing. … It looks as if the Hawks will be at Colin Kaepernick's workout.
•••
• Kim and I stayed up late last night. It wasn't easy. But we did get through about 7/8ths of the Gonzaga women's game before we had to head home. It was after 9, after all. Thanks to the Zags' early start time, I won't have to be up all that late tonight to finish off our TV Take. Until we return …
Subscribe to the sports newsletter
Get the day's top sports headlines and breaking news delivered to your inbox by subscribing here.
You have been successfully subscribed!
There was a problem subscribing you to the newsletter. Double check your email and try again, or email
webteam@spokesman.com
---