Sports
A Grip on Sports: There is a quiet buzzing with Gonzaga and some loud ringing in Pullman as Saturday arrives
Sat., Nov. 16, 2019 A GRIP ON SPORTS • No matter if you are looking back – at Gonzaga's rout of Texas A&M in hoops – or ahead – to the Cougars' football matchup with Stanford – you might hear alarms going off. It's inevitable.
•••••••
• The noise concerning Gonzaga is not loud like, say, a smoke alarm, but you can hear it, sort of like your iPhone vibrating after you've accidentally turned the volume off.
The Zags have played four games and have used no more than seven players for the most important parts of all of them.
Sure, there are reinforcements on the way, but even when All-American candidate Killian Tillie returns, the rotation isn't going to be deep. And, in Tillie's case, given his past history, there isn't a lot of confidence the season will wear on without more time missed. This is usually the time of year many college coaches play multiple combinations of players, seeing who fits and who has to sit. Not Mark Few. Not this season.
He has seven he's good with. Another, Tillie, is recuperating for minor surgery – the definition of "minor surgery" is "surgery that happens to someone else" – on his knee and will be back soon. And there is a ninth, freshman guard Brock Ravet, who has left the team for an undetermined amount of time, though he is still listed on the roster, which is a hopeful sign.
But until the status of those final two players is worked out, there are seven Zags entering the game Few seems comfortable playing – and he's allowed to appear when the outcome is in doubt. If any of those seven go down for whatever reason, it could be devastating.
Which brings us to last night.
Twice point guard Ryan Woolridge was knocked to the floor. The first time a cut was opened on his leg and he left the floor with a trainer. He came back and finished the game.
Freshman Anton Watson, playing with stitches and a black eye, souvenirs from the Zags' last contest, had his left shoulder knocked out of whack (no, that's not the medical term but, hey, we didn't stay at a Holiday Inn Express last night). It looked painful. But he was able to continue.
Filip Petrusev got hit in the eye, which turned a bright-enough red you could see it in Spokane. He continued as well.
Corey Kispert's shot was broken. OK, that's not an injury, but it is something that would, if the depth were better, have caused him to sit for stretches. Instead, the junior shouldered on, playing defense, grabbing rebounds and occasionally missing a 3-pointer.
It's not a problem right now. It may not be a problem all season. But it is enough to alarm Zag fans.
• Washington State football fans were alarmed a long time ago. The klaxon went off in September, when UCLA scored a half-a-hundred points in the second half and upset the Cougars.
Since then, they have been on Defcon 3 or so. Lose today, however, and everyone will be running to the bunkers.
(The flip side? If the Cougars, who are favored by double digits over Stanford, win, you will be able to hear the collective exhale from Martin Stadium in Colville.)
A loss would mean, to qualify for another bowl, WSU would have to win next week at home against Oregon State – the most improved team in the Pac-12 – and then in Seattle against the Huskies. That hasn't happened since Alex Brink was the Cougar quarterback.
In other words, good luck. And sound the alarm.
•••
WSU: It's Saturday so Theo Lawson has a preview of the game as well as the three keys to a Cougar win. … And, yes, Theo thinks they will win, though in a tight game. … The soccer team won its first-round NCAA game again, stopping Memphis 1-0 in Pullman. … The Cardinal also need a win to keep alive decent bowl hopes. … Elsewhere in the Pac-12, Oregon today faces a new defensive coordinator. Again. Arizona's defense hasn't improved yet. … Oregon State has momentum. But Arizona State awaits. … UCLA travels to Utah in a game that seemed to be a mismatch just a month ago. But now, with so much on the line, it could be close. …  California will have Chase Garbers back against USC. The Trojans hope it won't make a difference. … On the basketball court, Washington's most important player might not be who you think. The Huskies face Tennessee today. … An Oregon player was hit by a car. Poor car. … Colorado is ranked. That's a big deal. … Utah got past visiting Minnesota. … UCLA defeated UNLV.
Gonzaga: Only Jim Meehan made the long trip to Texas for the Zags' easy win. He has an analysis of what happened and the three keys. … We can pass along a photo gallery from the game, filled with Associated Press photos. … The folks in the office put together a recap with highlights. … We sat at home and watched. We then put our thoughts into the TV Take. One other thought: The SEC Network crew was pretty focused on the visiting team, which makes sense considering it was a blowout, but was also a bit of a surprise. … The women play at third-ranked Stanford tomorrow. Jim Allen checks in with the Hull sisters, who have a little extra motivation playing the Zags. … Around the WCC, TJ Haws' last-second fall-away jumper fell for BYU and so did Houston.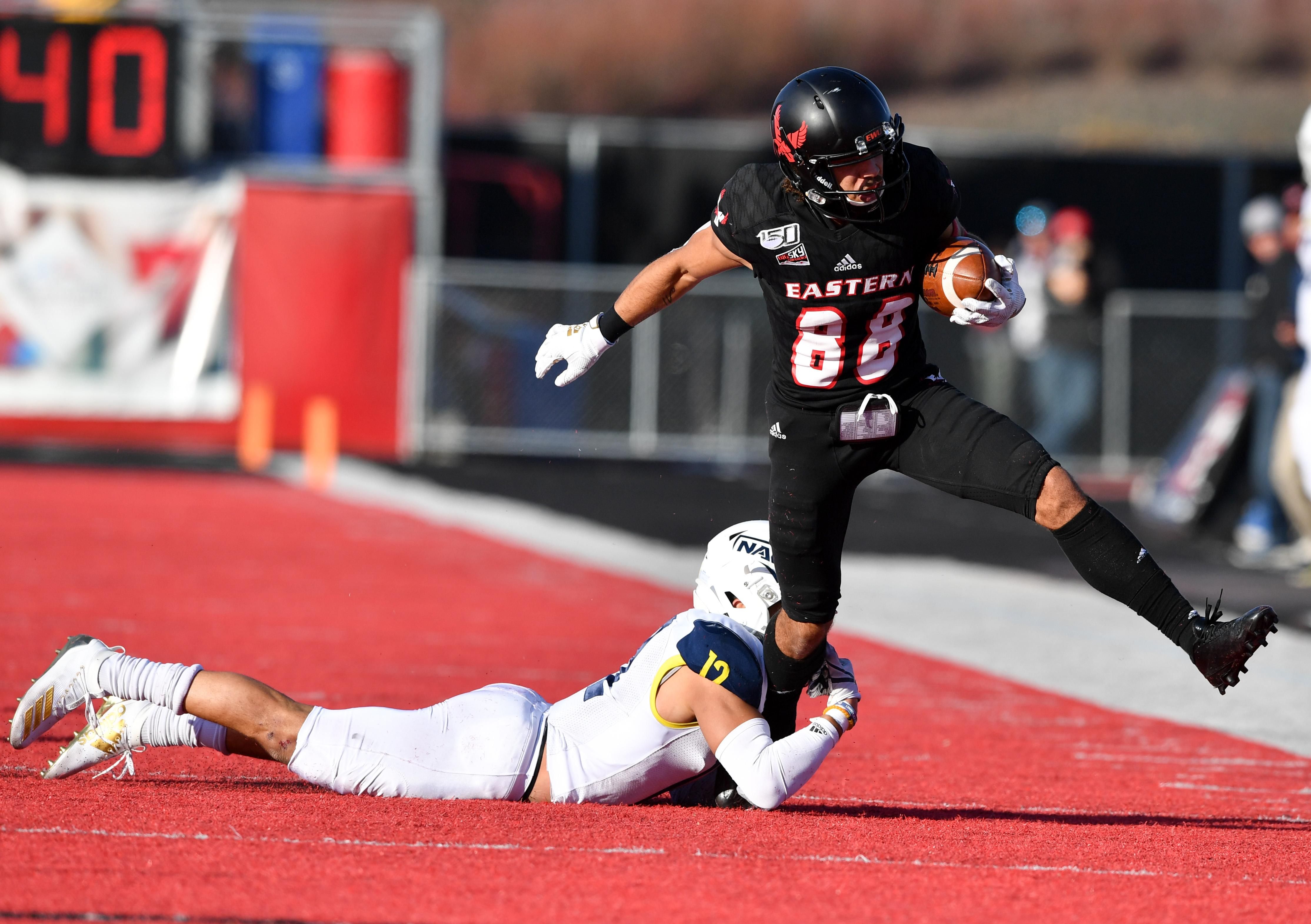 EWU: The Eagles travel to California today for a Big Sky matchup with Cal Poly. Ryan Collingwood has a preview. … Elsewhere in the Big Sky, the conference title is on the line as Montana hosts Weber State. … Northern Arizona and Southern Utah play for a trophy today. … Either Montana State or UC Davis will be outside looking in at the FCS playoffs after today. … In basketball, Montana State picked up a win. … NAU picked up an easy win.
Idaho: It's Senior Day in the Kibbie Dome and the task assigned the graduates-to-be is a tough one: upset sixth-ranked Sacramento State. Peter Harriman has a preview. … The men's basketball team edged VMI 68-67 in a tournament in Arkansas.
Whitworth: The Pirates won't be playing in the NCAA football playoffs. So they will play for the final time this season at the Pine Bowl today, hosting Pacific. Dan Thompson has a look at the game.
Preps: Before we get to the football and soccer and volleyball, we want to pass along Ryan's story on Central Valley cutting ties with second-year girls' basketball coach Ryan Brogdon. No reason was given. … OK, in football, Coeur d'Alene won last night in the 5A semifinals, defeating Highland. Ryan also has that game story. … Dan covered Mt. Spokane's win over Peninsula to in the 3A quarterfinals. Colin Mulvany also has a photo report from Albi Stadium. … Finally, we pass along roundups from soccer and volleyball.
Chiefs: Spokane traveled to Portland and came up with a 4-3 overtime win.
Seahawks: Is Russell Wilson the leading candidate for the Most Valuable Player award? …
•••       
• We'll be back here with the TV Take after the Cougar game. And yes,for those of you wondering, I do know what channel the Pac-12 Network is on. I think. Until then …
Local journalism is essential.
Give directly to The Spokesman-Review's Northwest Passages community forums series -- which helps to offset the costs of several reporter and editor positions at the newspaper -- by using the easy options below. Gifts processed in this system are not tax deductible, but are predominately used to help meet the local financial requirements needed to receive national matching-grant funds.
Subscribe to the sports newsletter
Get the day's top sports headlines and breaking news delivered to your inbox by subscribing here.
---