Sports > Gonzaga women
Lexie Hull scores 20 points in Stanford's OT win over Gonzaga
UPDATED: Wed., Nov. 20, 2019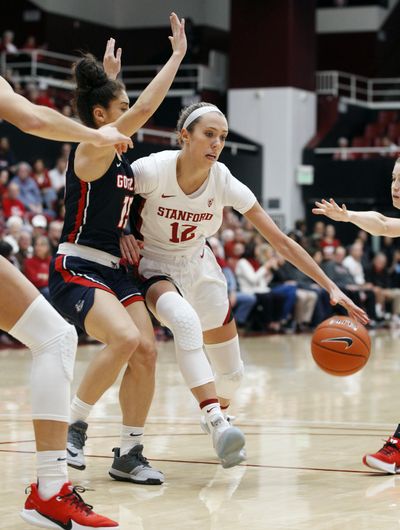 STANFORD, Calif. – There will be some consolation prizes for the Gonzaga women after they took third-ranked Stanford to overtime Sunday night.
Respect, for one.
Expect the Zags to earn more votes in this week's Associated Press balloting and for them to move up from 23rd on the USA Today coaches poll.
But also expect them to need a few days to reconcile themselves to missing a chance for one of the biggest wins in program history.
"Our locker room is pretty disappointed," GU coach Lisa Fortier said with a sigh after Stanford eked out a 76-70 win at Maples Pavilion. "We're competitive and we want to win them all."
"There's no sense of 'well, we did pretty good,' because that's not how we do things," said Fortier, whose club will try to regroup Friday night against Eastern Washington.
Gonzaga (2-1) did a lot of things right until midway through overtime, when Spokane's own Lexie Hull rescued the Cardinal with big plays at both ends of the court.
With the Zags leading 64-63 midway through the extra period, the high school All-American from Central Valley drove the lane to earn two foul shots. She made both, giving Stanford the lead for good, as it turned out.
The Stanford lead was still 65-64 with under two minutes left when Hull added a layin. Five seconds later, she stole the ball from GU's Jessie Loera and took it the other way for a 69-64 lead.
It was one of two turnovers in the overtime by GU, which also saw guard Jill Townsend foul out midway through after scoring a team-high 18 points.
"When you go into overtime with the third-best team in the country, you can't have those kind of errors, and it's hard," said Fortier, who coached GU to a win over Stanford a year ago in Spokane.
Jenn Wirth hit two free throws to make it a three-point game, but Kiana Williams answered with two of her own and Hull closed out the Zags with another jumper with 38 seconds left.
Williams finished with a game-high 22 points and Hull had 20 as the Cardinal improved to 3-0.
"I'm happy about a lot of things," Fortier said. "I'm proud of our team. It's not an easy place to play, and they're not an easy team to play."
And yet GU came in with a defensive game plan that put pressure on ball-handlers and limited Stanford to 5-for-22 shooting from beyond the arc.
The Zags also won the rebounding battle, though only 40-39.
"We think we're deep," Fortier said, "but they have player after player they can bring in."
However, the Zags got a boost from their reserves as they led 17-16 after one quarter and 31-28 at halftime.
Sophomore Melody Kempton came off the bench for one of the best games of her career: 12 points (on 5-for-9 shooting) and a game-high 10 rebounds.
That partly offset a tough shooting night for the Wirth twins: Jenn finished 0-for-11 from the field and LeeAnne was 1-for-5.
Freshman Kayleigh Truong added 12 points and three boards.
Despite shooting only 33% from the field, Gonzaga had several chances to win in regulation.
The Zags led 56-54 on a turnaround jumper by Townsend with 2:19 left. However, on the Zags' next possession, Katie Campbell threw up an airball and Hull answered with a 3-pointer with 97 seconds to play.
The Zags didn't fold. Townsend hit another 3-pointer for a 60-all tie with 47 seconds left. After a Stanford miss, Loera hit two free throws with 17 seconds left to give GU a 62-60 advantage.
Williams, drove for a tying layin with 6 seconds left.
After a timeout, the Zags had to settle for a missed 3-pointer by Jenn Wirth to send the game into overtime.
Local journalism is essential.
Give directly to The Spokesman-Review's Northwest Passages community forums series -- which helps to offset the costs of several reporter and editor positions at the newspaper -- by using the easy options below. Gifts processed in this system are not tax deductible, but are predominately used to help meet the local financial requirements needed to receive national matching-grant funds.
Subscribe to the sports newsletter
Get the day's top sports headlines and breaking news delivered to your inbox by subscribing here.
---