News > Spokane
100 years ago in Mullan, Idaho: Rescue prospects for trapped miners turn grim
Mon., Nov. 18, 2019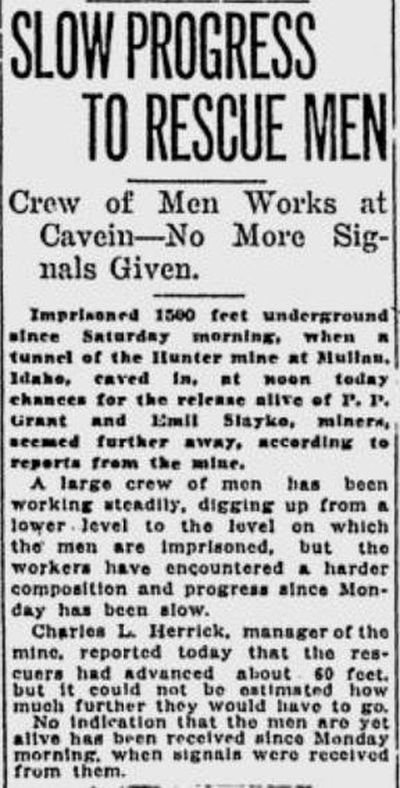 Rescuers made slow progress toward two miners trapped in a cave-in at the Hunter Mine in Mullan, Idaho.
In a discouraging sign, the rescuers said they had heard no further "tapping" or other signals, as they had heard on the first day of the rescue attempt.
Chances for the "release alive" of P.P. Grant and Emil Slayko "seemed further away," said rescuers.
From the medical beat: The Junior Red Cross Children's Clinic in Spokane's schools had five urgent tonsil operations scheduled on the first day, with many more to come.
School nurses had identified numerous likely tonsil cases, and then surgeons made a final examination.
"We are scheduled to capacity for the next month," said Dr. J.E. Drake, city school physician. "While it was not our intention to rush matters in any way, the examinations were carried on when the whole clinic became a certainty and the urgent cases are being attended to without delay."
From the mayoral beat: Charles A. Fleming was named, for the second time, Spokane's mayor.
Under the city's form of government, the public did not vote directly for mayor. The city council selected one of its own members to be mayor.
Fleming had previously served as mayor from 1914-1916. His new term would begin at the turn of the year.
Local journalism is essential.
Give directly to The Spokesman-Review's Northwest Passages community forums series -- which helps to offset the costs of several reporter and editor positions at the newspaper -- by using the easy options below. Gifts processed in this system are not tax deductible, but are predominately used to help meet the local financial requirements needed to receive national matching-grant funds.
Subscribe to the Coronavirus newsletter
Get the day's latest Coronavirus news delivered to your inbox by subscribing to our newsletter.
---