Sports
A Grip on Sports: Winning on the road might be the best feeling in college hoops
Tue., Nov. 19, 2019 A GRIP ON SPORTS • Is there anything worse in college sports than paying someone to come to your school to play and then losing to said school? Sure there is. But it's pretty awful. When you are the host team. For the winner's? Going into a hostile place and winning is even more special.
•••••••
• I'm not sure if Montana paid Montana Tech to come to Dahlberg Arena last night and play or if the NAIA Orediggers were just satisfied with facing an NCAA Division I foe. Either way, they didn't play like a lower-division team.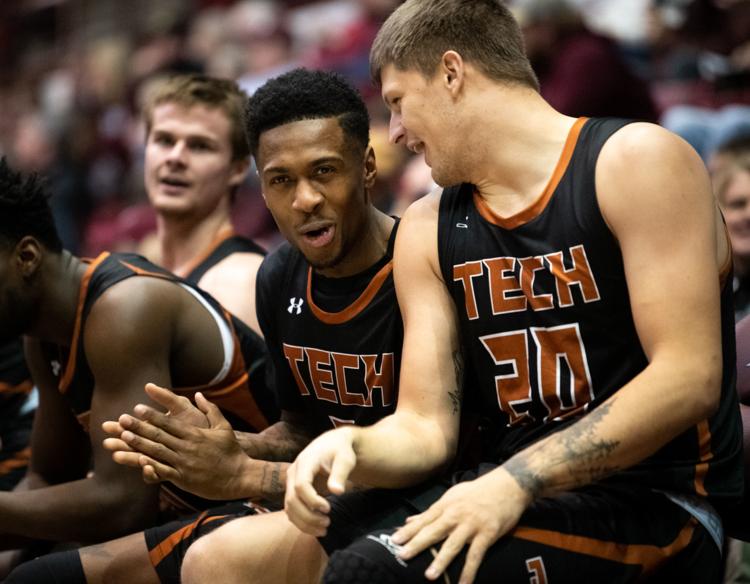 Maybe it's because NAIA schools are actually pretty good. The players are on athletic scholarship and everything. Some of the more athletic and physical college basketball teams I've watched over the years were NAIA schools.
But there is always that non-Division I stigma.
Don't try to sell that to the Griz players this morning.
Montana Tech, which made the NAIA postseason tournament last year, battled the defending Big Sky champions the entire game. And found a way to win late.
An upset like this will not earn the national acclaim of Evansville's recent toppling of then-No. 1 Kentucky, but in the Treasure State this one will reverberate even more.
And re-emphasis how much fun college basketball can be, when a smaller school from a lower level can travel to the big state university and head back down Interstate 90 with a win.
• Games like last night's in Missoula serve notice to Gonzaga. There are few teams nationally the eighth-ranked Zags could play in which they wouldn't be a large favorite.
They are tonight, something more than three touchdowns. But visiting UT Arlington has played its two road games this month (at Nevada and at Oregon) relatively close.
Yes, the Mavericks lost by 20 in Eugene, but the game was close late. And the one in Reno was close throughout, with Nevada winning by seven. But as good as Oregon is (and the Ducks are among the Pac-12 elite), tonight should be UTA's toughest test.
And, quite possibly, Gonzaga's as well. At least to this point in the season.
• A quick confession here. The other day I was in a situation where I needed to send my mind to my happy place. Beach? Nope. Mountain stream? Good choice, but no. Gym, with a basketball practice going on? Yes, that's what I picked.
It worked well. It is my happy place.
Which explains, in part, why I'm helping out this year with a local high school team. That and the head coach played for me nearly 20 years ago.
Practice began yesterday in Washington. The season will stretch until March for some teams. Pretty much six days a week players at all levels will be in a gym trying to improve, striving to be successful, enjoying each other's company.
Yep, it's a happy place all right. And it should be.
•••
WSU: Do not invite conventional wisdom and Mike Leach to the same party. Especially not to one celebrating your retirement. He's not into that sort of stuff. (Well, he is, but in his own way.) Theo Lawson has more on Leach's thoughts concerning Senior Night and such. … Theo also takes the first look at Saturday's opponent, Oregon State, shares the news Anthony Gordon won his third Pac-12 offensive player of the week award this season and makes his picks for the weekend. Theo got a bit closer to breaking even against the spread last week. … Oregon State has a Biletnikoff Award semifinalist. He has a WSU connection. … Elsewhere in the Pac-12, when Jacob Eason makes a mistake, it usually has really bad results for Washington. Colorado is hoping for more of the same. … Though Oregon is among the nation's elite, it doesn't mean the Ducks don't have problems. … Utah is not only dominating on defense, the Utes are potent on offense as well. … It's a pretty big week in Los Angeles. It always is when USC and UCLA meet. Not many rivalries have such a close proximity. … Herm Edwards is standing behind his decision to go for two. … Arizona has way too many injuries on the offensive line. … In basketball news, Colorado remained perfect, but earned a spot on my list by defeating UC Irvine. … UCLA is unbeaten at home after stropping Southern Utah. … Washington is looking for more bench scoring.
Gonzaga: Jim Meehan has a preview of tonight's UT Arlington game. (We will be back here with our TV Take after it's over.) … Jim also has a story as Filip Petrusev was the WCC's player of the week after back-to-back double-doubles. (I've eaten back-to-back Double-Doubles before, but wasn't named sportswriter of the week. Travesty.) … Jim also spoke with Larry Weir yesterday for the latest Press Box pod. … The men remained eighth in the latest AP poll while the women, after their near-upset in Stanford, jumped to 23rd in their AP poll. Jim Meehan has the poll story for the men, Jim Allen for the women.
Idaho: The women's basketball team earned a road win over San Francisco. … Around the Big Sky, Northern Colorado's men gave West Virginia all it could handle.
Whitworth: With the football season over, Dan Thompson looks back at how injuries derailed the Pirates' chances to repeat as Northwest Conference champions.
CCS: The men's cross country team raced to a Northwest Athletic Conference title yesterday in Lacey. The women finished second.
Seahawks: The Eagles are on the board this weekend, coming off a tough home loss to New England. … The Hawks win a lot of close games. How? … Tyler Lockett may play this weekend. Colin Kaepernick? Nope. … Mychal Kendricks had his sentencing hearing postponed again.
Sounders: Time marches on, even for players who helped Seattle win another Cup.
•••
• Have a great day. You deserve it. See you tonight after the Gonzaga men play. Until then …
Subscribe to the sports newsletter
Get the day's top sports headlines and breaking news delivered to your inbox by subscribing here.
You have been successfully subscribed!
There was a problem subscribing you to the newsletter. Double check your email and try again, or email
webteam@spokesman.com
---