Sports
A Grip on Sports: It's a crowded Saturday night even if there may not be the biggest crowd in Pullman
Sat., Nov. 23, 2019 A GRIP ON SPORTS • We're going to play a little game. You are a sports fan. Not a fan of any school or team, per se, but a fan of football and basketball. You don't have anything going on tonight. No dinner plans, no dates, no work. What do you watch?
•••••••
• It's an easy win if you are an alum of either Gonzaga or Washington State. But what if you don't have a dog (or cat) in the hunt? What are you settling down to watch?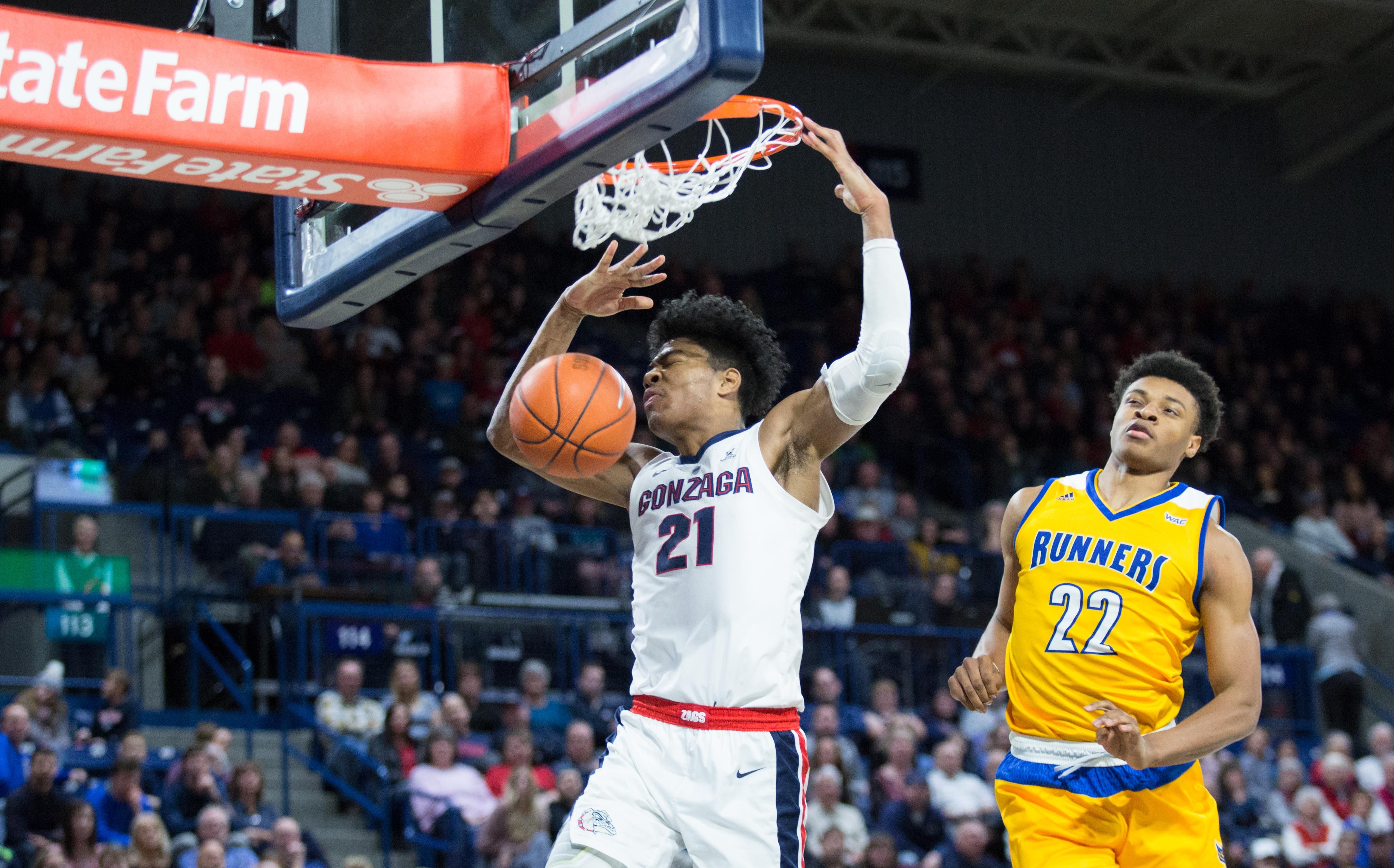 On one hand, Gonzaga's game with Cal State Bakersfield begins at 5 p.m., so there is an uninterrupted hour of Bulldog basketball on KHQ to view even before the Cougar football game begins on the Pac-12 Network. By the time Travell Harris gathers in the opening kickoff in Martin Stadium, the GU game might just be over – in the competitive sense of the word.
Then again, what if the Roadrunners disappear in a cloud of Acme-produced smoke and are giving the Zags fits?
After all, the basketball game is one of a handful of nonconference games that really don't mean anything in the long run to GU – unless the Bulldogs lose. The football game, however, has a direct bearing on whether the Cougars go bowling for a fifth consecutive year.
A win tonight against the most surprisingly successful team in the Pac-12 this season would ensure that. A loss would put the onus on the Apple Cup, an iffy proposition if recent history is any indicator.
We're always here to help, though. So we will offer a solution. A simple solution.
Watch the Gonzaga game until the Zags miss their fifth free throw. Then switch over. If the Cougar game hasn't kicked off yet, turn on Disney+ and watch the third episode of the Mandalorian. It's really good.
• Want an odd note from the Gonzaga game? Tonight's contest is the second consecutive redo from last season's nonconference schedule. UT Arlington played in the Kennel last year and this year. The same is true for Cal State Bakersfield.
If you are wondering, GU rolled to an 89-54 win over the Roadrunners last season. Then again, they also blew out UTA last year and had all it could handle the other night.
• McCarthey was sold out last night for the women's contest with Eastern Washington, a game that reminds me of the old WSU/Idaho matchups from when I was in Pullman.
Though one team was markedly better (in this case Gonzaga), the other was probably tired of hearing about it and wasn't about to roll over. Though the Bulldogs won handily, it wasn't easy.
It was really fun to watch.
•••
WSU: Not to go all Memory Lane on you, today's crowd in Martin Stadium has no chance of being the smallest pre-Thanksgiving crowd I've observed against Oregon State. That would be Nov. 21, 2009, when an announced crowd of 16,167 watched the Beavers roll 42-10. There were not that many people in the place when the game started and there were no more than a handful left in the fourth quarter. Students? They gave out diplomas for the ones who stayed to the finish. The valedictorian was Bluto Blutarsky, who was passed out three rows from the field. (Just kidding.) Anyhow, Theo Lawson has a preview of tonight's game focused on the attendance. He also has his usual two-minute drill and his pick (spoiler alert: He has the Cougars in a high-scoring, tight game over Oregon State and quarterback Jake Luton). … In one of the most memorable upsets in school history, the women's soccer team upset top-seeded Virginia, 3-2, on the road last night to advance in the NCAA Tournament. Memorable, that is, if anyone outside of Charlottesville had been able to see it. … Elsewhere in the Pac-12, is Utah's defense among the best in conference history? … The Big Game is often known for other things than the football. … For USC and Clay Helton, today's rivalry game with UCLA is all about the football. Can the Trojans win by enough to ensure Helton another year? … Washington will try to corral Colorado on Senior Day. … The Ducks will be tested in the desert against Arizona State, but Oregon needs to win to stay in the national title hunt. … Utah has to do the same thing against Arizona as the Wildcats celebrate their seniors. … Finally, there was an apology for a inappropriate comment we shared yesterday. … In basketball news, there were 52 fouls called in Washington's home win over Montana. … California was undefeated starting the weekend. The Bears have two losses now. … Oregon topped Houston in Eugene. … Utah rode hot free-throw shooting to a win. … USC fell flat against Temple.
Gonzaga: With Killian Tillie back in the lineup, the Zags have more options. For a little while against UT Arlington on Tuesday night, Mark Few even had three bigs on the court, with freshman Anton Watson playing the three spot. Jim Meehan examines all of the possibilities in this preview of tonight's game. … Jim also has the key matchup. … Larry Weir spoke with SWX sports director Sam Adams about the Zags and other items in the latest Press Box pod. … The women ended up winning by 40 last night, but the game seemed closer. Jim Allen was in McCarthey and has this story, while Colin Mulvany has a photo gallery.
EWU: For the past dozen years, Eastern has finished each football season with a winning record. The Eagles will have to win today against visiting Portland State to extend that streak another year. Ryan Collingwood has a preview of the final game of the season for both. … Elsewhere in the Big Sky, the Brawl in the Wild has more import for Montana State. Or maybe for Montana. OK, it's big for both schools. … Weber State will try to clinch a share of the title against Idaho State. … Sacramento State has its share on the line against UC Davis. … In basketball news, Idaho State fell at Santa Clara.
Idaho: The Vandals also end their season today, but they'll do it more than a mile in the sky, at Northern Arizona. Peter Harriman has a preview of the game matching two schools each looking for their fifth win.
Whitworth: A last-second shot fell and so did the Pirates, to Wisconsin-Eau Claire in a St. Louis basketball tournament. It was Whitworth's first loss this season.
CCS: The Sasquatch advanced in the NWAC volleyball tournament, though they are still two matches from another title.
Preps: Mt. Spokane will be playing in the 3A volleyball semifinals this afternoon, still alive in their quest to repeat as champions. … Gonzaga Prep's hopes of winning a 4A soccer title went away in a semifinal shootout Friday.
Wrestling: If you love wrestling, and I know you do Jordy, there is a college tournament tomorrow at the Convention Center. Ryan has a preview of the Spokane Open.
Chiefs: Deciding which three overage players to keep on a roster is one of the toughest decisions a junior hockey club makes each season. It seems Spokane chose wisely this year. Dan Thompson has a look at how well Filip Kral has been playing.
Seahawks: The Eagles have suffered a while from Super Bowl hangover. … Uh oh. Jadeveon Clowney is off somewhere getting treatment on a bad hip. … Chris Carson is a bargain.
Mariners: The M's are following a recent trend, signing a young prospect to a long-term contract. But it might not be the prospect you were thinking about.
•••       
• Got anyone coming for a Thanksgiving week visit? We do. And I am looking forward to it. Not many men have ever been as lucky as I have in picking a mother-in-law. And though Kay is in her 80s, she's still nearly as spry as she was when she glared at me all through that wedding ceremony in 1979. Just kidding. She didn't glare. She kept pointing at her eyes and at me. While brandishing a butter knife. Wait. That was Kim's dad. Kay was always really nice. Until later …
Local journalism is essential.
Give directly to The Spokesman-Review's Northwest Passages community forums series -- which helps to offset the costs of several reporter and editor positions at the newspaper -- by using the easy options below. Gifts processed in this system are not tax deductible, but are predominately used to help meet the local financial requirements needed to receive national matching-grant funds.
Subscribe to the sports newsletter
Get the day's top sports headlines and breaking news delivered to your inbox by subscribing here.
---