News > Spokane
100 years ago in Mullan, Idaho: Trapped miners alive, well – but still trapped
Sun., Nov. 24, 2019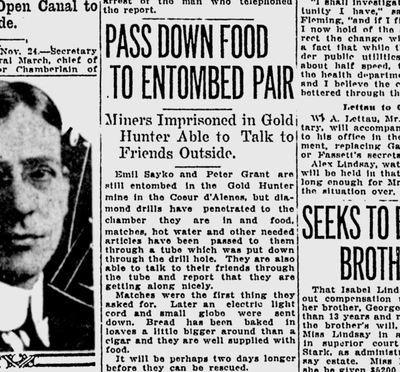 Excellent news arrived from the Gold Hunter Mine near Mullan, Idaho. Two miners, trapped for a week, were alive and well, although not yet out of the mine.
Rescuers punched a drill hole through to the men, through which they were able to pass food, water and letters. The two miners were also able to talk to their friends through a tube, and they reported that they were "getting along nicely."
"Matches were the first thing they asked for," said the Spokane Daily Chronicle. "Later an electric light cord and small globe (bulb) were sent down. Bread has been baked in loaves a little bigger around than a cigar and they are well supplied with food. It will be perhaps two days longer before they can be rescued."
That schedule would prove to be optimistic.
From the juvenile beat: Upset neighbors filed an injunction to prevent the building of a new $100,000 juvenile detention home on Nettleton Street in the Abernathy Addition area of west Spokane.
"We will use every means possible to prevent the home being built in our district," said a spokesman.
The neighbors were not the only ones opposed to this site. The Child Welfare League said it preferred a site on Spokane's east side on East Mission Avenue, because of its proximity to the Stevens and Horace Mann elementary schools.
From the shooting beat: Sidney A. Wagner, shot by his wife's ex-husband, underwent surgery to remove a bullet near his spine. Doctors said he had a "fair chance to recover."
Local journalism is essential.
Give directly to The Spokesman-Review's Northwest Passages community forums series -- which helps to offset the costs of several reporter and editor positions at the newspaper -- by using the easy options below. Gifts processed in this system are not tax deductible, but are predominately used to help meet the local financial requirements needed to receive national matching-grant funds.
Subscribe to the Coronavirus newsletter
Get the day's latest Coronavirus news delivered to your inbox by subscribing to our newsletter.
---