News > Spokane
100 years ago in Spokane: Temperance union declares war on cigarettes
Thu., Nov. 28, 2019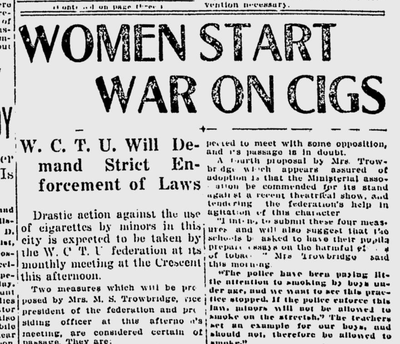 The Woman's Christian Temperance Union had already won its war on liquor. Now it was renewing its assault on another vice, cigarettes.
The local chapter was planning to confront the Spokane police chief and demand that the law against minors smoking cigarettes be "rigidly enforced."
"The police have been paying little attention to smoking by boys under age," said the chapter vice president.
She also said that teachers should not be allowed to smoke, because they set an example for our boys.
From the Wobbly beat: Spokane's U.S. Rep. J. Stanley Webster sent a telegram to the U.S. Commission of Immigration urging him to deport most of the Wobblies in jail in Spokane.
"Situation here very acute," wrote Webster, a former judge, in the telegram. "Approximately 100 alien I.W.W. (Wobblies) now being held in city jail under 30-day sentences, most of whom can be deported if plain terms of statute are enforced by your department."
From the winter recreation beat: The "skating fad has struck Spokane" after days of sub-freezing weather.
Several thousand people flocked to the Manito, Cannon Hill and Liberty park ponds.
"No accidents were reported."
Local journalism is essential.
Give directly to The Spokesman-Review's Northwest Passages community forums series -- which helps to offset the costs of several reporter and editor positions at the newspaper -- by using the easy options below. Gifts processed in this system are not tax deductible, but are predominately used to help meet the local financial requirements needed to receive national matching-grant funds.
Subscribe to the Coronavirus newsletter
Get the day's latest Coronavirus news delivered to your inbox by subscribing to our newsletter.
---