A&E
Holiday harmonies: The Tenors are bringing their 'Wonder of Christmas' tour to Bing Crosby Theater
Thu., Nov. 28, 2019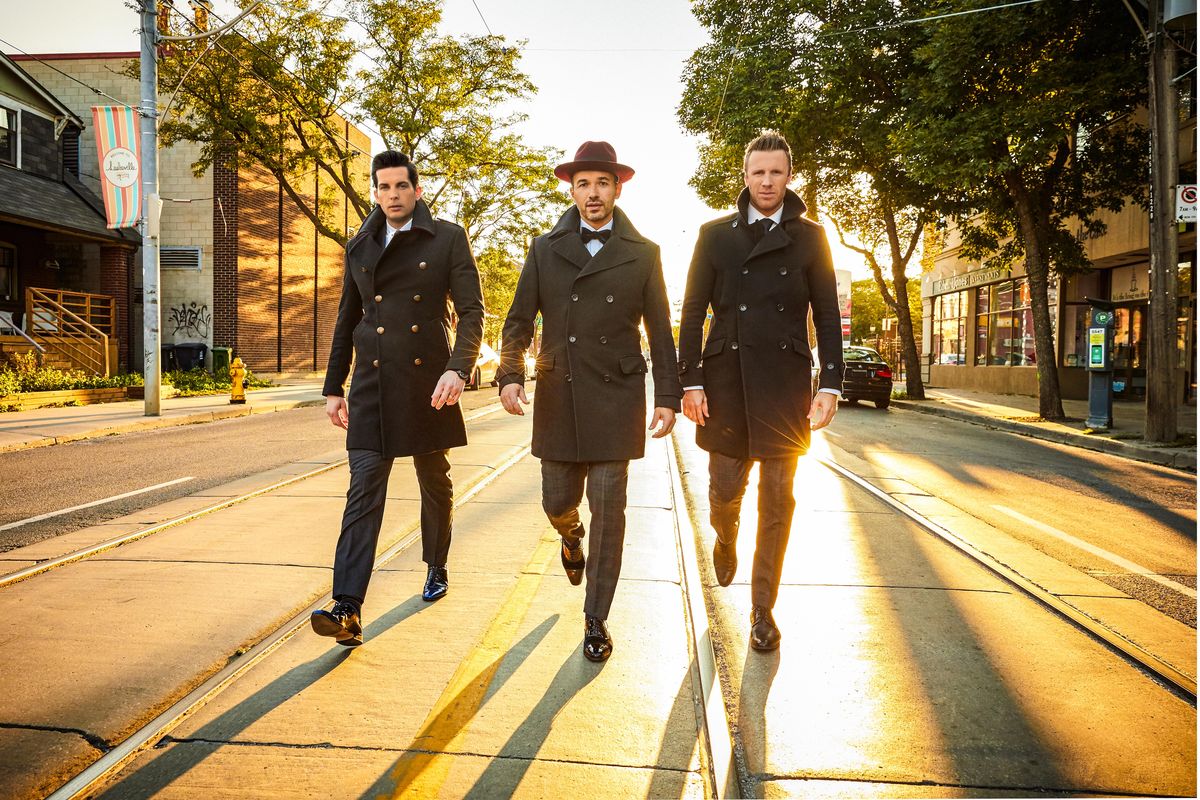 Clifton Murray, Victor Micallef and Fraser Walters of the Tenors headline the Bing Crosby Theater on Saturday night. (Paul Wright)
The Tenors – Canadian singers Victor Micallef, Clifton Murray and Fraser Walters – are bringing their "Wonder of Christmas" tour to the Bing Crosby Theater two days after Thanksgiving, and there is a connection for them to the legendary Hollywood singer, actor and comedian.
"We were recently asked by Decca U.K. to be part of a remastering of Bing Crosby's holiday hits with Pentatonix, the Puppini Sisters and (recordings of) David Bowie. We arranged a three-part harmony around him and will perform it on this tour," Murray said over the phone on Nov. 5, the day before his 38th birthday from his home in British Columbia.
The Tenors, along with singing, also write, arrange, produce and play their own instruments. The interview with Murray also touched on his favorite holiday songs and songs to perform; family traditions on Christmas; performing onstage to global audiences; and his baby boy's first Christmas in Vancouver, British Columbia, this year:
The Tenors continue to perform across the globe. Where were the three of you most recently?
We were just in Chicago and North Carolina. This year has been fantastic. Rome was a beautiful setting, as were Sicily and Prague, where we performed in a castle with golden chandeliers and a symphony accompanying us. We're in Vienna next week at an Austrian school of economics. And we've performed all over the U.S. and Canada.
What can the audience expect during your Nov. 30 concert at the Bing Crosby Theater? A mix of holiday classics and Tenors favorites?
We've released two Christmas albums that have aimed to harness the spirit of Christmas – the energy, joy and wonderment. Our show will include a lot of energy and movement. There will be religious songs and big, fun nontraditional holiday songs by U2 and Bruce Springsteen. It's going to be dancing and movement – a high-energy love fest.
What are some of your favorite holiday songs?
"O Holy Night" is the greatest Christmas song ever written. We save it for the end of shows or for a big moment. We've performed it for the L.A. tree lighting at the Grove. It encapsulates the wonderment and excitement of Christmas – it's big and powerful.
I love to perform our Christmas original "When We Are Together" from our second Christmas album and "Please Come Home for Christmas" by the Eagles, which we perform in a 1960s Motown shuffle style. The singing and riffs elicit a great reaction from the audience.
And there's "Santa's Wish," which was inspired by and written around the classic jingle "I'd Like to Teach the World to Sing." The video features Santa coming to Earth, and it is so beautiful.
Do you have any holiday traditions in your family?
Eating a lot of food (laughs)! We always watch "A Christmas Carol," the back-and-white version. And we eat oatmeal in the morning before opening Christmas presents. It's a family rule from Mom, who hails from Newfoundland.
This year is really special because it's our baby's first Christmas, and we'll see Christmas through his precious eyes. It's the first grandchild for my wife's parents. We'll gather in Vancouver, and there will be a lot of food and singing, and we'll bring out the guitar. Our tour ends Dec. 23, so it will be really nice to be together for Christmas.
Two of my favorite fairly recent recordings by the Tenors are the original "Angels Calling" and Queen's "Who Wants to Live Forever," both of which I've seen the Tenors perform in Las Vegas. What are a few of your favorite songs to perform after all this time?
Thanks, Don, those are great songs, as there are powerful messages in each. I love performing those two songs. In concert right now, Queen's "Bohemian Rhapsody" is a favorite. We first performed it for Cirque du Soleil's fundraiser "One Night for One Drop" at the Excalibur in Las Vegas.
We wanted to honor the song the best we could and really emulate what the song is – big orchestra, big voices and blow away the audience. It's one of the most spectacular songs to perform, and it encapsulates who we are – a rock, pop and classical group. That's been a highlight for us the last year.
I also love Bob Dylan's "Forever Young" for its lovely lyrics about the wishes and hopes we have for our children. It's emotional and powerful, and I've been a big Bob Dylan fan since I was a kid.
You're very confident and charismatic onstage. Do you get nervous before a performance?
Yes! Our nerves are the raw energy we need to harness to create something magical. If there were no nerves, I would start to be nervous. We huddle before each show and speak our truths and honestly say where we're at to charge up and make it special and high energy.
There is an intense trust of each other, like in passing the baton, a connection that we strive for between the three of us and the audience for an emotional and lasting experience that will touch people's hearts.
Are the Tenors working on anything now aside from touring?
Yes, our next album, which we've been working on for 1½ years. Our focus is on original music. We started our career with a lot of covers, but our album "Under One Sky" had eight originals. With our last two albums, the label, fans and album charts have supported our songwriting, and it's a strong way for us to grow.
We've been writing a lot in Nashville and taking our time to find what exactly we want to say via our music. Music is a catalyst to follow our dreams, and it's been great to go deeper into ourselves and find out who we are and connect through melodies and song. We're not rushing. We want to redefine ourselves through this original album, and it takes time. We want our songs to really connect in a powerful way.
It's the day before your 38th birthday, correct? Happy Birthday Eve – what are your birthday plans?
My wife won't tell me, which is awesome (laughs). She has something planned, but I don't know what it is. I left songwriting early to come back here early for the birthday week.
I attended an event at the Bing Crosby Theater last night and thought to myself, "This is going to be a wonderful venue for the Tenors."
The Bing Crosby Theater! We were recently asked by Decca U.K. to be part of a remastering of Bing Crosby's holiday hits with Pentatonix, the Puppini Sisters and (recordings of) David Bowie. We arranged a three-part harmony around him and will perform it on this tour. It's only fitting that this great and magical moment for us is being kicked off at the Bing Crosby Theater in Spokane.
Local journalism is essential.
Give directly to The Spokesman-Review's Northwest Passages community forums series -- which helps to offset the costs of several reporter and editor positions at the newspaper -- by using the easy options below. Gifts processed in this system are not tax deductible, but are predominately used to help meet the local financial requirements needed to receive national matching-grant funds.
Subscribe to the Spokane7 email newsletter
Get the day's top entertainment headlines delivered to your inbox every morning.
---