Sports > Gonzaga basketball
Recap: Filip Petrusev powers No. 8 Gonzaga past No. 11 Oregon, into Battle 4 Atlantis championship game
Nov. 28, 2019 Updated Thu., Nov. 28, 2019 at 5:58 p.m.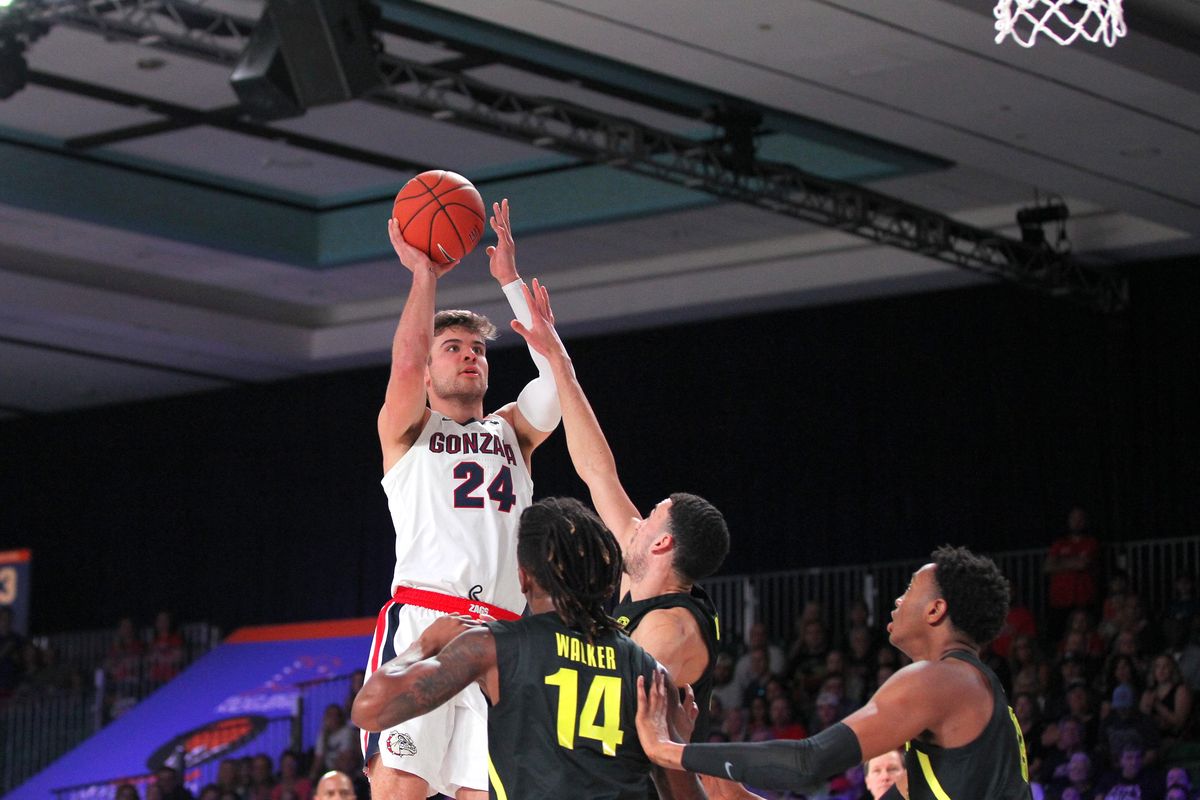 Gonzaga's Corey Kispert shoots over the Oregon defense during a semifinal game at the Battle 4 Atlantis on Thursday, Nov. 28, 2019, in Paradise Island, Bahamas. (Torrey Vail / For The Spokesman-Review)
NEXT GAME: Friday, Nov. 29: Gonzaga Bulldogs vs. Michigan Wolverines at Imperial Arena, Nassau, Bahamas, 11 a.m. PST TV: ESPN
NASSAU, Bahamas – Filip Petrusev scored 22 points and grabbed 15 rebounds and the Gonzaga Bulldogs held off the Oregon Ducks, 73-72 in overtime of a Battle 4 Atlantis semifinal.
Corey Kispert added 17 points and seven rebounds for the Zags (8-0), who weathered an up-and-down shooting night to reach Friday's tournament final against the Michigan Wolverines.
Gonzaga shot 38.7% for the game, but endured a couple, multi-minute scoreless streaks. The Bulldogs went over four minutes without scoring in the first half and came out of halftime cold, scoring just three points in the first 5 minutes, 23 seconds.
Oregon (5-1) was led by Payton Pritchard's 17 points. However, the senior guard was just 7-of-23 shooting.
The Ducks shot 33.8% but took 18 more field goal attempts than the Zags. Gonzaga made up for that difference at the free-throw line, making more free throws (16) than Oregon attempted (14).
Joel Ayayi had another strong game off the bench for Gonzaga. The guard from France scored 13 points, grabbed five rebounds and provided a team-high three assists.
For the first time this season the Zags were outscored in the paint. Oregon powered in 32 paint points, GU had 22. Rebounding was nearly even with Gonzaga grabbing 50 and Oregon pulling down 45.
Chris Duarte added 16 points and nine rebounds for the Ducks.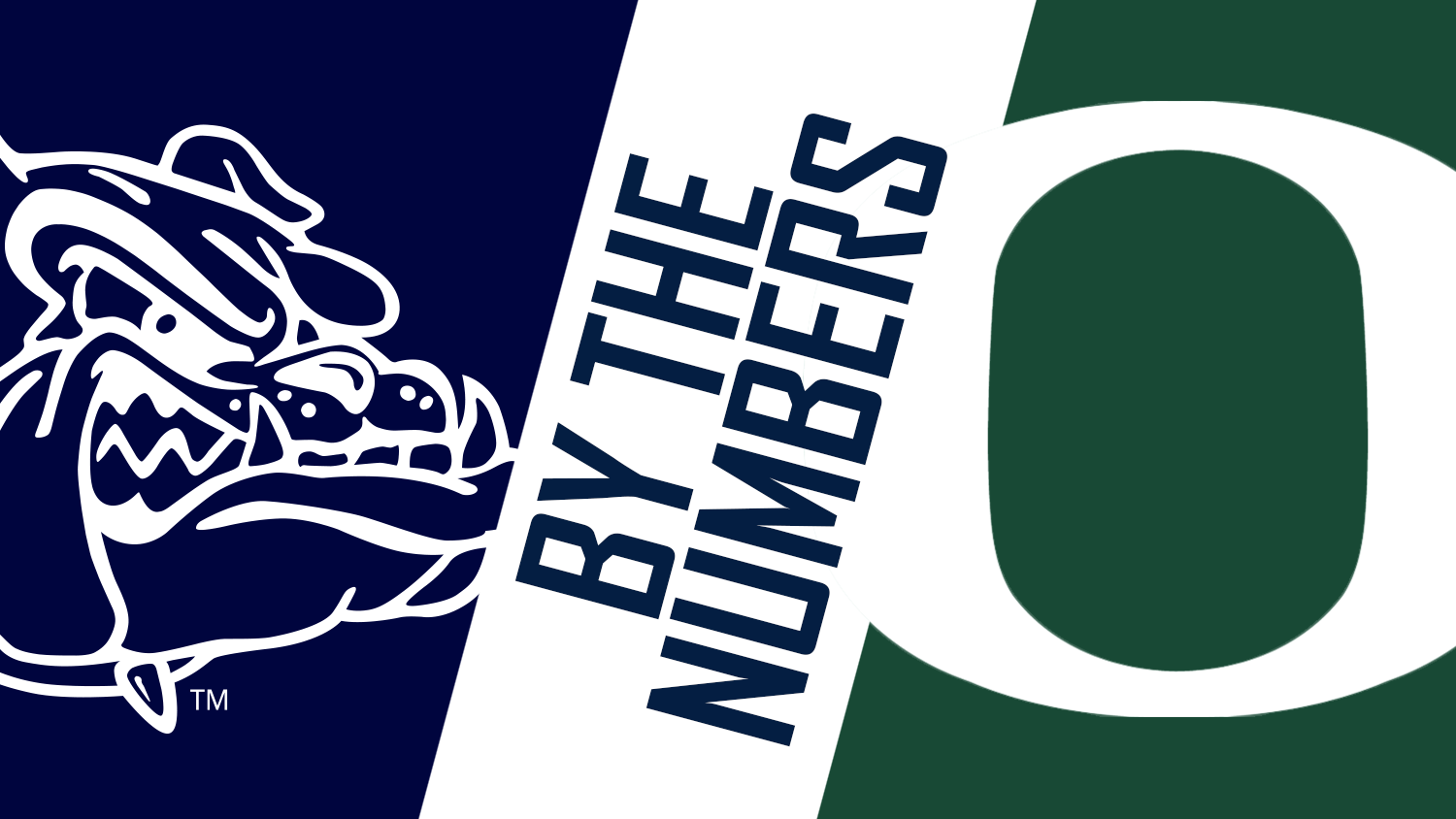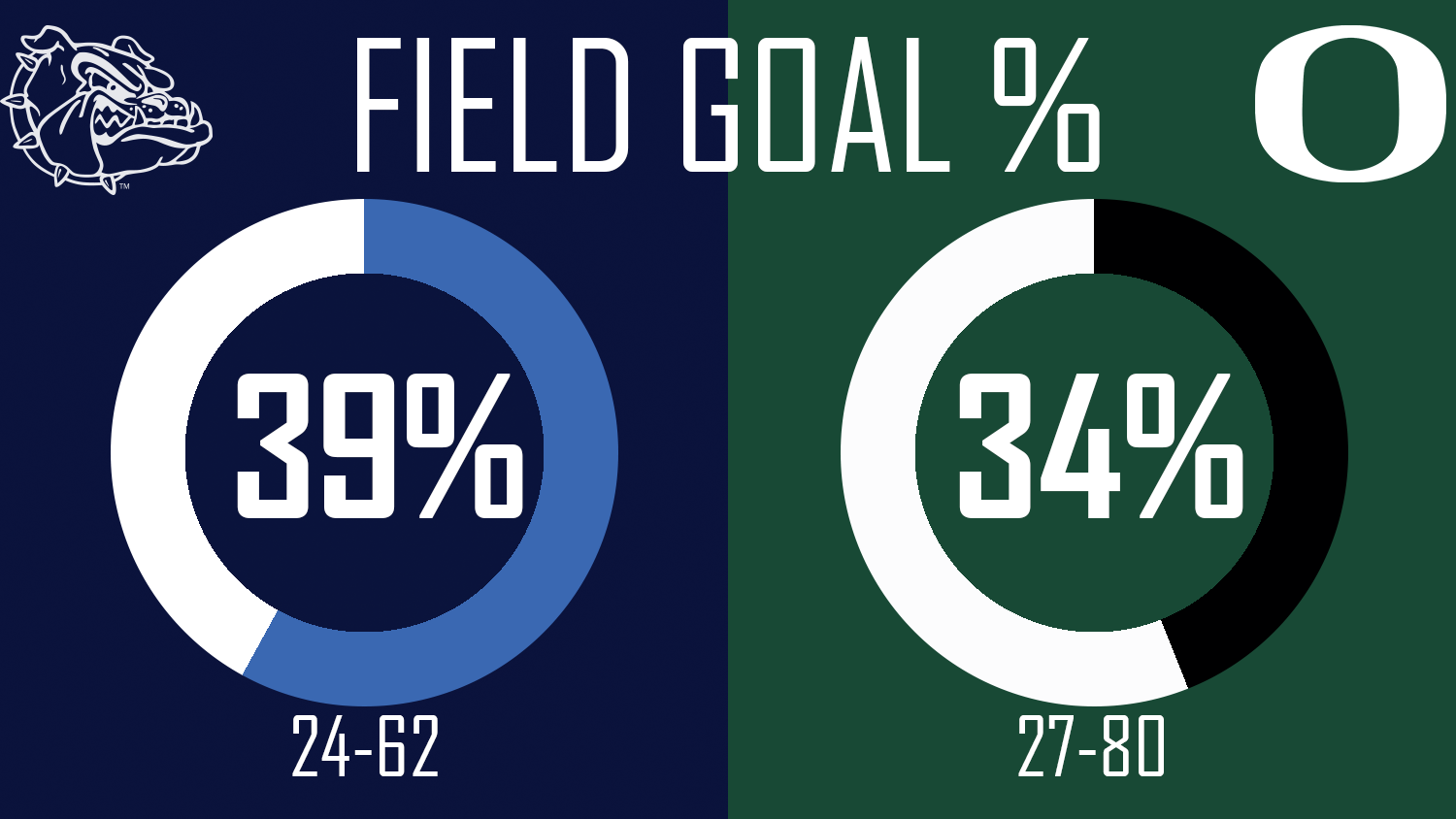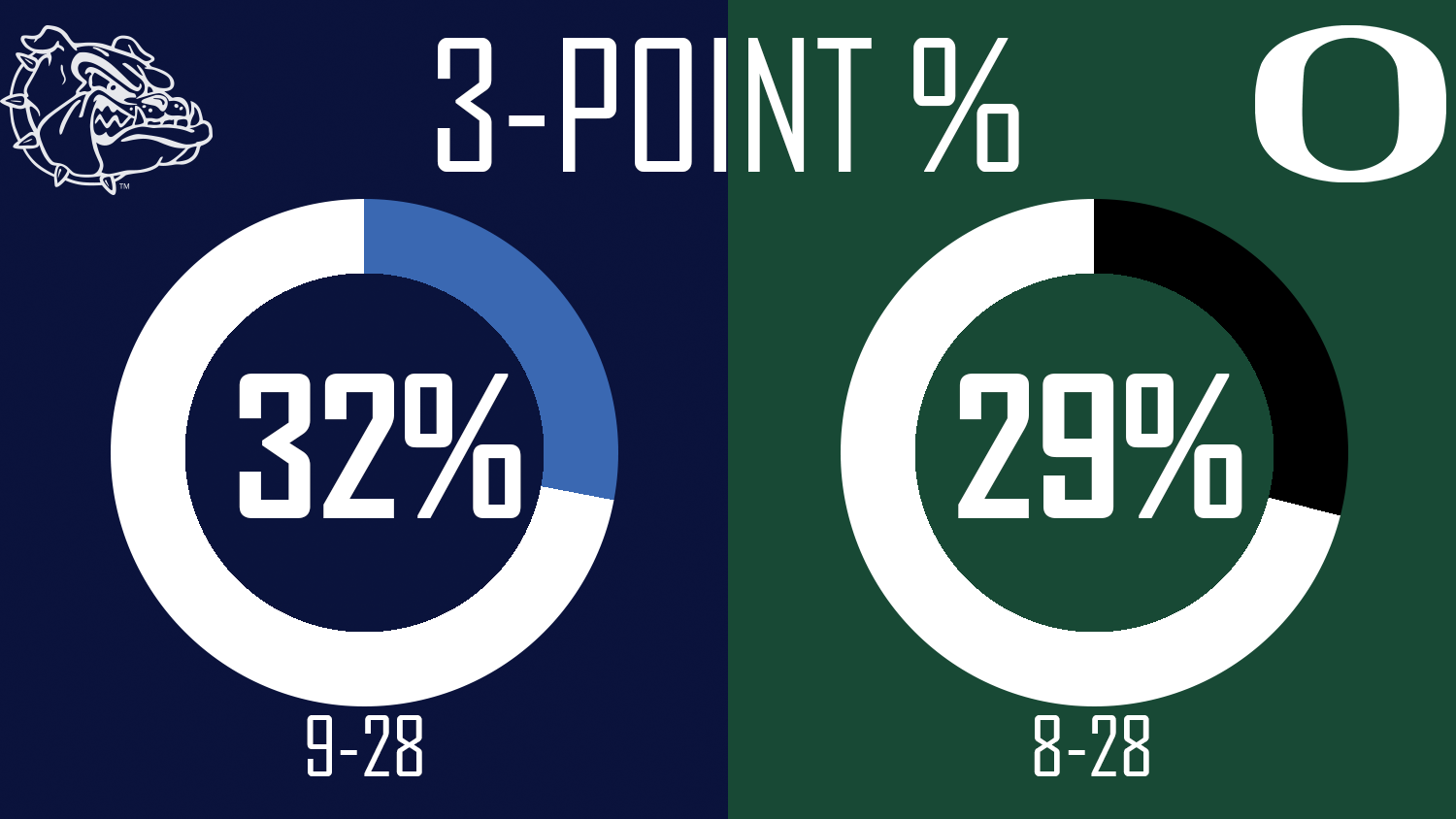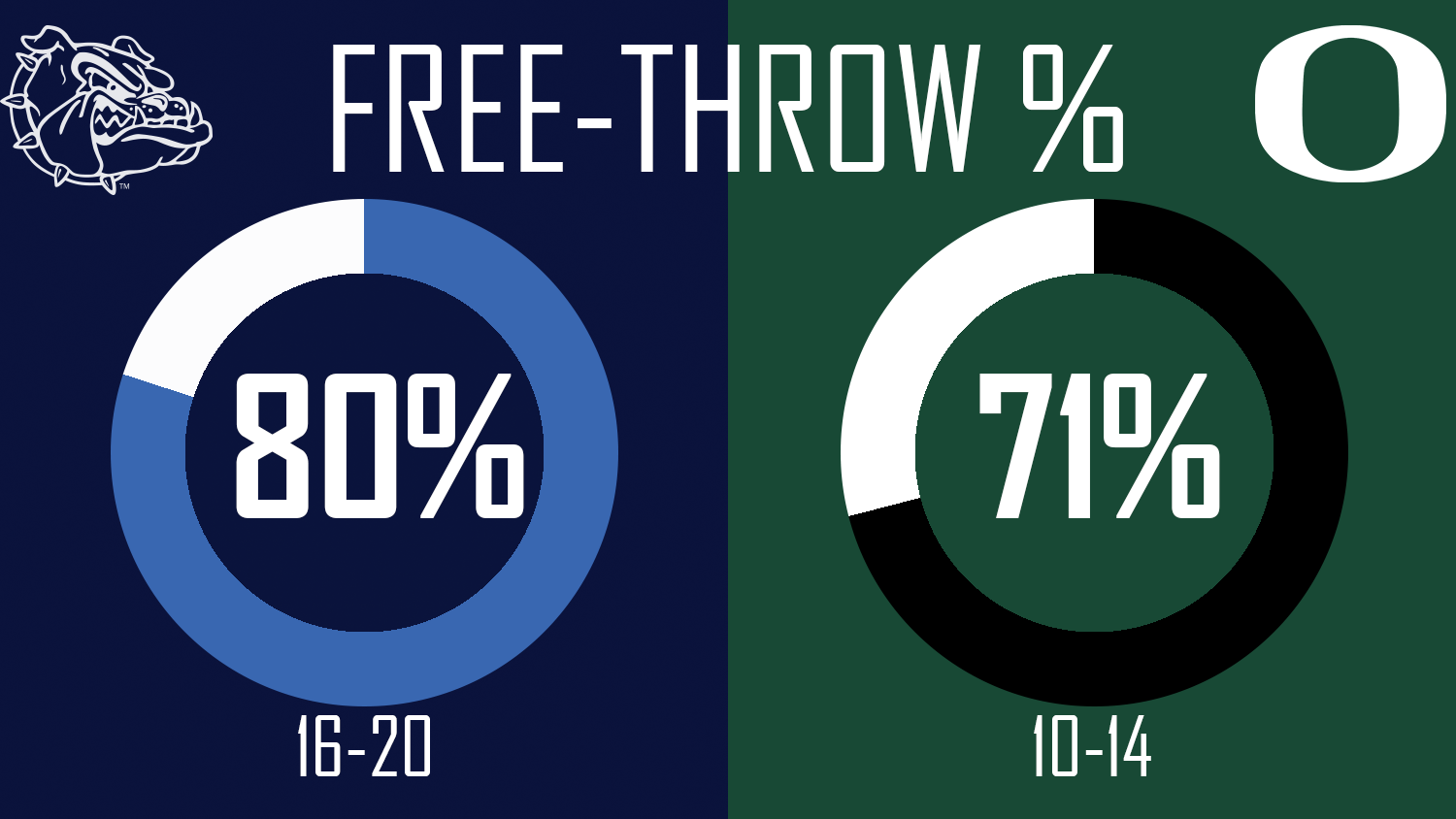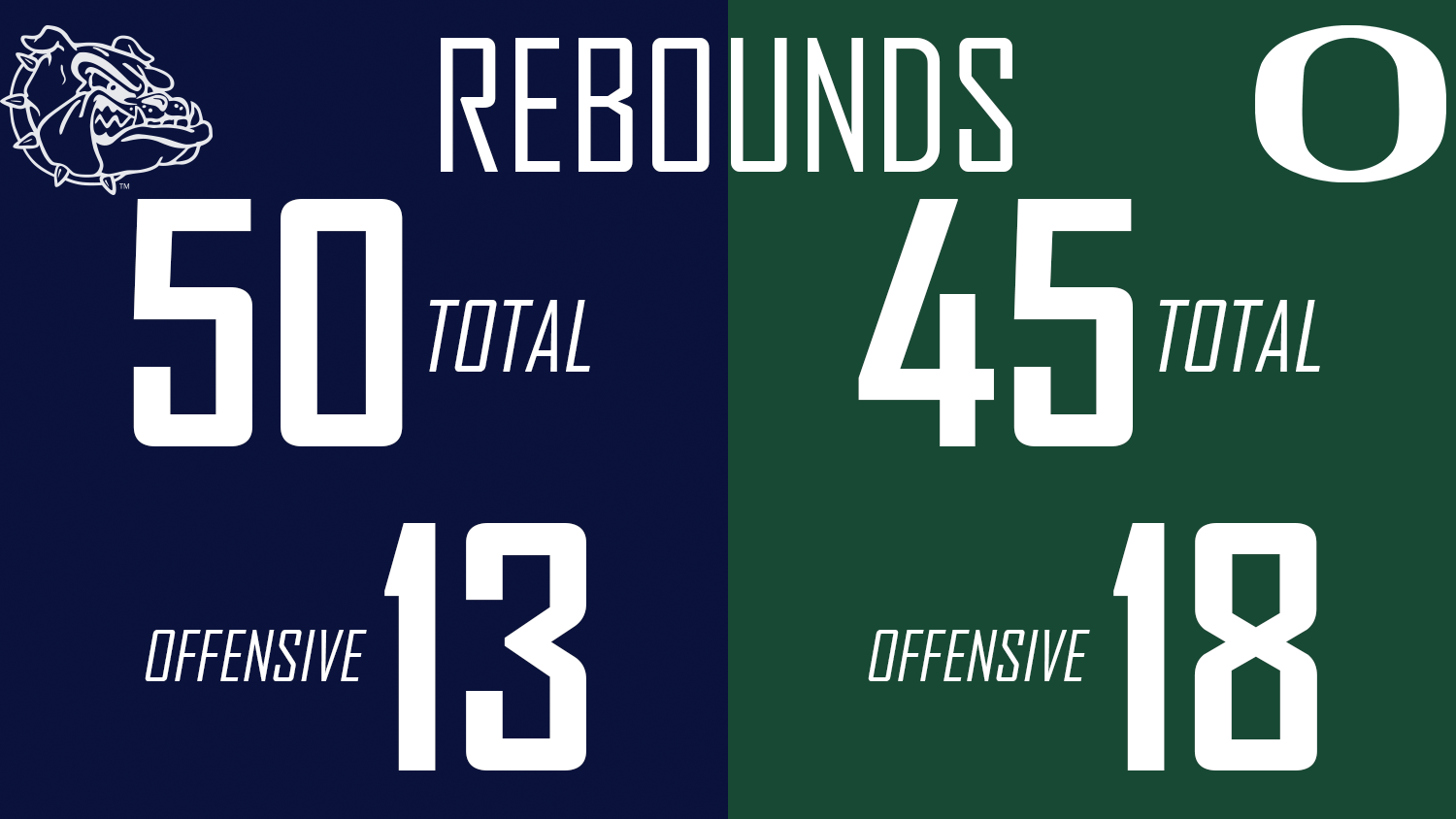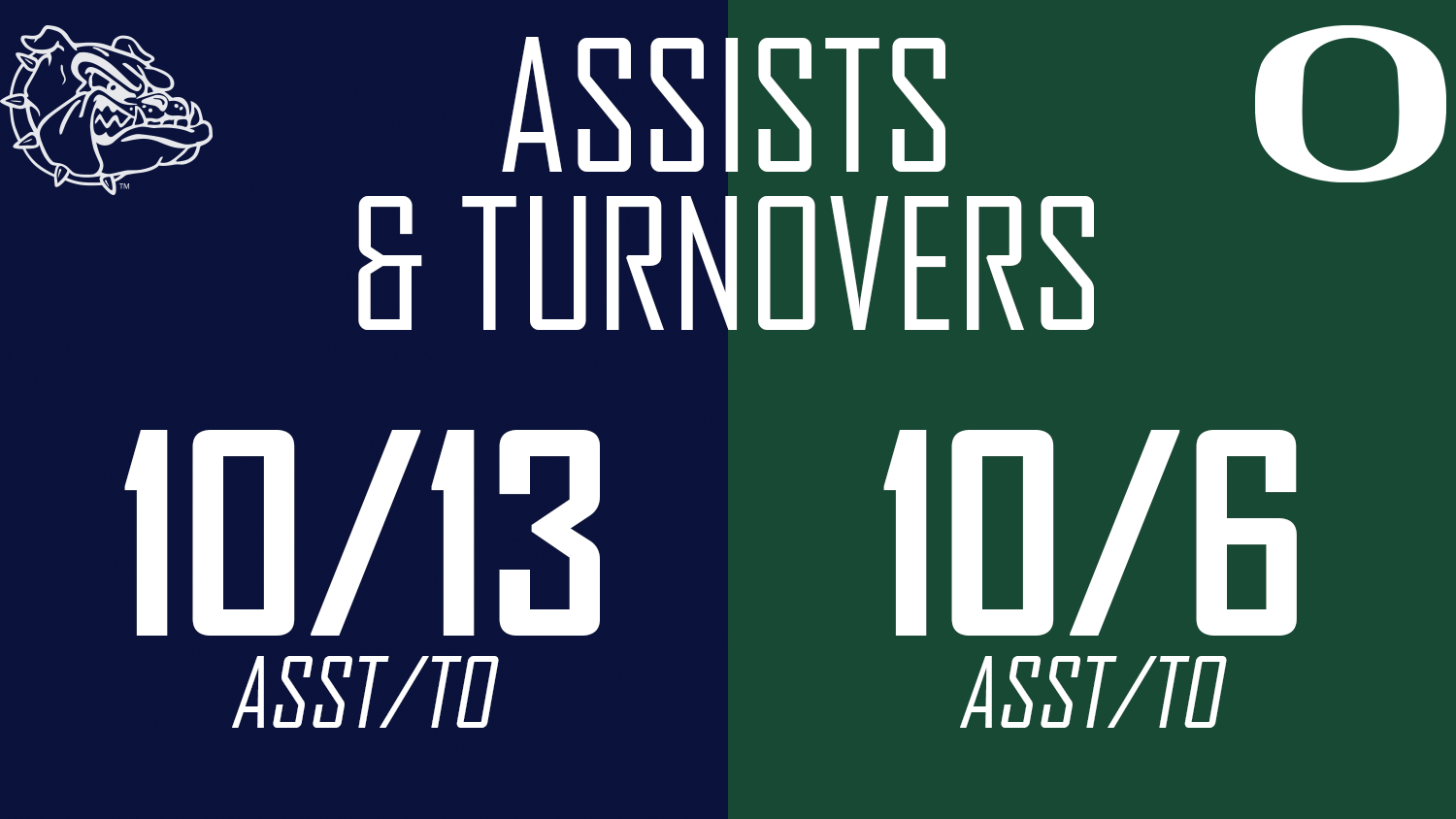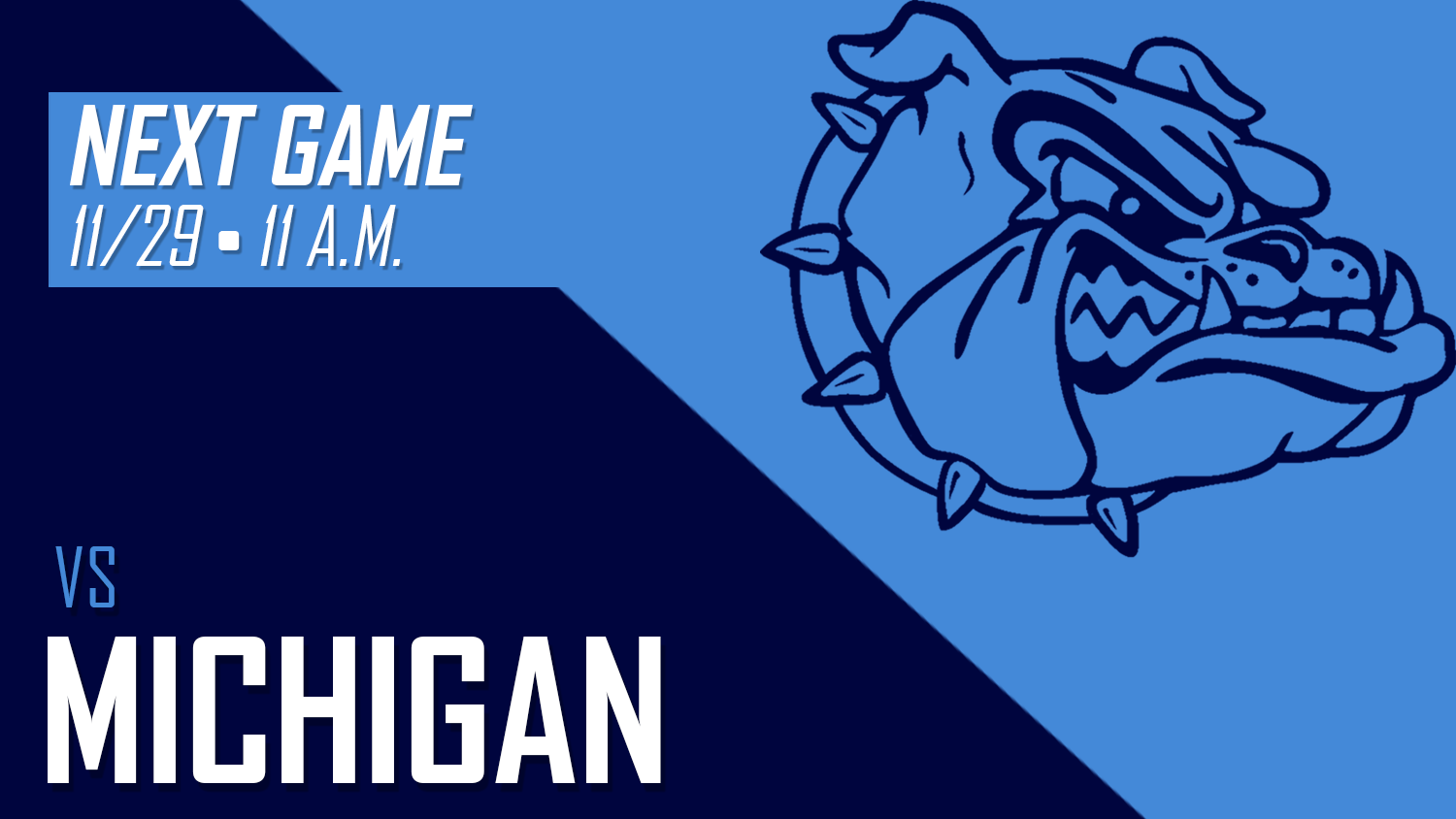 Overtime
2:16 – Gonzaga 70, Oregon 70: Filip Petrusev has scored the last four points to bring the Zags back even with the Ducks in OT.
Oregon's CJ Walker made two free throws and Shakur Juiston made a layup to open the scoring in overtime.
Petrusev answered with a short shot after an offensive rebound and two free throws on the next possession.
0:12 – Gonzaga 73, Oregon 72: Drew Timme makes one of two free throws to give Gonzaga the lead with 12 seconds left.
Shakur Juiston missed two free throws on the prior possession for Oregon.
Final – Gonzaga 73, Oregon 72: Filip Petrusev finishes with 22 points and 15 rebounds and the Bulldogs hold off the Ducks in overtime of the semifinals of the Battle 4 Atlantis in Nassau, Bahamas.
First half
15:50 – Gonzaga 11, Oregon 5: Gonzaga big men Filip Petrusev and Killian Tillie are finding success inside and the Zags have the lead at the first media timeout.
Gonzaga is outscoring the Ducks 8-2 on points in the paint behind Petrusev's four points and Tillie's two. Tillie also has three rebounds.
Corey Kispert has a game-high 5 points on 2-of-2 shooting.
Oregon has applied a three-quarter court trap, a look GU hasn't faced this season. The Bulldogs, with Ryan Woolridge handling the ball, have had no trouble breaking it and getting good looks at the other end.
14:27 – Gonzaga 19, Oregon 5: With the Bulldogs on a 10-0 run, Oregon calls its first timeout.
Corey Kispert has shot the Zags to the 14-point edge. He has 11 points on 4-of-4 shooting with three made 3s.
11:39 – Gonzaga 24, Oregon 12: The Bulldogs get the lead to 24-7 before Oregon fights back with five straight.
Gonzaga continues to shoot the ball well at 55.6% from the field and 80% (4 of 5) from 3. Oregon is shooting 29.4% and has made two 3s on five attempts.
Corey Kispert has 11 points for Gonzaga. Filip Petrusev has four points and four rebounds. Joel Ayayi has three points and two assists in four minutes off the bench.
7:46 – Gonzaga 29, Oregon 19: It appears a cold front has swept through the Bahamas as both Gonzaga and Oregon just cant seem to buy a bucket right now.
The Zags are on a 3-minute, 18-second scoreless streak, missing their last eight shots. The Ducks haven't scored in 2:00.
Corey Kispert continues to lead all scorers with 11 points.
Oregon guard Payton Pritchard is up to seven points on 3-of-8 shooting.
6:15 – Gonzaga 31, Oregon 28: A 7-0 run from the Ducks leads Gonzaga coach Mark Few into calling his first timeout.
The Ducks have made their last four field-goal attempts. Gonzaga hasn't made a field goal in 4-minutes, 49-seconds.
3:57 – Gonzaga 35, Oregon 30: The Bulldogs are clinging to a 5-point lead as the game hits the under-4 minute timeout.
Gonzaga has made just two of its last 13 field-goal attempts and is now shooting 40.6%. Oregon is shooting 40%.
Filip Petrusev, scoring the last two baskets for GU, is up to 10 points and seven rebounds. Corey Kispert still leads the Zags with 11 points, but hasn't scored in over 10 minutes.
C.J. Walker paces Oregon with eight points. The Ducks forward has made two 3s.
Halftime
Half – Gonzaga 43, Oregon 37: Filip Petrusev has 12 points and nine rebounds as the Bulldogs lead the Ducks by 6 at halftime in the Bahamas.
Gonzaga led by as many as 17 after going on a 12-0 run coming out of the under-16 timeout. However, the Zags went nearly five minutes without making a field goal late in the half, opening the door for Oregon to claw back into the game.
Corey Kispert has 11 points for GU, but hasn't scored in almost 15 minutes. Guard Joel Ayayi has nine points, four rebounds and three assists off the bench.
Oregon is led by guard Chris Duarte's nine points. He also is tied for the team lead with four rebounds. Star guard Payton Pritchard has seven points on 3-of-10 shooting.
Gonzaga shot 43% for the half, while Oregon shot 38%. The Bulldogs outrebounded the Ducks 27-19.
Second half
13:12 – Gonzaga 48, Oregon 48: Gonzaga comes out of the halftime break ice cold and the Ducks have tied the score.
Gonzaga is 2-for-11 shooting this half and just 1 of 8 from 3-point range.
Oregon guard Chris Duarte has five points in the half and is tied for a game-high 14.
11:35 – Oregon 49, Gonzaga 48: Payton Pritchard steps into a 3 to give Oregon its first lead of the game.
The Ducks star guard has 12 points on 5-of-14 shooting.
Gonzaga hasn't made a field goal in 3-minutes, 2-seconds and is just one for its last eight from the field.
Filip Petrusev leads the Zags with 16 points and 12 rebounds.
3:50 – Gonzaga 58, Oregon 57: The Bulldogs still lead by 1 on the back of Filip Petrusev's 16-point, 13-rebound game.
1:20 – Gonzaga 63, Oregon 61: Corey Kispert picks an optimal time to break his long scoreless drought, draining a 3 to give the Zags a 4-point edge.
Oregon guard Payton Pritchard answered with a runner on the other end before the Ducks took a timeout.
0:54 – Gonzaga 66, Oregon 64: Guards Corey Kispert and Payton Pritchard go back-and-forth with a pair of 3s.
Kispert made it two-in-a-row by sinking a 3 after the Zags broke the Oregon press. Pritchard got the Ducks back within 2 when he dribbled into a deep 3.
End of regulation – Gonzaga 66, Oregon 66: After Gonzaga is forced into a shot clock violation, Oregon's Chris Duarte makes two free throws to push the game to overtime.
The Zags turned it over after Filip Petrusev was triple-teamed in the post and lost his hold of the ball. Gonzaga couldn't get a shot up in time after recovering Petrusev's fumble.
Duarte then drove the lane and drew a foul on Killian Tillie with 7 seconds left.
Tillie's 3-point attempt at the buzzer came up short.
Starting 5
Pregame
Local journalism is essential.
Give directly to The Spokesman-Review's Northwest Passages community forums series -- which helps to offset the costs of several reporter and editor positions at the newspaper -- by using the easy options below. Gifts processed in this system are not tax deductible, but are predominately used to help meet the local financial requirements needed to receive national matching-grant funds.
Follow along with the Zags
Subscribe to our Gonzaga Basketball newsletter to stay up with the latest news.
---