News > Business
From socks to recliners, Spokane-area retailers share their best-selling Black Friday items
Fri., Nov. 29, 2019 As Black Friday and Cyber Monday continue to be the most popular days to shop for holiday gifts online and at big-box stores, Spokane retailers are gearing up to meet customer demands with a variety of unique items.
More than half of Washington residents prefer to shop in-store rather than online because of an emphasis on customer service and the ability to see products in person, according to a study by Washington State University's Carson School of Business.
"Certainly, what we are finding is Pacific Northwest shoppers really value small businesses, and also shop and support businesses that align with their values," said Joan Giese, a clinical associate professor in marketing and international business at WSU. "People in the Northwest definitely value the in-store experience to be a part of the community."
From novelty socks to high-definition televisions to ski equipment, locally owned stores share their best-selling gifts during the holiday season.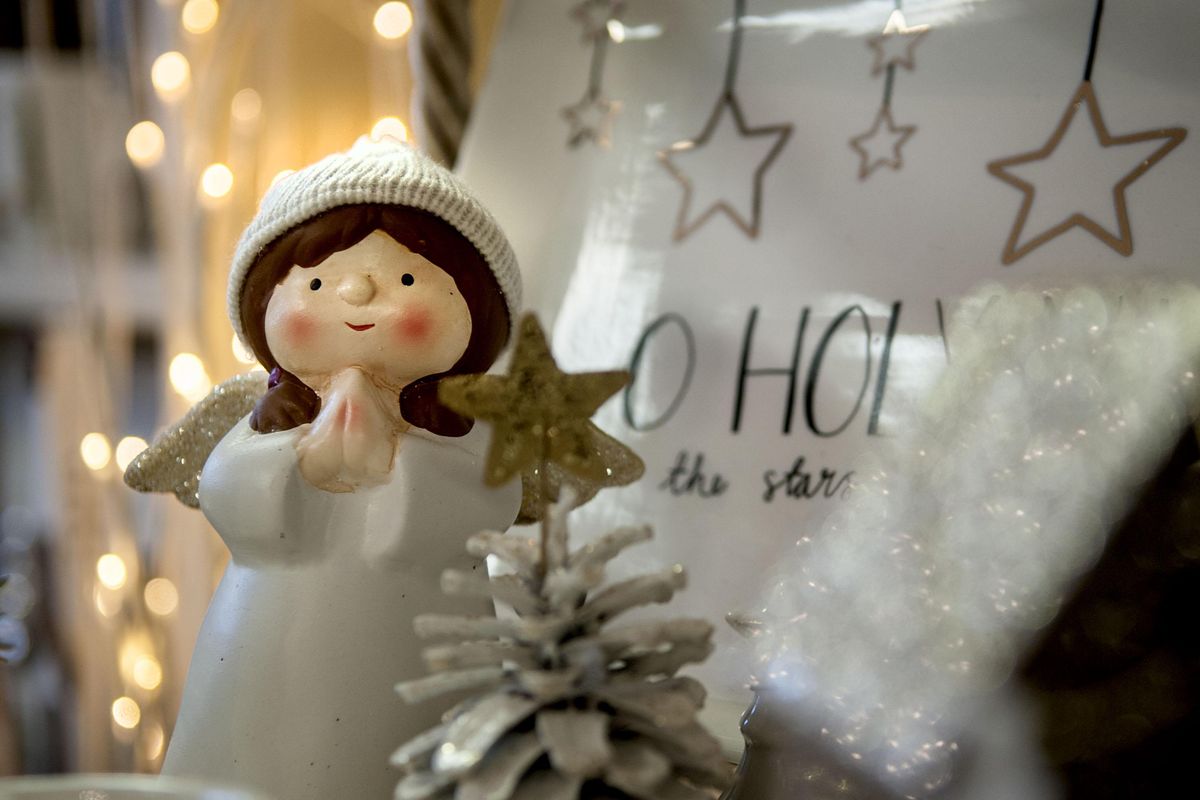 These Christmas decorations, seen Tuesday, Nov. 26, 2019, are for sale at Simply Northwest in Spokane Valley. (Kathy Plonka / The Spokesman-Review)
Boo Radley's
Whether it's a game, book or T-shirt, Boo Radley's, at 232 N. Howard St. in downtown Spokane, offers novelty items for everyone.
Boo Radley's manager Jennifer Menzer said socks are the top-selling item every year during Black Friday and Small Business Saturday.
"We have a whole wall of funny or snarky socks, and those have been a big hit for all ages," she said.
Menzer said stocking stuffers, such as Nee-Doh stress balls, are also popular this year.
"We have sold hundreds of those this year," she said. "It's just a fun little thing."
Pacific Northwest-themed coffee mugs, shirts, stickers and magnets are big this season, too, Menzer said.
"We've noticed people ask for Spokane stuff even though they live here," she said.
Huppin's
Huppin's, founded in 1908 in downtown Spokane, is one of the city's oldest retailers. Over the years, Huppin's evolved from a clothing and pawn shop to selling electronics, photo gear and stereo equipment.
Huppin's – in addition to its retail store at 8016 N. Division St. – has a warehouse in Spokane Valley and a website.
Fourth-generation owner Murray Huppin said televisions are always popular during Black Friday.
"But, for folks looking for electronic items other than TVs, two other really hot products are going to be wireless headphones and portable Bluetooth speakers," Huppin said.
Mountain Gear
More than 35 years ago, Paul Fish founded Mountain Gear, an outdoor equipment and apparel store. In addition to Mountain Gear's retail store at 2002 N. Division St., the retailer offers items for camping, skiing and hiking through its website.
Fish said best-selling Black Friday items at Mountain Gear in recent years have been North Face clothing, Alpine Touring gear and avalanche beacons for backcountry access.
Fish expects the Hok Ski by Altai Skis to be a top seller this year. The Hok Ski is a cross between a ski and a snowshoe.
"It's really cool because it's designed and built by Nils Larsen from Curlew," he said.
Fish said there's nothing better than to give the gift of outside recreation.
"It's helpful and great for families," he said.
Simply Northwest
Spokane Valley-based Simply Northwest is known for its gift baskets filled with peanut brittle, gourmet popcorn, cookies and candy, but the retailer also offers several other locally made items by artists and vendors.
"A popular treat is our famous Simply Soft Peanut Brittle, which is buy one, get one half off for Small Business Saturday," owner Denielle Waltermire-Stuhlmiller said. "A lot of people like it because they send it to family and friends."
Waltermire-Stuhlmiller said local wines, apparel, mugs and candles are also popular holiday gifts.
Simply Northwest does a majority of holiday sales during Small Business Saturday, the store's biggest shopping day of the year.
"It is just a day that's amazing for us to feel the support from the community," Waltermire-Stuhlmiller said. "It's a day that leaves our hearts happy."
Auntie's Bookstore, Merlyn's Comics and Games
Books are always popular holiday gifts, and Auntie's Bookstore has several titles that are expected to be top sellers during Black Friday and Small Business Saturday, said John Waite, owner the downtown Spokane retailer.
Some of those books include: "A Pilgrimage to Eternity: From Canterbury to Rome in Search of a Faith" by Timothy Egan, the latest edition of "The Joy of Cooking" by Irma Rombauer and "Spur, a Wolf's Story" by Eliza Robertson.
"People also pick up socks, mugs and chocolate bars, but books are still big," Waite said. "We've really worked on having a lot of the niche stuff, so people can come here and find any gift they want."
At Waite's other store, Merlyn's Comics and Games, Dungeons and Dragons, items are always super hot holiday gifts, he said.
"There's a special Rick and Morty Dungeons and Dragons game that's going to be especially popular," Waite said.
Fringe Boutique
Fringe Boutique, which began as a hair salon more than 10 years ago on the South Hill, has since expanded into a trendy boutique with an online store that sells women's clothing and accessories.
Owner Tiffany Mulgrew said jewelry, scarves and hats are the most in-demand items during Black Friday and Small Business Saturday.
"Fleece leggings are probably our top seller for eight years now," Mulgrew said.
The Tin Roof
The Tin Roof, a third-generation local family business, wasn't always a home furnishings store.
Arch Hanley founded the business as Acme Electric in 1945. The store ventured into selling television stands, occasional tables and recliners in 1997.
After Arch's granddaughter, Heather, took over the business in 2004, she launched The Tin Roof, which sells living room, dining room, bedroom, home office and entertainment furniture at 1727 E. Sprague Ave.
Recliners are always a hot item during Black Friday, said Heather Hanley, who is also creative director at The Tin Roof.
"It's more of an investment gift. Whoever gets it sure loves it for a long time," she said. "It's a top seller every year and it's a nice gift."
Local journalism is essential.
Give directly to The Spokesman-Review's Northwest Passages community forums series -- which helps to offset the costs of several reporter and editor positions at the newspaper -- by using the easy options below. Gifts processed in this system are not tax deductible, but are predominately used to help meet the local financial requirements needed to receive national matching-grant funds.
Subscribe now to get breaking news alerts in your email inbox
Get breaking news delivered to your inbox as it happens.
---