News > Spokane
Reardan-Edwall School Board incumbent says district on right path; opponent says district should challenge state on sex education
UPDATED: Fri., Oct. 11, 2019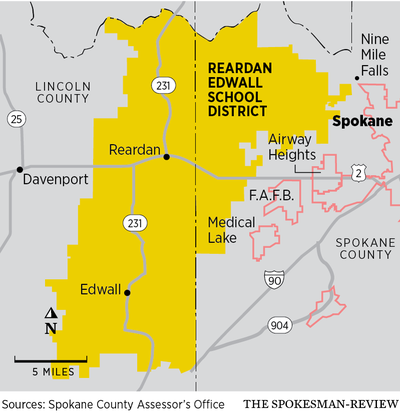 The candidates running for a seat on the Reardan-Edwall School Board have clear interests in the district: They have children who attend the schools.
Incumbent Ian Wagner said the board has accomplished a lot to improve the district.
"We put a lot of key pieces in place, with hiring a business manager, and we have overseen a bond for the remodel of the elementary school," said Wagner, who graduated from Reardan High School in 2005. "I think we try to make Reardan a better place with our mission and value statement and try to do what's best for kids."
But his opponent, real estate agent Karmalee LeSieur, would like the board to offer a bigger challenge to state officials. She said she's particularly concerned about a sex education curriculum that includes discussing birth control and gender identity.
Gender identity "is the big issue that they were starting to push and in really young grades, which I wholeheartedly disagree with," LeSieur said. "And as many parents do on the east side of the state – the more conservative areas."
Wagner said state law doesn't allow local districts to reject certain aspects of state sex education guidelines.
"As a school district, we have to follow state law to receive state funding," Wagner said. "I'm with her. I don't necessarily agree teaching that to young children, but the state holds the cards."
LeSieur said she's more concerned about Spokane Public Schools influencing other school districts.
"I really am a proponent of keeping it local, and so I don't like the direction that the public school system is taking. Not so much in Reardan, but in Spokane District 81," LeSieur said. "I wanted to make sure that I stayed involved because as Spokane District 81 does, so do the other districts usually."
Spokane Public Schools, or District 81, last year adopted a new sex education curriculum that includes gender identity.
In the 2016-17 school year, Reardan-Edwall's elementary, middle and high schools served 571 students and employed 31 teachers.
Wagner said his goal is to maintain the rural small-town atmosphere of the district. That, paired with an excellent staff and strong academics, is what makes Reardan a great place to live, he said.
LeSieur said another of her goals is to encourage more parents to attend school board meetings.
If elected, LeSieur also would be the only woman on the board, which she said would give the board an important perspective.
"It's just good to always have two sides of an issue addressed," LeSieur said. "Coming from a woman versus a man could be all the difference in the world."
Local journalism is essential.
Give directly to The Spokesman-Review's Northwest Passages community forums series -- which helps to offset the costs of several reporter and editor positions at the newspaper -- by using the easy options below. Gifts processed in this system are not tax deductible, but are predominately used to help meet the local financial requirements needed to receive national matching-grant funds.
Subscribe to the Coronavirus newsletter
Get the day's latest Coronavirus news delivered to your inbox by subscribing to our newsletter.
---