News > Spokane
100 years ago in Spokane: Last of 4 sibling McNutt murder suspects still at large
Fri., Oct. 4, 2019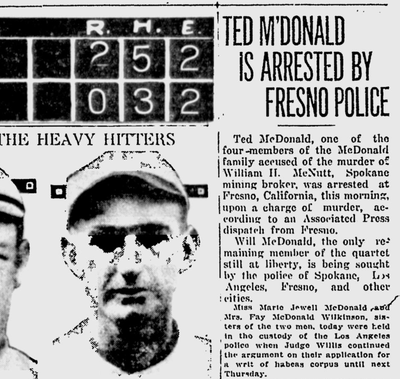 Ted McDonald, suspected of involvement in the Spokane murder of W.H. McNutt, was arrested in Fresno, California, but his brother, Will McDonald, was still at large and being sought by police in both that state and Spokane, the Spokane Daily Chronicle reported.
Their two sisters, Fay McDonald, aka Fay Wilkinson, and Marie Jewell McDonald were already in custody in Los Angeles.
California authorities now believed that the two McDonald brothers "were the ones who actually committed the murder and disposed of the body on the murdered man's ranch" near Newport, Washington, the Chronicle reported.
Burns Agency detectives in California broke the case open after "an unidentified and mysterious" person phoned them in Los Angeles and relayed the information that led to finding the body.
There was some indication that Will McDonald had "escaped to Arizona and was on his way to Mexico," according to the Chronicle.
From the Wobbly beat: Spokane police were "well prepared" in case the Industrial Workers of the World (Wobblies) converged on Spokane, as rumored, to attend trials of local Wobblies, the Chronicle said.
Spokane's commissioner of public safety said they had not found many Wobblies in town yet, but "we are taking no chances and will be ready for any emergency which may arise."
Initial reports indicated that as many as 10,000 Wobblies would arrive. The commissioner dismissed these rumors and said they were no longer expecting any violent trouble.
Local journalism is essential.
Give directly to The Spokesman-Review's Northwest Passages community forums series -- which helps to offset the costs of several reporter and editor positions at the newspaper -- by using the easy options below. Gifts processed in this system are not tax deductible, but are predominately used to help meet the local financial requirements needed to receive national matching-grant funds.
Subscribe to the Coronavirus newsletter
Get the day's latest Coronavirus news delivered to your inbox by subscribing to our newsletter.
---