Sports
A Grip on Sports: The sky may be falling, in a sense, but that doesn't mean there isn't sports news
Wed., Oct. 9, 2019 A GRIP ON SPORTS • It's not often what falls from the sky over powers what happened on the fields and courts, at least in this space. But it did last night.
•••••••
• We're going to keep it short and sour this morning. Short because we are starting late. Sour because, well, we will be losing a tree in our yard soon. All thanks to something that has never happened in Spokane before.
There was 3.3 inches of measurable snow yesterday at Spokane International Airport.
Think about that. Yesterday afternoon I was cavorting around – not the right term, but one I love – my hometown in shorts, celebrating my 63rd birthday. Less than 12 hours later I am awoken by a loud crack. Looking outside, I see our beautiful storm cloud (not the scientific name, I know, but the term I use to describe the more than 20-year old, red-leaved tree that shades the basketball court) plastered in snow. Then I hear another crack and watch a branch slowly descend to the grass below. (Just to be clear, none of the pictures, the top one from our Liz Kishimoto, the smaller one from KXLY, are from our neighborhood or yard. We don't have trees that plush.)
It was just a couple weeks ago I had an arborist out to quote a price and set up a date to trim my trees – we have six large ones: three maples, a pine, something odd in the front and Tree Rollins (its nickname because, you know, the shots its blocked over the years) – before winter hit.
Winter didn't want to wait.
Thanks to the cracks, and the worry about a maple limb that hangs over the kitchen and we had decided in September to eliminate, sleep didn't really want to return. Not for a long while anyway.
So here we are, about an hour behind schedule and scrambling to run down the morning's links. Snowed under, so to speak.
•••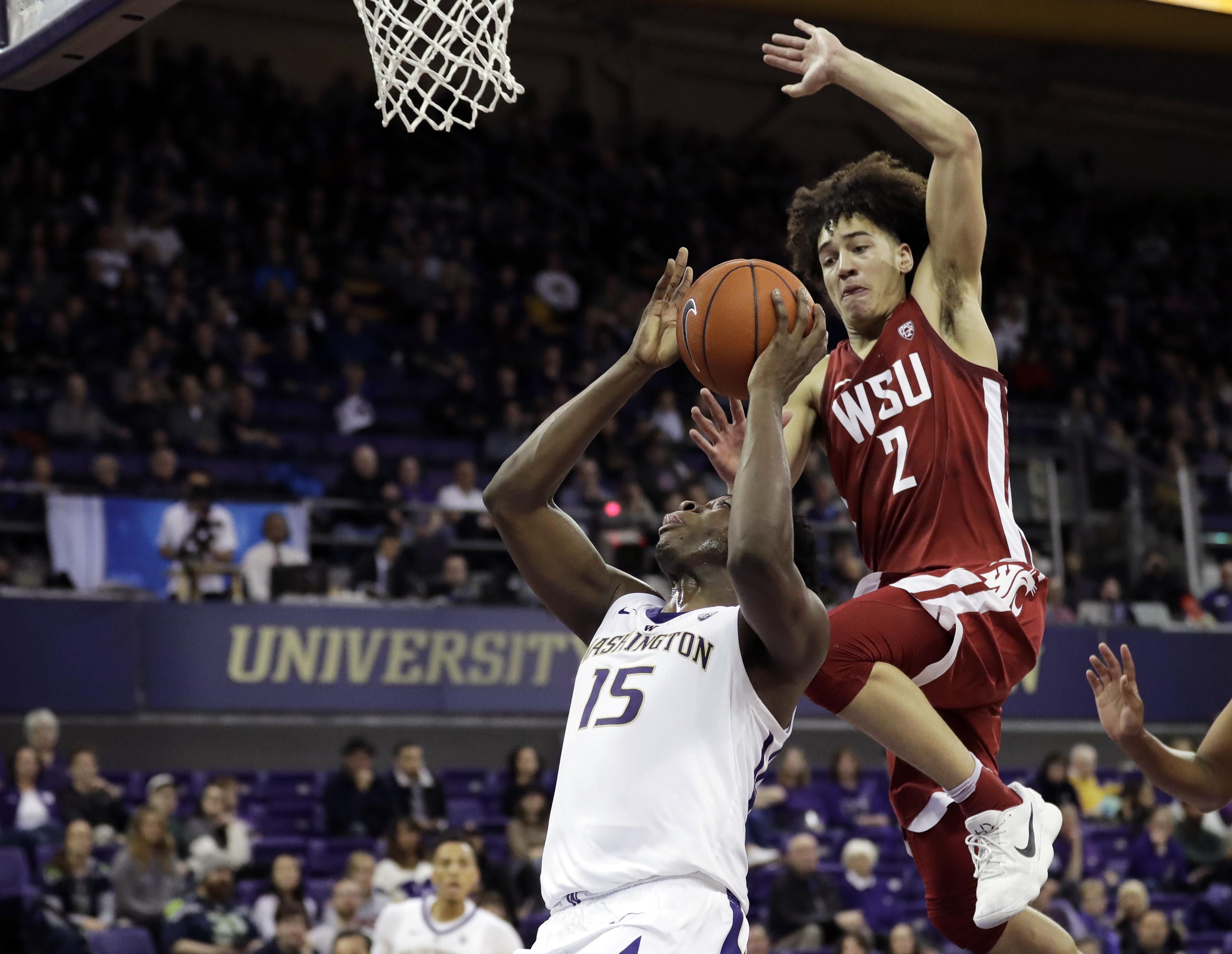 WSU: Theo Lawson was dealing with a blizzard of news as well. He had football to cover and he did that with his picks for the weekend as well as a story on the new voices that are emerging in the locker room. Oh, and he posted video interviews with Mike Leach, Justus Rogers, Josh Watson and Anthony Gordon. There is also this video with Theo and SWX's Rob Jesselson. … That's a lot, but Theo also has a story on the men's basketball team, as the Pac-12 media day occurred in San Francisco on Tuesday. CJ Elleby was named to the All-Conference preseason team and the Cougars were picked to finish 11th. (The conference used to hold it later in the week, so, if you were traveling to an away football game, you could leave a day early, stop, cover the media event, and then head out. It made a lot of sense. But times change.) …There were conversations about California's new name, image and likeness law. … Larry Weir spoke with Matt Chazanow yesterday for the Press Box pod. … Arizona State doesn't fear getting in a shootout with the Cougars. … Elsewhere in the Pac-12, how football games are picked by the networks shows us a lot about them (and their finances) and little about the conference schools' football teams. … Washington will have its hands full with Arizona quarterback Khalil Tate this Saturday night. … Oregon State's Jake Luton, who used to play down the road from here, is having quite a year for the Beavers. … Oregon is deep into its reserves right now. The Ducks host Colorado and Steven Montez this week. … USC will have Kedon Slovis back and starting at quarterback against Notre Dame. … UCLA has a bye. … Utah is moving the ball through the air even with its top receiver out. … With the men's basketball media day Tuesday, there are stories from each school (almost). We can pass along stories from Washington, Oregon, Oregon State, Utah, Colorado, UCLA, USC and Arizona.
Gonzaga: We wrote yesterday about the uproar surrounding Mark Few's recent name, image and likeness comments. Today we can pass along this story from Jim Meehan about the issue. … The women's basketball team will welcome an Australian point guard next season. Jim Allen has a story on its most recent commitment. … Rui Hachimura played in his first preseason game Monday.
EWU: What is Eastern's offensive identity this season? The Eagles are still looking for it. That (and more) is contained within Ryan Collingwood's EWU notebook this morning. … Around the Big Sky, at Montana State, a fullback leads the way. Isn't that the way it's supposed to be? … Montana's offensive line is coming up big on big plays. … UC Davis looks to get back on track against Cal Poly. … In basketball news, Weber State has a walk-on who has impressed the coaches. He's a kid with local ties, having played for our local traveling AAU team, Eastern Washington Elite, throughout high school.
CCS and NIC: When the Cardinals ended CCS' 62-match winning streak last weekend, it was a crucial night for both teams. Jim Meehan examines how in this college volleyball notebook.
Youth sports: The new Sportsplex just north of Riverfront Park is going to cost a bit more than expected. OK, "a bit" probably is not right. It's going to cost at least $10 million – or some 24 percent – more than expected. Rebecca White has all the particulars in this story.
Seahawks: The Cleveland Browns and quarterback Baker Mayfield are in Jadeveon Clowney's sites this week. … The Hawks' 4-1 start? It's all math.
Mariners: Can the M's develop enough stars to compete with the teams we are watching this week?
•••       
• Let's hope it warms up enough today for the snow to melt and the trees to bounce back. Too many leaves for this much snowfall. It makes for a bad combination. There are power outages all over Spokane as well as trees blocking the roads. Errands today could be an interesting. Until later …
Local journalism is essential.
Give directly to The Spokesman-Review's Northwest Passages community forums series -- which helps to offset the costs of several reporter and editor positions at the newspaper -- by using the easy options below. Gifts processed in this system are not tax deductible, but are predominately used to help meet the local financial requirements needed to receive national matching-grant funds.
Subscribe to the sports newsletter
Get the day's top sports headlines and breaking news delivered to your inbox by subscribing here.
---