News > Spokane
100 years ago in Spokane: City takes first step toward zoning system
Thu., Oct. 10, 2019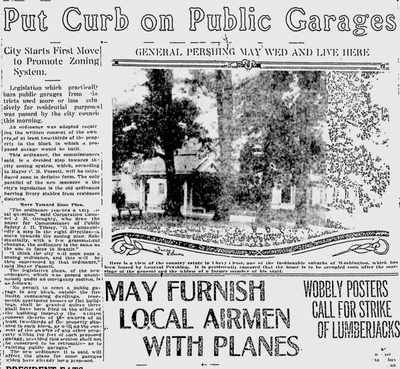 The Spokane City Council passed a new ordinance that prohibited public garages (auto shops) in residential areas.
This may not seem like a momentous event, but it was. It was the first step toward what the Spokane Daily Chronicle called a "city zoning system."
Mayor C.M. Fassett said a more comprehensive zoning system would soon be introduced in "definitive form."
The Chronicle could find no precedent for the garage ban, except in an old ordinance which banned livery stables from residential districts.
From the "house assistant" beat: Working conditions for "domestic labor" in Spokane had improved dramatically over the past few years, the manager of a domestic employment agency told the Chronicle.
Employers were now giving "privileges, quarters and even food to their help, which wasn't even dreamed of four or five years ago," Mrs. M.C. Russell said of the agency.
"And the pay is more alluring than ever," she said. "Sixty dollars a month, with board and room, is nothing unusual. Board used to mean a 'handout' in the kitchen. Now, the housekeepers not only eat the same kind of food the family does, but in many cases dine at the same table. The name of the domestic has even been changed. She is known now as the house assistant."
Also on this day
(From the Associated Press)
In 1845: The U.S. Naval Academy was established in Annapolis, Maryland.
Local journalism is essential.
Give directly to The Spokesman-Review's Northwest Passages community forums series -- which helps to offset the costs of several reporter and editor positions at the newspaper -- by using the easy options below. Gifts processed in this system are not tax deductible, but are predominately used to help meet the local financial requirements needed to receive national matching-grant funds.
Subscribe to the Coronavirus newsletter
Get the day's latest Coronavirus news delivered to your inbox by subscribing to our newsletter.
---