News > Spokane
Getting There: Northeast City Council candidates discuss North Spokane Corridor, street planning, public transit
Mon., Oct. 14, 2019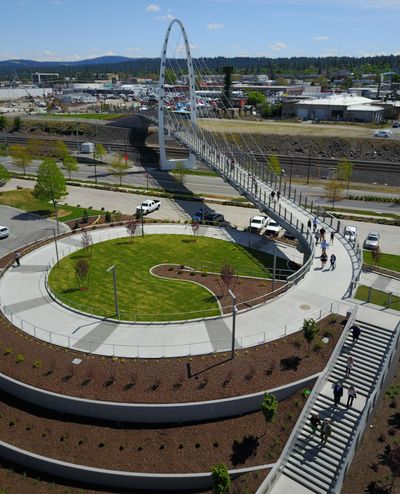 Transportation is a local issue.
The city of Spokane taps property taxes to help pay for work on major arterial roads. It charges $20 on vehicle registration to maintain residential roads. Still more money flows from Olympia and D.C. to build our region's highways, transit lines and bikeways. And, of course, motorists contribute to roadwork funding when they pay 49.4 cents in tax for every gallon of fuel they purchase.
Pothole obsession is just one issue in a complex system. Spokane has unique issues that any elected official better be ready to understand and discuss. They also must propose solutions.
All of this is to say, candidates for City Council who don't have even a basic grasp of issues facing commuters, travelers and anyone else who is mobile, will feel like a truck hit them when they get to City Hall and begin grappling with these complicated issues.
We asked every candidate running for Spokane City Council to answer seven questions, some general, some pertaining to their district. Over the course of the next few weeks, we'll print their answers, beginning today with candidates running to represent the northeast section of Spokane in City Council District 1, Tim Benn and Michael Cathcart.
Benn, 41, has unsuccessfully sought elected office before, including once for City Council and twice for the state House. He owns a child day care center in the Minnehaha neighborhood with his wife. Cathcart, 33, has never run for office but has been working in politics for years, most recently as executive director of the pro-business group, Better Spokane, and government affairs director for the Spokane Homebuilders Association.
How do you commute? How would you like to commute?
Benn: Twenty years ago my beautiful and caring wife wanted a career working with children and we started a childcare business on our property, so we don't have a commute. In raising our three children we have, however, used the family car daily for transportation for schooling, sporting events and other necessary errands.
Cathcart: I commute about 90% of the time by car and the other 10% by walking. Vina and I often walk to the grocery store, Halletts, for coffee, and to the local Humble Abode Brewing. I plan to make it easier for neighborhood retail and eateries to open.
Has the city council done well in helping to plan street work in its 6-year and 20-year plans? What would you do differently?
Benn: It doesn't appear as though we are properly planning for the future. For example, Crestline Street went from four traveling lanes to two traveling lanes. This has caused congestion and traffic to back up. This year we see a large development area being cleared and a storage facility being constructed in the area. It's only obvious that the addition of hundreds of housing units in that area will require greater access for traffic flow, not less. Why would they put it on a road diet just two years ago knowing this area would be developed?
Cathcart: Northeast Spokane has arterials and residential streets that need a lot of love and the 6-year arterial plan could do even more for our district. I will push for a robust 20-year residential street maintenance cycle that ensures our residential streets are well maintained. Further, we have to look at the materials we're using to ensure the longevity of our roadways.
The North Spokane Corridor is currently being built through the middle of your district. The $1.5 billion project is funded primarily through state dollars and, therefore, taxpayers. Do you support the construction of the highway, which has already displaced hundreds of residents and businesses, through your historically poor district while the wealthy residents of the South Hill and Five Mile are untouched?
Benn: Our families home is in the Minnehaha neighborhood, which has been severely affected by the construction this year with the closure of many streets. The negative impacts of this infrastructure that have already occurred cannot be changed, however I do believe the city can do a better job, as the project continues, in reducing impacts on our community. Let's get this project completed sooner than later. What I see is the disparity and lack of equity in attention to infrastructure in our residential streets and arterials.
Cathcart: The North Spokane Corridor, funded through a bipartisan effort of local legislators will alleviate obstacles around limited freight mobility in Northeast Spokane. The new connection will attract stronger investments into The Yard and our struggling neighborhoods. I love the private philanthropy project, "Spokane Ponderosa" (supported by Larry Stone and The Lands Council), which plans to plant ponderosa pine trees along the new freeway – beautifying the area and reducing noise pollution – with very little required maintenance.
The Central City Line and the University District Gateway Bridge are also being built in your district. Do you support the projects and their use of $90 million and $15 million, respectively, in tax dollars?
Benn: In regards to the Central City Line, voters turned down the first proposal, due to the excessive cost. A second proposal was put on the ballot and the voters approved it. Then the STA board decided to spend the extra $20 million anyway. It seems We the People were either deceived or ignored. Parts of northeast Spokane don't even have bus service. While the University pedestrian bridge seems nice and it did spur development, do we have the money to maintain our other bridges? Moving forward I feel we need to prioritize and improve our current infrastructure.
Cathcart: Both of these public investments have merit, but both could have been planned better, and in the case of the Central City Line, still can be done better. We need to always think through the impacts on real people and the Central City Line planning isn't entirely doing that. The bridge likely could have been completed less expensively, but it's doing what was intended by creating significant private investment opportunities and we're seeing that take shape along the South Landing of the University District. In five years, I predict that we won't recognize the area, but we will feel the job growth and economic impacts on our community.
Are you voting in favor of Initiative 976?
Benn: I think I will vote for $30 car tabs. It is my understanding most of the car tab money collected by the state goes into the general fund and does not get used to improve our roads. According to our local state representatives a good portion of the tax dollars collected in Spokane for transportation infrastructure goes to Olympia and gets spent on projects over there. Our tax dollars should be used to improve our roads.
Cathcart: I'm truly conflicted by this measure and I'm still trying to decide how I will vote. On the one hand, $30 car tabs are much more reasonable and what we were promised years ago. The goal should always be to keep taxes low. On the other hand, the passage of I-976 will mean immediate impacts to local and state projects – the latter being up to the legislature. However, the phase-in needs to be longer to give local communities like ours the time to responsibly plan. If it passes, I am committed to working with local legislative leaders to find ways to mitigate the impacts on Spokane.
The city renovated East Sprague Avenue in 2017, but related issues continue to dog it, including the placement of bus stops and lack of bikeways. What should the city have done differently on Sprague?
Benn: I am not in favor of road diets. We have a growing city and we need our infrastructure to accommodate current and future transportation needs. When it's possible buses should have turnouts to use, so they are not stopping in the traffic lanes causing congestion and unnecessary pollution. If we maintained the four-lane configuration of arterials this would not be a problem.
Cathcart: The city should have more thoroughly engaged all the residents and employers along the Sprague corridor at the onset and we need to listen to them now when they point out obstacles in the roadway design. As I have doorbelled and spoken to residents in East Central, the roadway gets mixed reviews, but many express a desire to see it return to four lanes. At this point, we have to find smart solutions to enable the enhancements to work. Hopefully giving buses traffic signal priority will alleviate some of the congestion, but we have to work with everyone in the neighborhood to identify any other necessary changes.
Avista has proposed closing Upriver Drive north of Mission Avenue and turning a section of it into a park. Do you support the idea?
Benn: I attended the meeting at Avista for this proposal, and nearly a unanimous majority of those in attendance did not approve of the closure. There are still questions regarding how it will effect emergency response and what kind of congestion would be caused. At this point I do not support this idea.
Cathcart: If Perry and Indiana can be enhanced to handle the traffic volume, traffic flow could actually be an improvement in the area, but this is something we have to study close. We also need to see a security plan for the new park site. Just across the street at Mission Park, neighbors have been frustrated at the loss of the park to campers, vagrants and homeless individuals. What will be different at the new park? These are questions that have to be answered before I could sign off. The beautification and recreational river access would be nice amenities.
City roadwork
Driscoll Boulevard between Wellesley to Bismark avenues will see some traffic impacts beginning today, as the city installs approximately 2,700 feet of sidewalks and 12 disability-accessible ramps. The $375,000 project is financed through transportation improvement board and transportation benefit district funds.
Paving begins this week on the $2.7 million project fully rebuilding Five Mile Road, marking the end of the project. The project to restore Five Mile between Lincoln and Strong includes the installation of disability ramps at intersections and crosswalks, replacement of a water main, stormwater improvements, pedestrian illumination and the construction of a roundabout at Five Mile and Strong.
Crestline Street between Riverside and Sprague will be closed this week while crews activate a new stormwater tank in the East Central neighborhood.
City crews are grading alleys in preparation for winter. On Monday, they'll be at 25th Avenue and Tekoa, Garland and Walton from E to F streets and on Ermina from Montgomery to Rebecca. On Tuesday, work will be done on Lincoln and Post from Queen to Everett, Stevens and Washington from Queen to Everett, Madison and Monroe from Rowan to Nebraska and Cannon and Elm from Joseph to Central. On Wednesday, they'll do Audubon from Sunset to Seventh, and Seventh to Government Way. And on Thursday, crews will be at Crown and Everett from Standard to Cincinnati, and Hogan and Perry near Foothills Drive.
Storm impacts
Crews are out clearing roadways of fallen branches and trees, as well as utility lines.
The unseasonable storm halted the paving project at Hayford and Geiger Boulevard on the West Plains. Power to the project was lost during the storm, allowing the hot mix asphalt to cool and solidify. Reheating the asphalt is anticipated to take several days, and the county expects paving work to resume Tuesday. The intersection remains closed and detours are in place.
Local journalism is essential.
Give directly to The Spokesman-Review's Northwest Passages community forums series -- which helps to offset the costs of several reporter and editor positions at the newspaper -- by using the easy options below. Gifts processed in this system are not tax deductible, but are predominately used to help meet the local financial requirements needed to receive national matching-grant funds.
Subscribe to the Coronavirus newsletter
Get the day's latest Coronavirus news delivered to your inbox by subscribing to our newsletter.
---