News > Spokane
Escapee who taunted cops on social media arrested at grandma's house in Hillyard
UPDATED: Tue., Oct. 15, 2019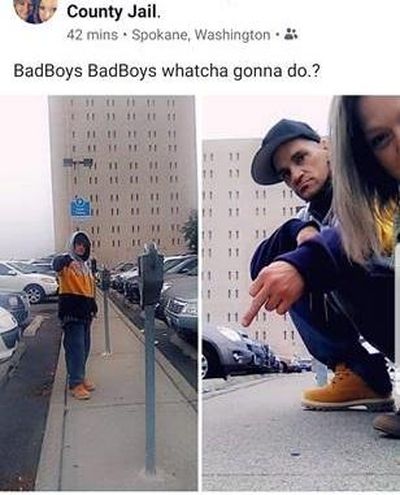 Spokane police say they have arrested a 41-year-old man who taunted authorities on social media after escaping from a Department of Corrections work-release facility.
Ryan W. Seaman was arrested Oct. 6 in the shop behind his grandmother's house in the Hillyard Neighborhood, police Sgt. Terry Preuninger said Monday.
Seaman had been wanted since July 16 when he walked away from the Brownstone work-release facility at 223 S. Browne St., according to court records.
He had been serving time for second-degree identity theft and two counts of possession of stolen property.
Preuninger said Seaman taunted authorities by posting on Facebook pictures of himself and his girlfriend in front of the Spokane County Jail with the caption "Bad boys, whatcha gonna do?"
Before escaping, Seaman was expected to finish his prison term in February, according to court records.
Seaman has nine prior felonies and 10 prior misdemeanors on his adult record in Washington, including convictions for assault, robbery, attempted robbery, trespassing, driving under the influence and unlawful possession of a firearm.
Local journalism is essential.
Give directly to The Spokesman-Review's Northwest Passages community forums series -- which helps to offset the costs of several reporter and editor positions at the newspaper -- by using the easy options below. Gifts processed in this system are not tax deductible, but are predominately used to help meet the local financial requirements needed to receive national matching-grant funds.
Subscribe to the Coronavirus newsletter
Get the day's latest Coronavirus news delivered to your inbox by subscribing to our newsletter.
---