News > Spokane
Spokane's response to homelessness dominates mayoral, city council president debate Tuesday night
Oct. 15, 2019 Updated Fri., Oct. 18, 2019 at 9:23 a.m. Candidates seeking their first entry to Spokane City Hall challenged incumbent city councilmen Tuesday night on their response to what they termed a housing and homelessness crisis that government should have already solved.
Ben Stuckart, who is running for mayor, and Breean Beggs, who is running for City Council president, responded to criticism from Nadine Woodward, Stuckart's opponent, and Cindy Wendle, who is running against Beggs, with evidence they had been addressing those problems. But Stuckart and Beggs argued they have faced an administration hesitant to take action before the November election.
"The reason we don't have shelters now is because the mayor is failing," Stuckart said.
Mayor David Condon has accused the council of holding up necessary contracts to get services in place.
Homelessness, and how the city should respond to the issue, dominated a pair of debates at the Bing Crosby Theater on Tuesday night.
The event, jointly hosted by The Spokesman-Review and KHQ-TV, drew about 300 people to the historic theater the night before ballots are scheduled to begin dropping into local mailboxes.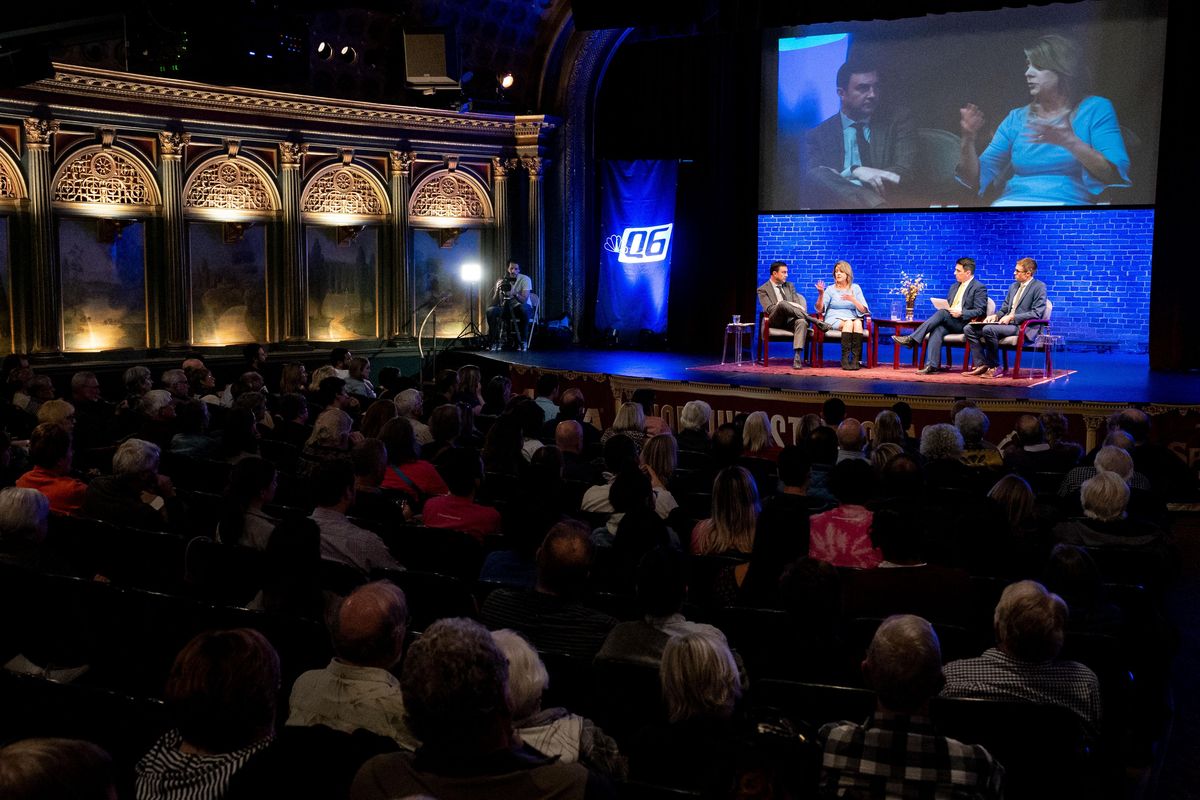 Candidates for Spokane Mayor, Ben Stuckart and Nadine Woodward speak to the issues facing Spokane during the Pints and Politics: The Spokesman-Review's Northwest Passages Forum and KHQ Tues., Oct. 15, 2019, at the Bing Crosby Theater. (Colin Mulvany / The Spokesman-Review)
Woodward and Wendle, who posted impressive primary showings against two sitting city lawmakers, largely laid blame for the city's shortcomings on addressing homelessness at the City Council's feet. They advocated for an approach that included tougher enforcement of city laws.
Stuckart and Beggs responded with promises to provide basic needs to those living on the streets while adhering to a recent court ruling that prevents cities from prosecuting them.
The mayoral candidates also sparred about the influence of developers and public unions in the municipal election, which has drawn the largest amount of outside political spending in the city's history.
Woodward, Stuckart spar on 'tent cities,' outside influence
Woodward, the former TV news anchor who finished first in August's five-person primary, said Tuesday she regretted using the term "tent city" as an option for housing the homeless population this winter.
"I shouldn't have used that term because I don't like that term," Woodward said, responding to her comments at a forum last week in favor of temporary shelter. "It's winter, and we don't have homeless shelters, or warming centers, for our homeless right now. And we've already had snow twice."
The city should look into temporary, fabric housing known as "Alaskan structures," Woodward said Tuesday. The idea was floated by a local nonprofit, she said, and her willingness to entertain the idea differentiated her from her opponent.
"I'm willing to listen to people that come up with creative solutions," Woodward said.
"I think you need to listen, and do your homework," Stuckart responded, saying that Woodward's plan for temporary housing structures would cost hundreds of thousands of dollars and wouldn't work away from the coasts, where temperatures routinely plunge below freezing in the winters.
The two also disagreed on the path forward on affordable housing, with Woodward denying recent charges that her campaign was being influenced by developers.
"It's absolutely not true," Woodward said. "I have no experience with developers. I have no experience developing anything and being on the City Council. Ben has the experience of being aligned with developers, not me."
Woodward said that while the city needed to increase housing stock of all kinds, builders needed to be able to look beyond city limits.
Stuckart insisted more housing density within the city was the answer, and pushed back on the argument that the fringes needed to be explored for development.
"If we develop and use city resources outside of the city borders, for housing, that means we're not going to have money to invest inside the city," Stuckart said.
The exchanges were sometimes pointed, with Stuckart at one point admonishing Woodward for interrupting him as "rude." Woodward continued her criticism of Stuckart as an argumentative leader who was "bought and paid for by the unions," referencing endorsements from several of the city's public labor groups.
Stuckart said he was proud to have those endorsements.
"We need to improve the environment for our employees," he said.
While Woodward criticized Stuckart for his acceptance of an endorsement from public employee unions, she also highlighted the support of the Spokane Police Guild, the city's police union, for her campaign.
On pressing from Stuckart, Woodward said she believed money could be found in the budget to pay for more officers for the force without raising taxes, suggesting the city use funds dedicated for homeless shelters instead.
Stuckart quickly pointed out that money was not available for that purpose.
"There's money out there," Woodward said.
"$6.3 million? We'll just find it?" Stuckart said.
Once the televised broadcast ended, both candidates offered their perspective on the city's role in protecting individuals traveling through the Spokane Intermodal Center. It's been the site of multiple arrests by Border Patrol in recent years, and Woodward said she supported their work while noting she didn't support racial profiling or discrimination.
Stuckart said the actions of the patrol showed patterns of profiling and that he didn't believe federal agents had authority to conduct warrantless searches at the depot.
Beggs, Wendle on homelessness, working together at City Hall
Wendle, a businesswoman making her first political run, said she believed trust had eroded at City Hall between the branches of government over the past few years.
"From the hundreds and thousands people I've talked to out doorbelling, it's a concern," said Wendle.
Beggs, who was first appointed to the City Council in 2016 and won the seat in an election a year later, said lawmakers and the mayor's office were united on most issues, and that both sides were having to deal with the changes in political makeup at City Hall.
"I think he has learned how to deal with that, and the council has learned to deal with that," Beggs said.
But, he said, how to address climate policy, emergency communication and providing services to the homeless remained points of contention.
Wendle advocated for the enforcement of city laws, including the controversial sit-lie ordinance that the council suspended enforcing last winter.
"We've got to enforce our laws, and make it so there's a graduated, accountability factor in that, too," Wendle said. "That, if we're asking you to access services and you choose not to, you're going to go to jail. Because we can't continue to go through the cycle of offering services to people, and them not taking us up on it."
Beggs said people should not be jailed for refusing services.
"This is the United States of America, and you don't go to jail if you don't go to treatment," he said.
Wendle responded that she didn't believe in "criminalizing the homeless."
"We're talking about people that have been given a citation, that are breaking the law and are choosing not to accept services," Wendle said.
Beggs said he believed the city's laws were in compliance with court rulings on prosecuting those living on the streets, even without council action this winter. He spoke in favor of pushing for wraparound services once people living on the streets are housed.
"The biggest challenge is resources," Beggs said. "The state and the feds sort of abandoned cities on this issue. They used to take care of it. The question is, we as a community have to decide how we want to live in community with people who are less fortunate than us."
Ballots for the municipal election will be mailed this week. They must be turned in by Nov. 5.
Local journalism is essential.
Give directly to The Spokesman-Review's Northwest Passages community forums series -- which helps to offset the costs of several reporter and editor positions at the newspaper -- by using the easy options below. Gifts processed in this system are not tax deductible, but are predominately used to help meet the local financial requirements needed to receive national matching-grant funds.
Subscribe now to get breaking news alerts in your email inbox
Get breaking news delivered to your inbox as it happens.
---