A&E > Music
Whitworth student Ryan Dresen, 20, wins horn seat with Spokane Symphony
Thu., Oct. 17, 2019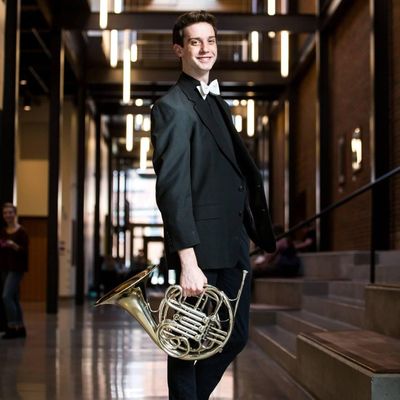 On Sunday, Whitworth University senior Ryan Dresen turns 21.
He'll celebrate his birthday, sure, but he'll also mark his official debut as a member of the Spokane Symphony after performing in "Masterworks 3: Soviet Transcendence" on Saturday and Sunday.
Dresen was only 20 when he won the position of assistant principal horn in September, but he already has about a decade of experience behind him.
Dresen's musical career began as a sixth-grader in Ronan, Montana. He played trumpet for a year, then, looking for a more challenging instrument, switched to horn in seventh grade.
"It's really lovely and it is somewhat related (to the trumpet)," Dresen said. "It seemed like a logical option, and, since I liked it so much, I asked my band teacher if I could pick it up."
Dresen called his first few years with the instrument difficult because there weren't any horn teachers in his area. He took a couple basic lessons from his band teacher, a trombonist, and later in high school from a choir teacher who happened to also play horn, but Dresen said he's mostly self-taught.
"You can imagine my first year at Whitworth with actual lessons was different and a huge growing experience," he said.
In high school, Dresen was certain that he wanted to study music in college, but a chance to perform as part of an honor band at Carnegie Hall solidified his plan.
Dresen entered Whitworth as a music education major, having heard from countless people that if he wanted to study music, it would be more sustainable to focus on music education.
But during his first January term, Dresen worked with music educators and found that that path wasn't for him. He dropped the education part and moved to music performance.
Dresen performs with the Whitworth wind symphony, symphony orchestra and chamber winds.
"I get to spend a good chunk of the day rehearsing, which is something I really love about studying music," he said. "I get to do what I love all day long."
When Dresen saw the Spokane Symphony was looking to fill positions in the horn section, he decided to apply, thinking he would take the audition for experience.
"The concept of me getting into the symphony was not on my radar this early on in my career," he said. "This was mostly like, 'I wonder what it's like to audition for a professional orchestra. Let's find out.' "
Two months before the auditions, Dresen printed out the audition excerpts. He spent a lot of time listening to recordings of the excerpts and trying to work out how his part, whether solo or supporting, fit in with the orchestra.
In late September, Dresen arrived at the Martin Woldson Theater at the Fox for his audition. He was in the second of two blocks of musicians auditioning, with auditions comprised of three rounds.
In the first round, everyone who was invited to audition performed anonymously for the audition committee who listened to the auditions behind a screen.
Once everyone had auditioned and the committee made their selections, those musicians moved to the semifinals and played new excerpts, again anonymously.
Dresen, who said he didn't expect to make it to the semifinals, was excited to learn he had made the final round.
That round consisted of a solo excerpt, as well as section playing, which meant playing along with a symphony musician so the audition committee could hear how well those auditioning could blend with the section.
From there, it was back to the waiting room while the committee deliberated.
"It was nerve-wracking for sure," Dresen said of that time. "About a week before the audition, I was like, 'Well, people who take auditions take them to win them,' so I used that mindset that 'I'm taking this audition to win it,' and that was a huge confidence boost," he said.
"That moment between finals and the announcement was this thought process of, 'It actually worked. I made it this far. I guess that's how you do auditions.' "
Dresen then learned that he had won a spot in the Spokane Symphony. Because Katie Upton, then-assistant principal horn, had won the position of principal horn, her position was open, and the committee picked Dresen to fill it.
Dresen hardly had time to celebrate his successful audition before being called in to perform. A horn player was sick, so, about 20 hours before the first rehearsal, Dresen received his parts for "The Music of David Bowie," which was performed Oct. 12 at the Fox.
"Luckily since it was a rock concert, I was definitely more in the background, so it wasn't super high stress," Dresen said.
Dresen will make his official, on-contract debut during "Masterworks 3: Soviet Transcendence" on Saturday and Sunday at the Fox.
As assistant principal horn, Dresen's job is to "support Katie and make her sound good and the section sound good." Upton gives Dresen markings for his music: where she'll play, where only he will play and where they will play together.
"If she has a big solo coming up, I'll maybe play everything before then so she can be fresh for her solo," Dresen said. "Or if there's a really big section where the horns are really featured and we want to be really loud and powerful, maybe she'll have me play with her."
Thus far, Dresen said reactions about his new job from friends, family and professors have been incredibly positive.
He was late to a wind symphony rehearsal because of his symphony audition, and, upon making it to rehearsal and sharing the news, the ensemble stopped playing and applauded Dresen.
"It was really sweet," he said.
Things have gotten a bit crazy for Dresen recently, who is now juggling homework, Whitworth ensembles and the Spokane Symphony.
He's recently had to step away from his part-time job with the office of admissions as the Why Whitworth coordinator in order to have time for school and rehearsals.
"Once I fade out more from the office, I'm not too worried about balancing all my commitments," he said. "I've definitely upped my calendar game."
New calendar and horn, which he bought about a month before the audition, in hand, Dresen is prepared for the year to come.
"My life has changed a lot in the last month," he said. "I'm so excited."
"Masterworks 3: Soviet Transcendence" is conducted by Morihiko Nakahara and features guest cellist Joshua Roman.
The program features Arvo Pärt's "Trisagion," Dmitri Shostakovich's Cello Concerto No. 1 and Sergei Prokofiev's Symphony No. 3.
Local journalism is essential.
Give directly to The Spokesman-Review's Northwest Passages community forums series -- which helps to offset the costs of several reporter and editor positions at the newspaper -- by using the easy options below. Gifts processed in this system are not tax deductible, but are predominately used to help meet the local financial requirements needed to receive national matching-grant funds.
Subscribe to the Spokane7 email newsletter
Get the day's top entertainment headlines delivered to your inbox every morning.
---