A&E > Movies
One Heart Native Arts & Film Festival puts spotlight on Native art and creators
Thu., Oct. 17, 2019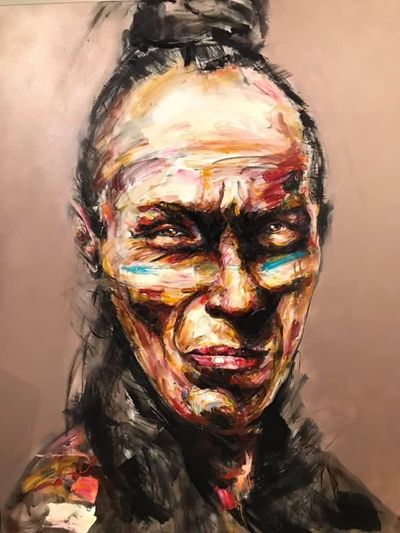 Since its launch in 2016, the One Heart Native Arts & Film Festival has worked to put a spotlight on Native film, music, art and, of course, Native creators.
This year, the festival's fourth, is no different.
As per its website, "The mission of One Heart Native Arts & Film Festival is to share and showcase innovative, compelling and empowering stories from Native perspectives through film, art and music celebrating the diversity and vitality of contemporary Native culture in our community today."
This weekend, the One Heart Native Arts & Film Festival takes over the Bing Crosby Theater and the Unfinished Space for three days of Native art and culture.
The festival kicks off Friday with the One Heart Art Gallery, which features work from established local artists and up-and-coming creatives, from 5:30 to 8 p.m. at the Unfinished Space.
A screening of One Heart Short Films, a collection of films that illustrate this year's theme, Indigenous Rising, begins at 7:30 p.m. at the Bing Crosby Theater.
This year's films are "Deputy Blind," "How Much Do You Make an Hour?," "Talmaks," "Mouse," "AI/AN Suicide Prevention," which focuses on suicide prevention among American Indian and Alaska Native populations, stop motion animations, "You Love Who You Love," "Indians on the Moon" and "Sweetheart Dancers."
Russell Brooks, director, writer, producer and Tacoma Film Festival judge, will moderate a discussion after the screening.
On Saturday, the One Heart Art Gallery will again be open for viewing, this time from 10 a.m. to 6 p.m.
Also at 10 a.m. at the Bing, there will be a children's acting workshop with the cast of "Killer Whale and the Black Rush."
At 7:30 p.m. at the Bing, Red Eagle Soaring, a Seattle-based Native youth theater company, will perform "Killer Whale and the Black Rush," a play that follows a group of animals fighting to survive man-made disasters.
The play, which is recommended for ages 10 and older, is directed by Hannah Victoria Franklin.
The cast will host a talkback after the performance with playwright Dylan Thomas Elwood, who's a Red Eagle Soaring alumnus.
Between the acting workshop and the performance, from 2 to 3 p.m. at the Unfinished Space, Donell Barlow, author and yoga instructor, will host Kids Creature Yoga, an all-levels class. After the class, she will read her children's book "Bigfoot and Lightning Bug."
At 10 p.m., those 21 and older can celebrate the festival at the One Heart Festival party at Scratch. Tickets are $10 or free with a festival pass or festival ticket stub.
Sunday is your last chance to attend the One Heart Art Gallery again from 10 a.m. to 6 p.m.
From 4 to 6 p.m. at the Unfinished Space, special guest Asia Tail, who was recently awarded the Artist Trust Vadon Fellowship, will host a visual artist workshop centered on professional development. Topics include how to make your art a business and how to seek growth and award opportunities.
To end the festival, there will be a One Heart Friends and Family potluck from 6:30 to 10 p.m. at the Unfinished Space. DJ PandaCat will perform.
Local journalism is essential.
Give directly to The Spokesman-Review's Northwest Passages community forums series -- which helps to offset the costs of several reporter and editor positions at the newspaper -- by using the easy options below. Gifts processed in this system are not tax deductible, but are predominately used to help meet the local financial requirements needed to receive national matching-grant funds.
Subscribe to the Spokane7 email newsletter
Get the day's top entertainment headlines delivered to your inbox every morning.
---