News > Spokane
100 years ago in Walla Walla: 'Model prisoner' kills vicious inmate
Fri., Oct. 18, 2019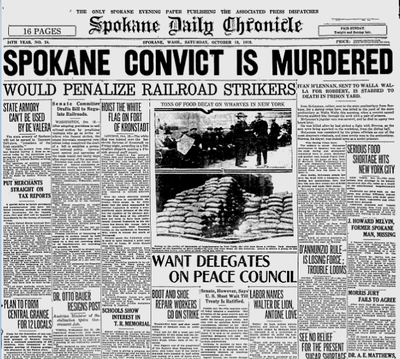 One of Walla Walla's most vicious prisoners, Ivan McLennan, picked a fight with a prisoner named Stevens in the state penitentiary's dining hall.
When McLennan continued to provoke him in the prison yard, Stevens turned on him with a pair of scissors and severed McLennan's jugular vein. McLennan died "in agony two hours later."
McLennan was in prison for a particularly brutal assault and robbery in Spokane. He and a confederate had gone to the home of Nora Sherlock on Montgomery Avenue and represented themselves as real estate agents. She invited them in to inspect the home.
Then McLennan beat her over the head with a bludgeon and knocked her unconscious. The men grabbed $1,500 in jewelry and made their escape. Police trailed them to Butte and arrested them.
Prison authorities described McLennan as one of the prison's most unruly and desperate prisoners. Stevens, on the other hand, was a "model prisoner." The warden said that the facts indicated that McLennan goaded Stevens into defending himself. A prison board was investigating the killing.
From the Irish beat: Eamon De Valera was elected the head of the Sinn Fein organization in Ireland. This news was particularly pertinent in Spokane, because De Valera was scheduled to give a speech in Spokane in less than a month.
His visit had already sparked controversy. Authorities at the Spokane Armory ruled that he would not be allowed to speak in that building. De Valera had been jailed by British authorities, but escaped earlier in 1919.
Local journalism is essential.
Give directly to The Spokesman-Review's Northwest Passages community forums series -- which helps to offset the costs of several reporter and editor positions at the newspaper -- by using the easy options below. Gifts processed in this system are not tax deductible, but are predominately used to help meet the local financial requirements needed to receive national matching-grant funds.
Subscribe to the Coronavirus newsletter
Get the day's latest Coronavirus news delivered to your inbox by subscribing to our newsletter.
---