News > Spokane
Man convicted of killing Montana senator's nephew sentenced to life without parole
UPDATED: Fri., Oct. 18, 2019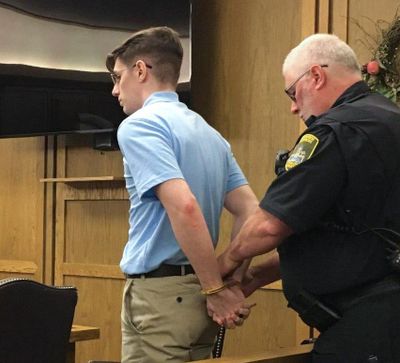 The man convicted of killing a father in front of his 8-year-old daughter was sentenced to life in prison without parole on Friday.
John A. Radavich, 25, was convicted for the killing of Robert Tester, 35, the nephew of U.S. Sen. Jon Tester, D-Montana, in August. Spokane County Superior Court Judge Maryann Moreno handed down the sentence.
During the trial in August, Radavich's defense attorneys described the killing as self-defense. Prosecutors told jurors it was an execution.
Tester's body was discovered in his South Spokane County home in September of 2016 with 66 wounds. He died from a blow with a splitting maul to the back of his head.
Tester's daughter, now 11, testified during the trial that she had been asleep in the same bed as her father, and awoke to a masked man later identified as Radavich stabbing her father with a sword. She testified that the killer said, "Stay here, I'm going to kill your daddy."
The case remained unsolved for months, until a friend of Radavich provided a secretly recorded phone call where Radavich spoke about the killing. He was arrested in 2017 and tried in April of the next year, but Judge Moreno declared the trial a mistrial after new evidence from the crime scene emerged.
Radavich was convicted by a jury of first-degree murder in August.
Local journalism is essential.
Give directly to The Spokesman-Review's Northwest Passages community forums series -- which helps to offset the costs of several reporter and editor positions at the newspaper -- by using the easy options below. Gifts processed in this system are not tax deductible, but are predominately used to help meet the local financial requirements needed to receive national matching-grant funds.
Subscribe to the Coronavirus newsletter
Get the day's latest Coronavirus news delivered to your inbox by subscribing to our newsletter.
---