Sports
A Grip on Sports: Points should fall like the rain in area college football games today
Sat., Oct. 19, 2019 A GRIP ON SPORTS • What is it the good book says? Something about it rains on the just and the unjust alike. I've always interpreted that to mean, in a sports sense, both the winners and the losers are going to get rained on, so you might as well be the former. Then you are wet, sure, but you're not miserable.
•••••••
• It's raining today in the Inland Northwest. Which means the two outdoor college football games, in Pullman and at Whitworth's scenic tree-ringed Pine Bowl, will include some miserable conditions for the players and the fans. (The other local game, Idaho hosting Idaho State, is inside the Kibbie Dome, which was built for days like this.)
At least if you are sitting in the stands in North Spokane or on the Palouse, you should experience as many points as raindrops. Or at least something in the same ballpark.
Which makes for entertaining TV, which is where most Cougar fans will probably digest the game. (We will as well, and we will also have a TV Take in this space right afterward.)
What will they see? As we said, a game that features a lot of points from two teams desperate to win a Pac-12 Conference game.
It would be one thing if the Washington State defense gave up a bunch of big plays – it does – if it was also forcing a bunch of turnovers – it isn't. You have to go all the way back to the second quarter of the 67-63 home loss to UCLA, when Skyler Thomas picked off Dorian Thompson-Robinson, leading to a Cougar touchdown and a 21-10 lead. Since then, nada.
Since that point Washington State's three opponents (UCLA, Utah and Arizona State) have posted scoring passes of 37, 94, 52, 40, 86 and 33 yards, among a handful of other touchdowns.
The big play is killing the Cougars. Or maybe it's the lack of turnovers.
If they are to post a Homecoming win today against Colorado, they will have to do two things: force a turnover or two and/or keep the Buffs' talented wide receivers in front of them. Either won would go a long way toward helping WSU post its first Pac-12 win of the season.
• As we said, it is Homecoming in Pullman – and Moscow as well.
Homecoming is all about memories, not only for the former students. When those students were also athletes, their return sparks memories for everyone who saw them play as well.
Former WSU basketball player Taylor Rochestie is in Pullman this weekend (thanks to social media, we all know) and his return sparked a memory for me.
He took, and made, the most outrageous of shots I ever saw in my five seasons of covering Cougar basketball.
It was Senior Day. Feb. 28, 2009. The Cougars were hosting Arizona State. Friel Court was rocking. It was overtime. James Harden had caused the extra period by hitting three free throws with 2.4 seconds left. There were just seconds left in OT and WSU trailed the 14th-ranked Sun Devils 49-48.
Rochestie, a senior, had the ball. He was about 30 feet from the hoop. Time was running down. He let it fly. Nothing but net.
Onions.
Even more so when you consider Rochestie was 1-for-10 from the field at the time.
"I just wanted to make a play," he told me at the time. "First I looked to drive. I felt some of our players, some of their players were stagnant but kind of blocking the lane. Soon as I realized that, I kind of backed it out. I looked up to the clock, saw about 4 seconds, saw that I had a little cushion and let it go."
I don't think I will ever forget that shot (you can watch the whole sequence here if you like). It was so unusual for one of Tony Bennett's players, at that time anyway, to do something so daring. High risk. High reward.
That's how Homecoming memories are built.
•••
WSU: Theo Lawson has his usual Saturday morning items, including a preview of this afternoon's game and his pick. (Spoiler alert: he picks the Cougars.) … Theo also has his two-minute drill. … Larry Weir talked with former WSU coach Jim Walden for the latest Press Box pod. … Colorado sees today as a great day to get healthy, if at least not physically, then mentally. … Elsewhere in the Pac-12, there is no bigger game than the rivalry one in Seattle between Washington and Oregon. The Ducks made it a true rivalry 25 years ago with "The Pick." … Oregon State will try to crack the tough California defense. … That shouldn't be a problem for USC and its passing game against Arizona. … Utah's defense will need to step up today against Arizona State in another matchup of ranked foes. … UCLA had its best game of the season in the win at Stanford. … In a basketball exhibition last night, USC got past Villanova at the Galen Center.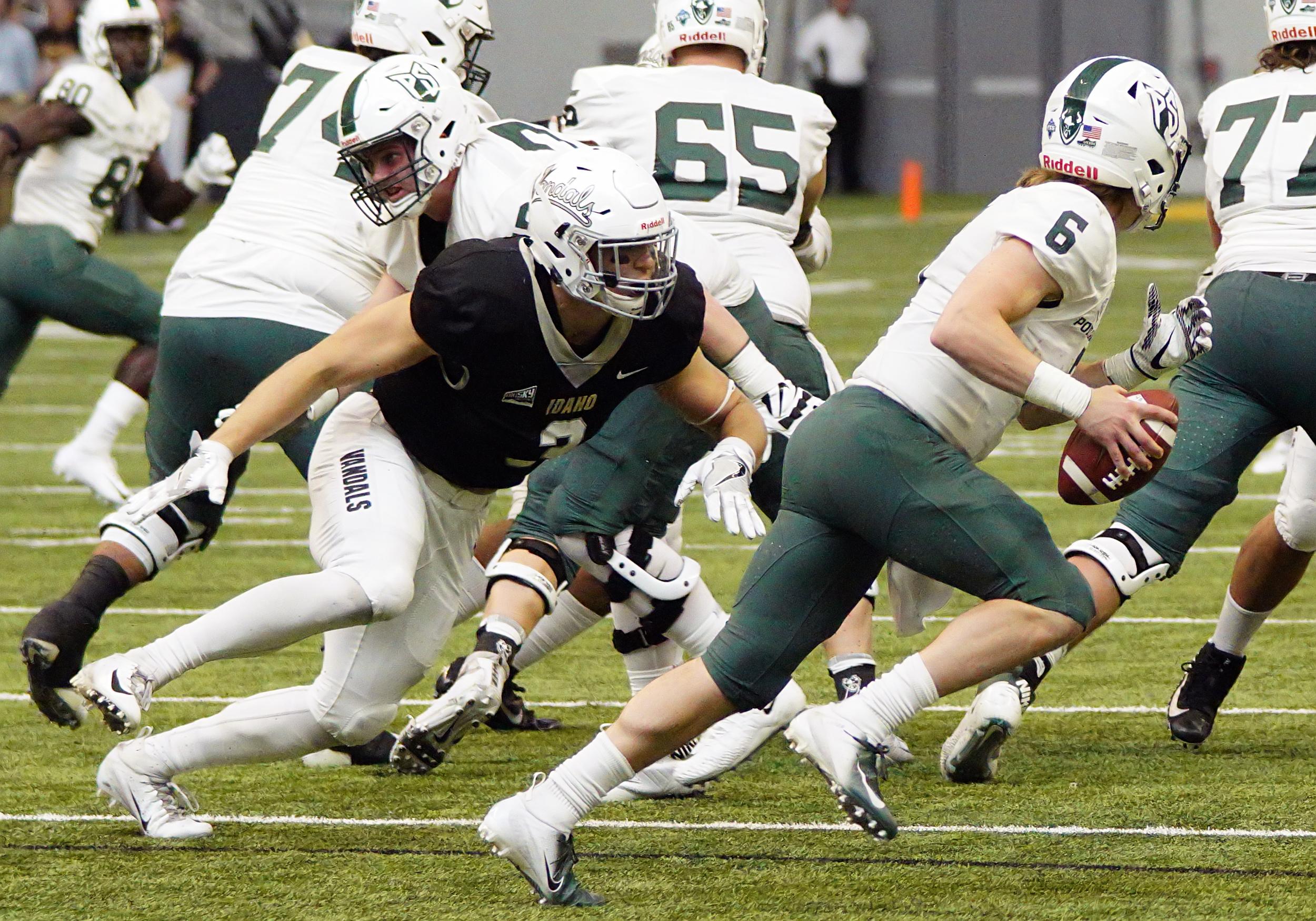 Idaho: Think back to where you were on the last day of October in 1981 – if you were alive. My wife was handing out candy for the first time in our new home in Fullerton, Calif., as I covered a college football game. In the Northwest, Idaho State was celebrating a win in the Kibbie Dome, the last win the Bengals would celebrate in that building until, well, never. ISU will try to change that today. Peter Harriman has more in this preview. … Around the Big Sky, it's no surprise the conference relies on passing. … The best game of the day is in Sacramento, where the Hornets host Montana. … UC Davis is at Southern Utah. … Northern Arizona welcomes Weber State to high altitude.
Whitworth: After scoring 150 points in their first two Northwest League games, the Pirates expect a sterner test today at home against George Fox. Dan Thompson has a preview of the game as well as the story of the Whits' Hawaiian recruiting.
Preps: It was a busy night in prep football and it ended with the top of the GSL 4A race muddled as never before. Dave Nichols was at Albi to watch Mead defeat Central Valley, giving those two (along with Ferris and Gonzaga Prep) a 2-1 league mark with two weeks to play. Colin Mulvany was also there and has these photographs. … We also have a roundup of other football games in the area as well as a soccer roundup.
Chiefs: Spokane peppered Prince George's goalie with 38 shots but Taylor Gauthier stopped all but one in a 2-1 Cougar victory north of the border.
Indians: Major League Baseball really wants to change its relationship with the minor leagues when their next contract is signed. Dave has some thoughts on how the proposed changes could impact Spokane.
Seahawks: There is even more on Earl Thomas this morning. … With Thomas gone, the Hawks are mixing and matching at safety. Actually, it's due to injuries.
Sounders: Seattle hosts FC Dallas today as the MLS postseason begins.
•••
• We barbecued last night. Grilled carne asada strips, cut them up and made street tacos with cilantro and onions. Even grilled the tortillas. Everything was excellent. But afterward I was a little sad. It might have been the last night I use the Weber this year. The weather, as it does, is turning wetter and colder. Our faithful servant deserves the winter off. So I scrubbed the grill a little more diligently, wrapped up the remaining briquettes as well as possible and strapped the cover down. What adventures await us before it re-emerges in the spring? Who knows. But when it's time, it will be ready. … By the way, the reason I remember that Bible verse I used in the opening? Nope, not Sunday School. Linus. He said it to Charlie Brown in a Peanut strip years ago. It stuck in my head. Until later …
Subscribe to the sports newsletter
Get the day's top sports headlines and breaking news delivered to your inbox by subscribing here.
---