A&E > Books
Teacher Madeline Miller headlines Spokane Is Reading
Sat., Oct. 19, 2019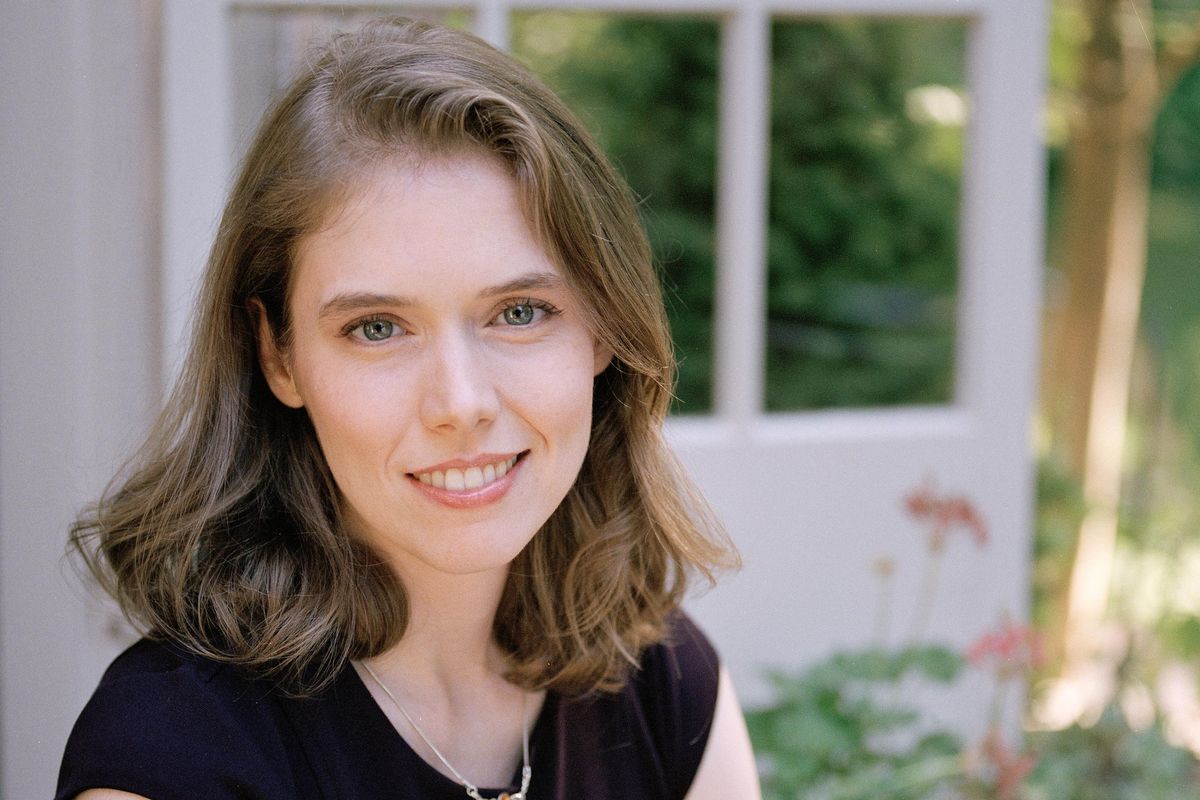 Teacher Madeline Miller specializes in the classics, Shakespeare and Latin. (Courtesy)
In Homer's epic "The Odyssey," the hero Odysseus and his men land on the island of Aeaea, where they encounter Circe, a powerful witch who is the daughter of the sun god Helios.
But her part in "The Odyssey" is a minor, supporting one, something that frustrated Madeline Miller. Miller, a teacher who specializes in the classics, Shakespeare and Latin, wanted to see more of this minor goddess who turned sailors into pigs and took Odysseus into her bed.
So she wrote "Circe," the New York Times bestseller released in April 2018 that brings a new perspective to the witch of Aeaea because she was so intrigued by this character.
"The fact that she is a witch is pretty unusual. In fact, she is often listed as the first witch in Western literature," said Miller, who comes to Spokane this week to discuss "Circe," the latest selection of the Spokane Is Reading program.
"That was interesting to me because witchcraft is something that you do as opposed to something that you are. She's born a goddess, but she makes herself into a witch. And partially she does that because she was born a very, very minor goddess, the type of goddess who would have no powers on her own."
For Miller, it went even a bit deeper. "I also was really frustrated at how little airtime she gets in 'The Odyssey,'" she said. "It's a very, very small cameo role, and I really wanted her to have more. Every time I would read 'The Odyssey,' I would think, 'Can't we just stay with Circe? Do we have to keep focusing on Odysseus here?'
"I think it was wanting to understand her and to strip away the flattening of Odysseus' narrative from her story and give her full space to grow."
In writing about Circe, Miller created what reviewer Claire Messud called in the Times a "hybrid entity, inserting strains of popular romance and specifically human emotion into the lives of the gods." It's not the first time, either. Her previous book, "Song of Achilles," told the story of the Greek hero through the lens of the young prince Patroclus.
Because the story Circe is mythology, Miller felt free to play around in the lore and craft a story that felt more real … despite the gods, monsters and magic. She left some stories of the goddess witch out of the narrative if they didn't speak to her.
In her story, Circe bore one son by Odysseus. There are accounts of them having five sons, but a single child would be the most likely result because of the year they spent together.
"The world still has to make sense," she said. "It's trying to always choose the myth that's most interesting for the character, that gives her interesting stuff to do, and that is serving the story.
And Circe certainly had interesting stuff to do. The firstborn, and least beloved, child of the sun god Helios and the nymph Perse, she had an unhappy childhood. But she had an independent streak, showing kindness to Prometheus, who was being punished for giving fire to mortals.
She turned her mortal lover, Glaucus, into a god. When he rejected her for the nymph Scylla, she turned her into a sea monster who plagued sailing ships for generations, an action that earned her exile on Aeaea.
She attended her sister Pasiphae as she gave birth to the Minotaur. She befriended Daedelus and his son Icarus and cleansed her niece Medea and her lover Jason of the murder of Medea's brother during their flight from Colchis with the Golden Fleece.
Miller weaves together these tales into a compelling story that puts her heroine – her feminist heroine – at the center of it all. Casting Circe as a feminist did not feel like a modern affectation to Miller. Instead, she finds evidence for it in the source material.
"In 'The Odyssey,' she is so clearly this epitome of male anxiety about female power. Here she is the woman who has power over men, the power to turn them into beasts," Miller said.
"She has this wild power that is frightening and is threatening and that goes along pretty much any time we're talking about witches. We're talking about women who have more power than society wants them to have. … Any time women are wielding power that is making the people around them nervous, we're sort of touching on feminism."
The reception to "Circe" has been overwhelmingly positive, and Miller is always thrilled to meet readers who aren't well versed in Greek mythology who are now ready to read more after diving into the worlds of Circe and Achilles.
"I always love that because I wrote the books partially because I wanted them to be a way in for people who maybe haven't read 'The Odyssey' ever or maybe read it a long time ago or the myths never spoke to them," Miller said.
"Yes, there definitely are goodies in the books if you know the myths, but the classics teacher in me wanted them to be welcoming to everyone. And I think that's really important because it honors the original intention. These were stories that came out of oral tradition. They were ones that people passed on and passed down."
Local journalism is essential.
Give directly to The Spokesman-Review's Northwest Passages community forums series -- which helps to offset the costs of several reporter and editor positions at the newspaper -- by using the easy options below. Gifts processed in this system are not tax deductible, but are predominately used to help meet the local financial requirements needed to receive national matching-grant funds.
Subscribe to the Spokane7 email newsletter
Get the day's top entertainment headlines delivered to your inbox every morning.
---